TORONTO – They say smoke is the first thing you'll see in Nizhny Tagil, the Russian city where Nikita Soshnikov was born and raised.
It is an industrial hub, and it can be a hard place. The largest battle tank manufacturer in the world is based in Tagil, as is one of the country's most prominent steel plants and eight maximum-security prisons. Factories dot the skyline and residents of the city are more likely to contract lung cancer than those living anywhere else in Russia.
Sitting in the Toronto Maple Leafs dressing room earlier this week, Soshnikov is a long way from home. Ten time zones and more than 8,000 kilometres in literal terms.
In a figurative sense? That's a little tougher to quantify.
Soshnikov perks up after learning that I've visited Russia on a couple occasions, immediately wanting to know where. Before I can finish saying "Moscow, Yaroslavl, Mytishchi and Sochi," he's chuckling.
"You've only been to the nice cities!" he says.
During the lockout that interrupted the 2012-13 NHL season, Maple Leafs forward Joffrey Lupul spent six weeks playing for Avtomobilist Yekaterinburg – the KHL team based closest to where Soshnikov grew up, about a two-hour trip by car – and kept a journal about his experiences abroad.
"Culture shock is putting it mildly," Lupul wrote in one entry.
If Soshnikov has experienced the same thing in reverse, you wouldn't know it. The 22-year-old barely spoke a word of English when he moved to Toronto in August and now smiles while conversing relatively comfortably thanks to 1-on-1 sessions with an instructor.
He is diligent about his language lessons, scheduling one for Thursday this week after learning that Mike Babcock was giving the Leafs the day off from practice. Among the other items on his to-do list were buying a new suitcase for the upcoming road trip and getting in a workout.
Soshnikov made time for at least two English sessions per week while playing in the American Hockey League for most of the season – "tough schedule," he said – and it ended up being just as important to him reaching the NHL as the endless hours he spent at Ricoh Coliseum.
"I know that was really an important thing from the Leafs end of it in terms of his development," said Marlies coach Sheldon Keefe. "The biggest hurdle for him to make the NHL was language."
This season, anyway.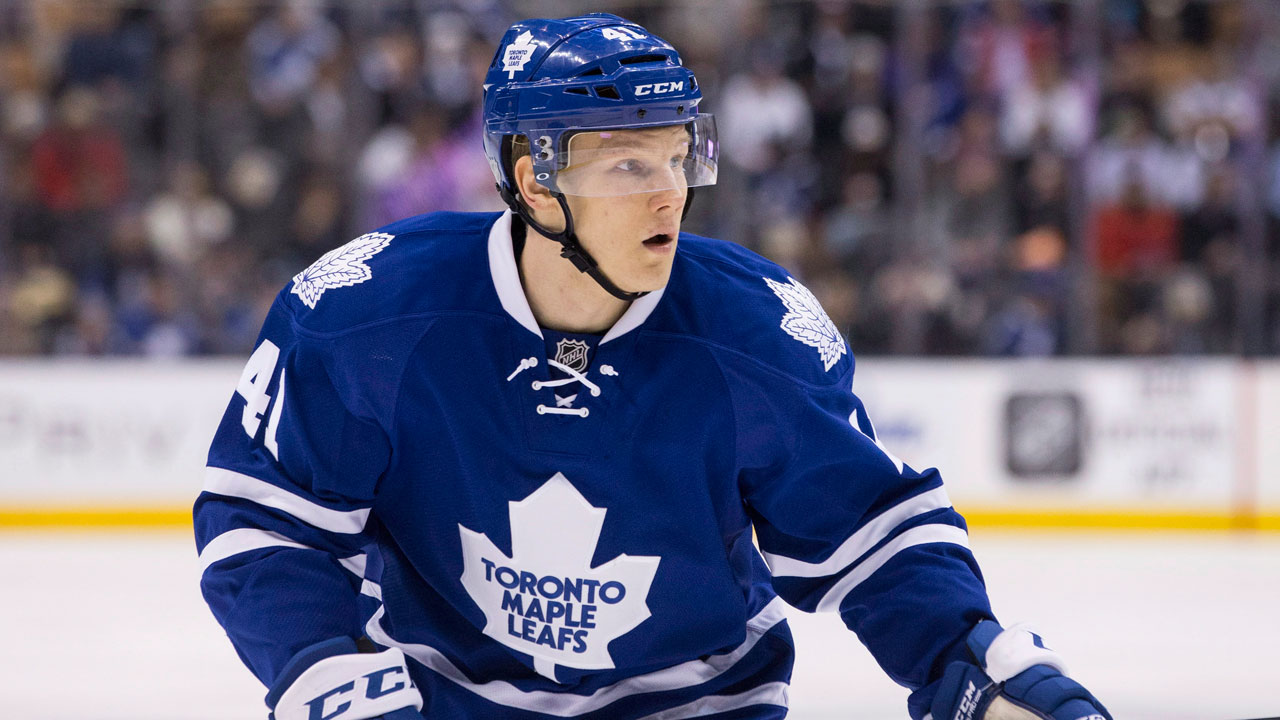 Before the Leafs unearthed this potential diamond in the rough, he had already cleared some hurdles. Soshnikov moved to Moscow as a teenager and spent three full seasons playing in the KHL's developmental league, never attracting much attention.
Even when he moved up to play for Moscow Oblast Atlant in 2013, he didn't always play. In one game early that season against Neftekhimik, Soshnikov saw just 2:43 of ice time over four shifts. A month later he played 4:42 against Slovan.
While it's not an uncommon experience for young players trying to make their way in the KHL, there was little to suggest then that he would be where he is today. He started receiving more playing time at the start of last season, but still saw less than 10 minutes in a game as recently as November 2014.
It was Evgeny Namestnikov, Atlant's assistant coach and a European scout for the Leafs, that put Soshnikov on the radar of team management. Director of player development Mark Hunter and director of player evaluation Jim Paliafito were among those who travelled to Russia to watch him play.
But when it came time to negotiate the terms of an entry-level contract, they weren't involved in a bidding war like the one that occurred with Artemi Panarin, for example. Only one other NHL team even contacted Craig Oster, Soshnikov's agent from Newport Sports, expressing interest in the winger.
The Leafs announced his signing on March 20 last year. The press release went out at 5:50 p.m. on a Friday night.
Since that's a window generally used to try and sneak out news you'd rather not get much media coverage, it's safe to say the Leafs weren't exactly trumpeting the new arrival – a notion underscored by the fact they attached a picture of former GM Dave Nonis, rather than the player himself, to a story posted on their website.
For Soshnikov, it represented a golden opportunity.
He couldn't get to Toronto fast enough for development camp in early July and returned long before rookie camp was scheduled to begin, staying at Leo Komarov's place and joining some of the Leafs for informal skates.
"He's a great kid," said Komarov. "He's trying to work."
The first thing Keefe noticed at the London rookie tournament in September was that Soshnikov had a "real knack" for getting under the skin of opponents. He also had speed and a lethal wrist shot. It was a promising combination of attributes.
While the Russian may not have put up the same scoring statistics as some of his Marlies teammates, he soon became the most used forward on the AHL's best team. He killed penalties and saw time on the power play, while adding scoring touch to a defensively responsible line with Fredrik Gauthier and Richard Clune.
But what really set Soshnikov apart was an atypical level of determination – even when measured against a peer group of young athletes one rung below the NHL. Along with Marlies defenceman Rinat Valiev, a fellow Russian with whom he lives in Toronto, he vowed not to miss a day.
When the Marlies didn't skate, he was in the gym. On the bus rides following road games, he was studying shifts on an iPad. When practice ended, he stayed out to work on his shot.
At times it became almost a negative thing, with Keefe and the organization's sports science team detecting a lag in his play at one point and having to urge Soshnikov to pace himself a little more.
"You've got to try to get him to maybe tone it down a little bit, especially with the scheduling in the AHL," said Keefe. "You've got three games in 48 hours with travel, and different (start) times, and the day before that it's not uncommon for him to spend two hours on the ice and then be the last guy in the gym.
"He gets after it every day."
More than anything, Soshnikov wanted to be ready when he got the call from the Leafs – one that eventually came from assistant GM Kyle Dubas before the Feb. 29 game against Tampa Bay.
He impressed immediately, showing a fearlessness and tenaciousness on the ice. When he scored in his second NHL game at Washington he let out a loud whoop that could be heard clearly on the TV broadcast.
Back in Nizhny Tagil, his proud father Dmitry watched through an internet feed – something he's done for every game Nikita played this season despite having to get up in the wee hours of the morning to do so.
"It's his dream and it's my dream," said Soshnikov.
In an organization hungry to get some building blocks in place, he appears to have established himself among those laying the foundation. Babcock has already indicated that he'll finish the regular season with the Maple Leafs and is currently playing him on the top line with Nazem Kadri and Komarov.
He doesn't look the least bit out of place.
"I like him a lot," said a scout from a rival NHL team. "He does things the right way, angled to pucks, stays in battles. (He's) smart on the PK with sneaky skill level. Babs will love this guy."
"He doesn't back down from anybody," offered goalie Garret Sparks, a teammate with both the Marlies and Leafs. "He plays a hard-nosed game, he's from a hard-nosed part of the world, and he's a very honest hockey player."
When Soshnikov had the game on his stick in the shootout against New York Islanders goalie Thomas Greiss on Wednesday night, any of the Marlies watching knew what to expect. He counts Pavel Bure and Pavel Datsyuk among his childhood heroes, but was schooled in a more literal sense by teammate Yuri Trubachev during his rookie season in the KHL.
Trubachev – a long ago draft pick of the Calgary Flames – loved swinging out wide during shootout attempts, making the goaltender believe he was going to pull the puck to his forehand, before boldly sliding it through the five hole with a backhand instead.
It was the exact move Soshnikov used to score the winning goal against Greiss.
"Most guys wouldn't try that," said Leafs winger Zach Hyman. "That's a little bit risky, but he loves it."
"He's not intimidated by anything," said Babcock.
The scene in the hallway outside the Maple Leafs dressing room following the game was chaotic. Like the initial stages of a party, there was excitement in the air as some of the highest-powered people in hockey mingled.
Soshnikov stood chatting with agents Don Meehan and Pat Morris, both of Newport Sports, when Larry Tanenbaum passed by on his way to the ACC director's lounge. The chairman of Maple Leaf Sports and Entertainment doubled back, shook the player's hand and said: "I'm proud of you."
At that moment – fresh off his sixth NHL game – Soshnikov could be forgiven for briefly wondering where he was, and how he got there.