Looks like we've got a new rivalry on our hands, hockey fans.
The way Wednesday's game between the Pittsburgh Penguins and Winnipeg Jets went down, you'd think these opponents were steeped in a long history of playoff battles and penalty minutes.
The first period alone featured back-to-back fights, an ejection, plenty of goals and a total of 43 penalty minutes.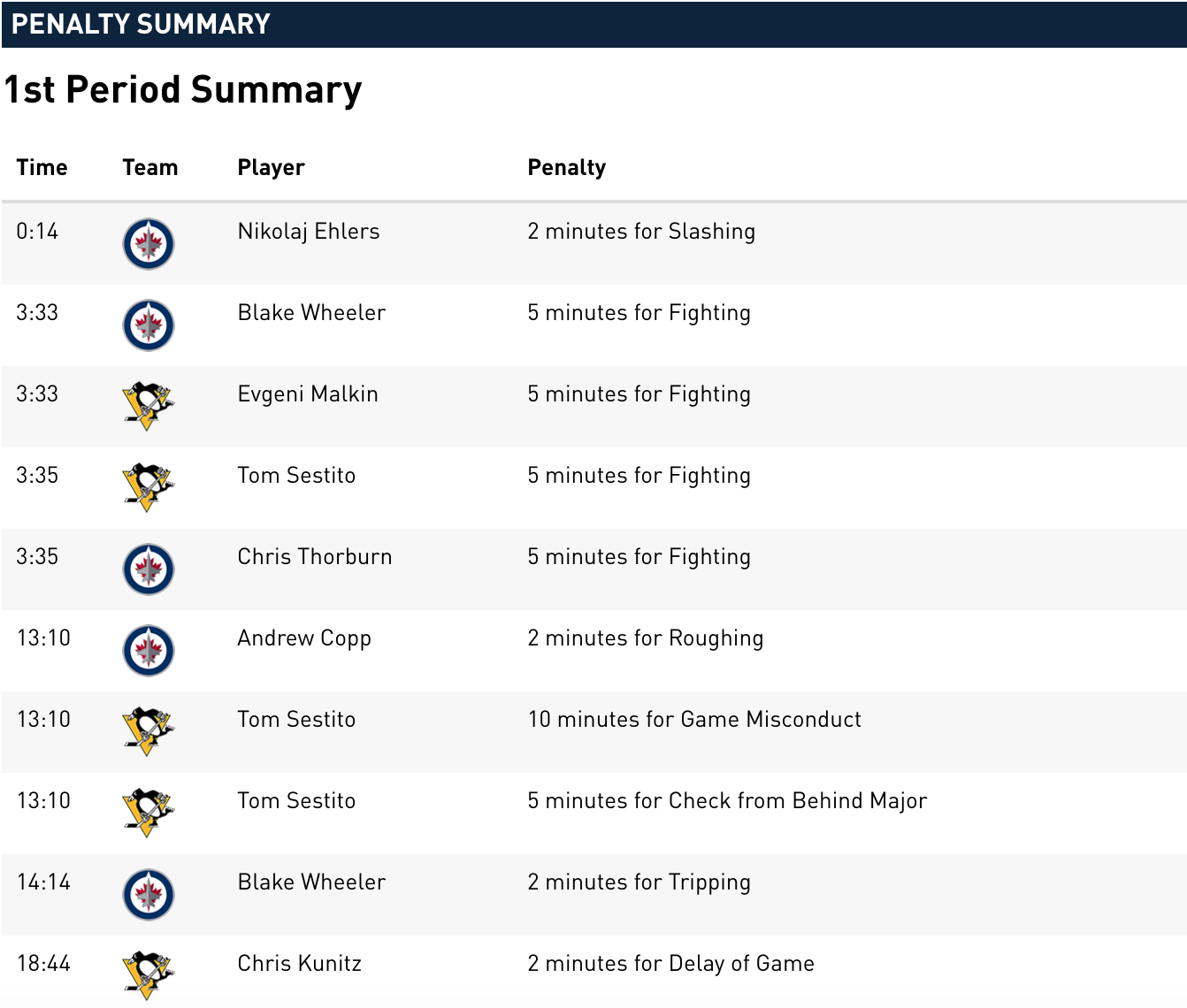 The list of infractions from the second period was definitely shorter, but filled with enough hooks and slashes to maintain the heated tone of the game.
So, why all the bad blood?
Let's rewind a few weeks to Feb. 16, when Evgeni Malkin laid a high hit on Blake Wheeler. Malkin served two minutes for interference but was not penalized by the NHL Department of Player Safety.
Wheeler was not seriously injured, but he was angered by the hit—especially when his teammate, Jacob Trouba, was suspended two games for a similar hit just three nights later.
"From my perspective, you'd like to see the guy [Malkin] at least get a phone call. You don't touch the puck. Leaves his feet. Hits you in the head. That's the unfortunate part about it," Wheeler said back on Feb. 21.
"Malkin's a pretty good hockey player. I think he knows who has the puck and when they have the puck. His instincts are pretty good out there. I never had the puck. I never even saw him coming. He comes from the side of me. All I felt was my head snap back."
"You can live with your guy getting two games as long as there's consistency throughout," he said. "I know they have a lot of hits they're looking at every night. You like to feel protected out there. With what's transpired in the last week, it raises a lot of questions."
The rough stuff wasn't just limited to one hit, as Penguins Justin Schultz and Olli Maatta each sustained injuries during the February game as things continued to heat up between the teams.
That's when we all circled the March 8 rematch on our calendars—and it didn't disappoint.
Revenge was swift and sweet on Wednesday night, as Wheeler dropped the gloves with Malkin less than four minutes into the game. (Watch the fight at the top of this post.)
The Jets captain won in a Hockey Twitter-determined consensus, firing up his teammates in the process.
Just two seconds later, Chris Thorburn and Tom Sestito put on an encore, exchanging punches and earning themselves five minutes each for fighting.
Sestito wasn't done there. He was ejected later that period for a vicious-looking hit from behind on Toby Enstrom, which sent the Jets defenceman to the hospital. (More on Sestito's ridiculous three-shift game here.)
The fact that Sestito was suiting up for Wednesday's game in the first place brought some controversy.
Jets coach Paul Maurice didn't go into much detail when asked about it after the game, but made his feelings clear when he quipped that the agitator "wasn't called up to dangle."
Penguins bench boss Mike Sullivan said Sestito is "a guy that brings a physical element to our team."
"He has the ability to create some anxiety," he said, adding that Sestito's presence gives his teammates "a certain comfort level when they're on the ice."
Malkin was roughed up throughout the game—including a late-game shoving match with Adam Lowry—but in the end, he had the final say on the scoreboard, with two goals and an assist for a Gordie Howe hat trick, all while helping Pittsburgh to a 7-4 victory.
In an honest post-game chat with Sportsnet's Sean Reynolds, Malkin acknowledged that his hit back in February was "not great" and explained that he fought Wheeler early in Wednesday night's game out of respect for the Jets' leader.
As for his punch-throwing performance?
"It's not great, my fight, but it's fine," he said in another moment of honesty.
Unfortunately for hockey fans, we'll have to wait a while before we see another matchup between these two clubs, as they won't meet again this season.