It's not often that a team solidly in the playoff picture considers selling off an asset, but that seems to be the case with the Boston Bruins and Loui Eriksson. The Swedish left winger is in the midst of his best season since 2011-12 and best goal-scoring season since 2008-09.
Eriksson has been an absolute menace on the Bruins' fantastic power play, but he is also third on the team in even strength points per 60 minutes, 40th overall in the league.
He would garner a lot of interest in a trade, but would also be a big loss for the Bruins. However, he's also 30 years old, and considering his performance this season, could be in for a major payday that ends up being a poor contract for the team that signs him.
The Bruins must ask themselves some tough questions: Are they good enough to make a deep run this year? Is that deep run more valuable than futures they could acquire? Do they want to bring Eriksson back? Looking at Eriksson analytically may clarify things.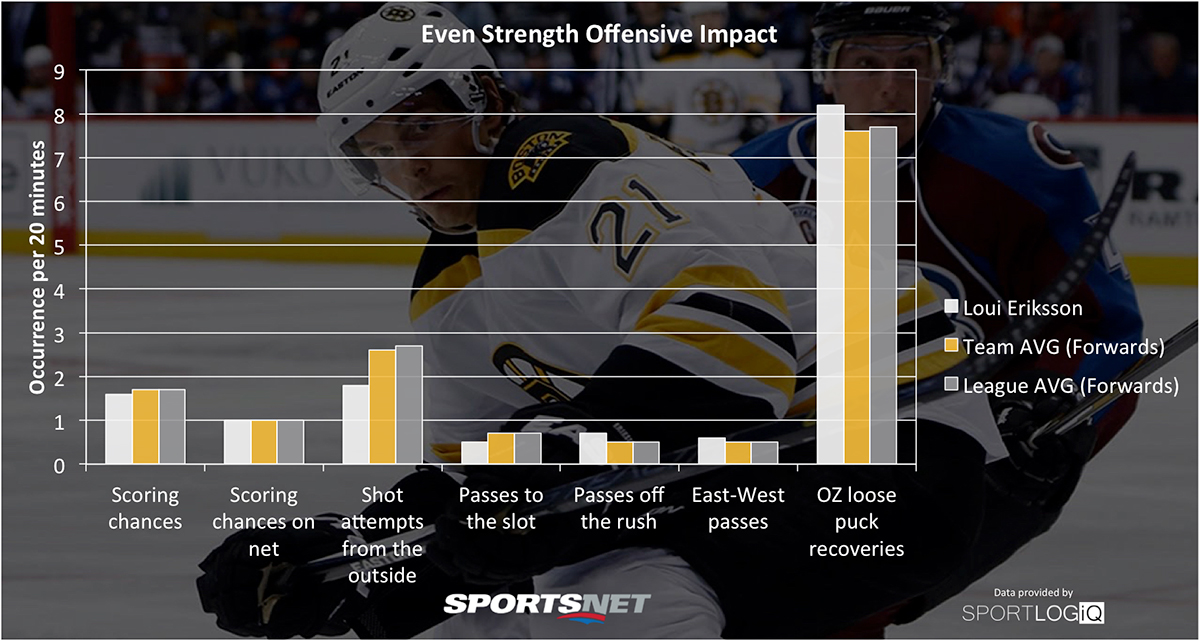 Eriksson is a different kind of scoring chance producer. At even strength he doesn't shoot very much and he doesn't pass to the slot very often either. He creates offence off the rush with his passing and moving the puck East-West a bit more than average.
He's also an effective forechecker, but his puck distributing after winning possession isn't to the slot, it's to a teammate, then Eriksson himself goes to the slot, where his quick hands are extremely dangerous.
Even strength play doesn't tell the whole story of Eriksson's shooting either. Let's look at his shot locations in all situations.
The blueline represents Eriksson's median shot distance, which is absurdly close to the net, with an excellent 38.7 per cent of his total shot attempts coming from the inner slot.
That kind of shot selection is a big reason why Eriksson has been scoring at a nearly career-high pace, especially since he's getting 75.1 per cent of his shot attempts on net from that high danger area.
That kind of player has value in the playoffs, but Eriksson also has a reputation as a solid all-around forward, so how does he stack up in other areas?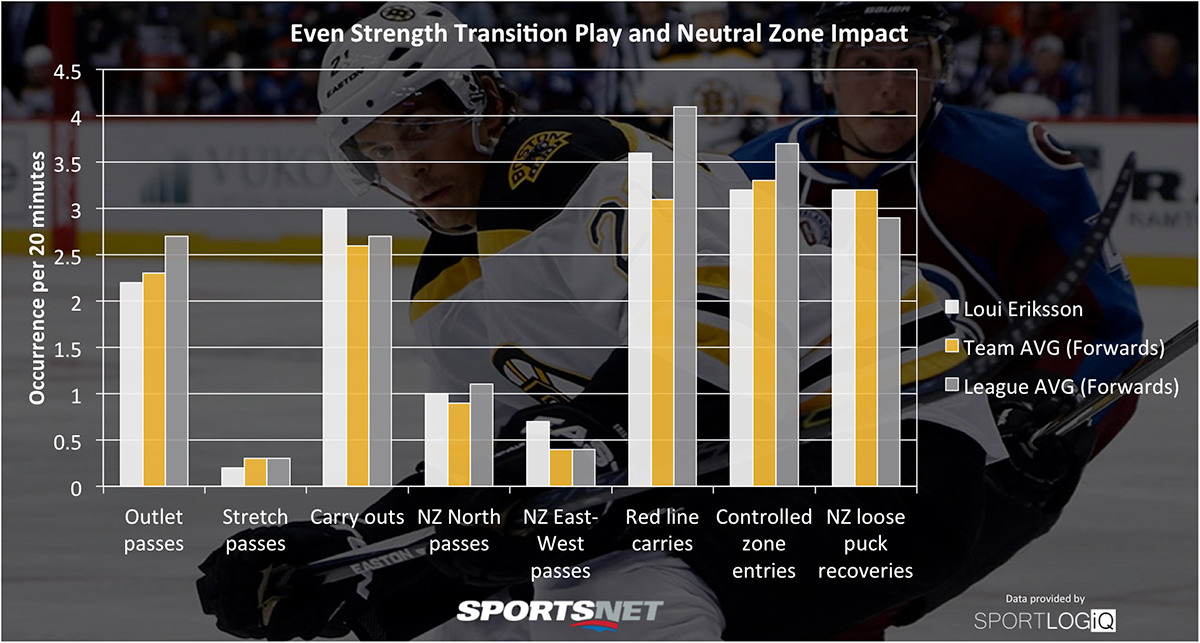 The Bruins' forwards rank 28th in the NHL in terms of pushing the play up the ice with control this season and instead prefer to battle it out for pucks with clever chips and dumps in and out of zones. Eriksson's numbers don't look gaudy, but he is above the average Bruins forward in terms of moving the puck up ice with control.
Eriksson's 13.9 possession driving plays per 20 minutes at even strength ranks him fifth among forwards on the team, but once again, he's an odd player. Eriksson prefers to carry the puck out of the defensive zone and over the red line in the neutral zone, but instead of carrying the puck in he often makes passes to linemates so they can carry it in – and he does that more than anyone else on the Bruins.
Eriksson is also a solid player for winning puck battles in the neutral zone. Based on his tendencies – and if he gets traded – he could be a very strong transition player on a team that uses its forwards to carry the puck more often than the Bruins do.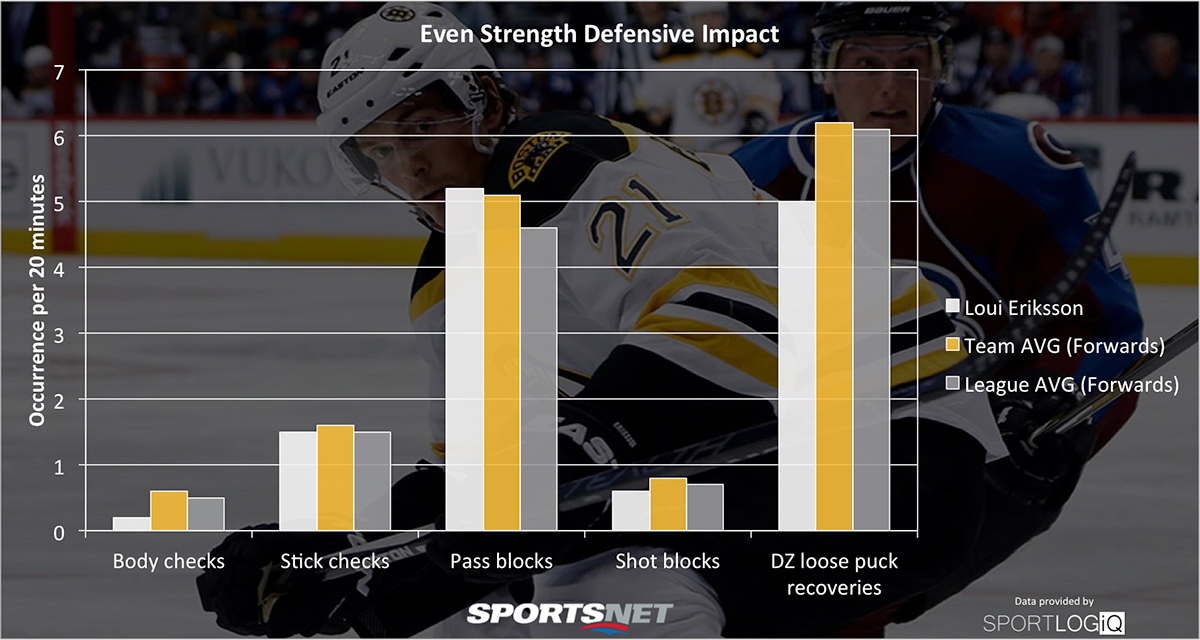 Eriksson has had a good defensive reputation for a long time, but overall this season his ability to get the puck away from opponents isn't very strong, and he hasn't been great on loose pucks in the defensive zone either.
One area he is strong though, is breaking up passes. The Bruins' forwards are above league average in general in that area, and Eriksson is better still. He's nowhere near Patrice Bergeron, but that ability is something teams appreciate, especially with a player who can take that puck and start a rush the other way.
Eriksson is still a very good player, even if this season has been very lucky for him in terms of scoring. The one thing teams might want to beware of with him is how much his power play scoring is a product of the Bruins' excellent man advantage this season.
What the Bruins should do with Eriksson almost entirely depends on how they see themselves this season. Are they a transition team trying to rebuild on the fly? Or are they trying to pack in as many runs as possible while Zdeno Chara is still playing?