While Canada is still basking in the glow of Olympic gold, the focus will quickly return to the NHL and the sprint to the playoffs. On Monday Randy Carlyle met with the media and decided that Team Canada presented a prime example for him to get support for his agenda: Defensive hockey wins.

The notion that Carlyle would use the most dominant possession performance anybody has ever seen is bizarre. Carlyle's teams are a possession black hole. Through 60 games the Maple Leafs are at 43 percent Corsi. Canada finished the Olympics at 69 percent. No wonder the #fancystat community is so skeptical of coaches who make statements like Carlyle's. A more accurate assessment to offer up as his example was Latvia, which sat back against the Canadian powerhouse and hoped for transition breaks and some luck to pull off a monumental upset.
Although it's an extreme example, Canada sets the argument for the importance of possession. They dominated the possession and shot charts and, while not rewarded with goals, choked teams out and avoided any unfortunate breaks with elite special teams and almost perfect goaltending from Carey Price.
Credit for that must go to the management team. Many of us nitpicked over P.K. Subban sitting or the inclusion of Chris Kunitz as Sidney Crosby's caddie, but no one can complain about the game plan that Mike Babcock and his staff executed. With the depth that Canada possesses, Babcock and Co. decided to overwhelm teams with skill and depth. As such, every single line they created was capable of overpowering what any opponent had to offer.
I tracked Canada's usage through the Games. After some slight tinkering Babcock went with a top unit of Crosby, Kunitz (72 percent of the time) and Patrice Bergeron (50 percent) backed by Keith (41 percent) and Weber (39 percent) or Drew Doughty (29 percent) and Marc-Edouard Vlasic (31 percent). The top unit was capable of shutting down any other No. 1 fivesome while maintaining dominant possession play. At even strength, Crosby produced a .706 Fenwick and a .691 Corsi percentage.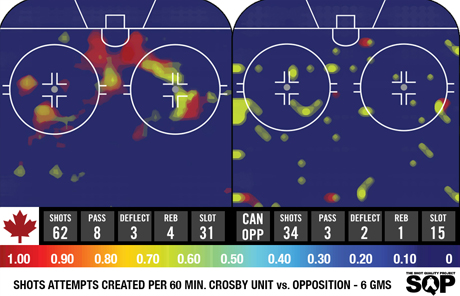 Look at the shot attempts for and against Crosby's unit. Utter domination. And it's made even more apparent by the 5-on-5 Fenwick/Corsi rates of the five players for the entire Olympic tournament.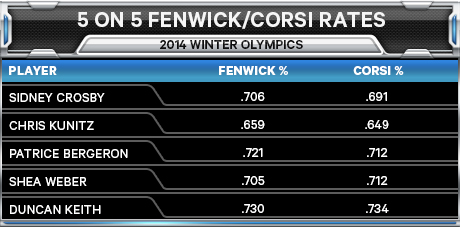 Now add Jonathan Toews's unit to the mix. It's almost unfair to the rest of the world. Toews was deployed with Patrick Marleau (74 percent of the time) and Jeff Carter (71%), with Shea Weber (46%) and Duncan Keith (42%) most often manning the blueline. Doughty and Vlasic spent the majority of their time rotating while backing Weber and Keith with these two units.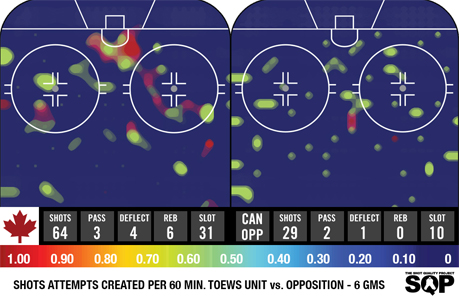 With Crosby or Toews on the ice at even strength, Canada produced 126 shots—62 of which were from the slot—and allowed just 63 shots—25 of which were from the slot. These two units were a combined plus-37 from the home plate area, the most coveted part on the ice.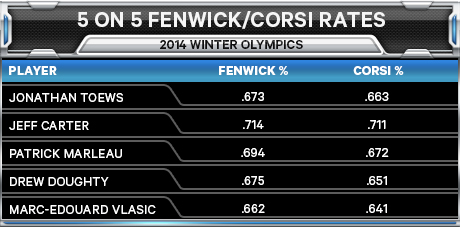 With Crosby and Toews soaking up all the tough minutes, that left Ryan Getzlaf and Corey Perry to exploit Canada's absurd organizational depth.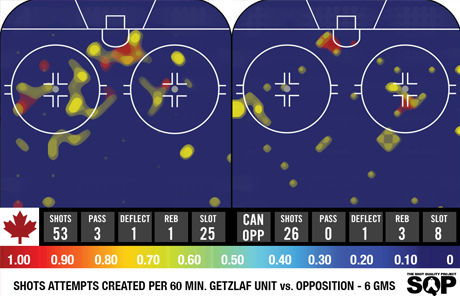 Paired with his Anaheim teammate Perry (93 percent of the time) and Jamie Benn (48 percent), and backed by Jay Bouwmeester (35 percent) and Alex Pietrangelo (41 percent), the Getzlaf line wreaked havoc, even carrying an 84 percent possession rate at 5-on-5 versus Latvia.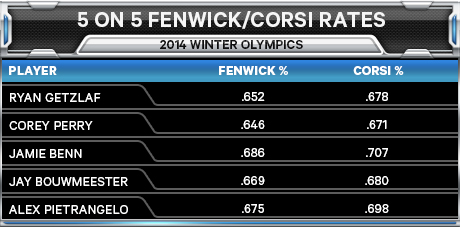 If the third line was an exploitation line, the fourth—consisting of the rotating cast of of Matt Duchene, John Tavares, Rick Nash and Patrick Sharp—ground through the rest of the world's depth forwards like chum.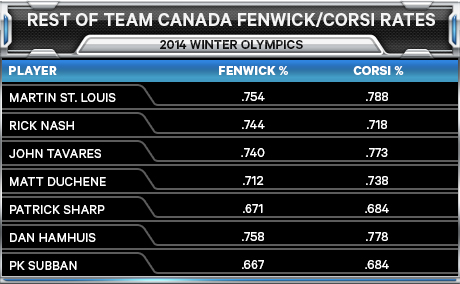 And it only got more apparent as games wore on. Almost every contest resulted in Canada having its lowest possession output early in the first period as they gauged the opponents' aggressiveness. But by mid-way through the first period, Canada would begin to wear their opponents down. And before long, any aggression transitioned into survival mode. Team USA was the only opponent who managed a better differential in the third period than the first, but they were still limited to a 41 percent possession rate. Canada nursing a 1-0 lead, turned the star-laden offensive Americans into the Buffalo Sabres.

This team was so dominant that I haven't even mentioned the goaltender with the .971 save percentage. There is no doubt that Carey Price had an easier workload than Kristers Gudlevskis. Like using Canada as an extreme possession example, the same argument can be made for shot quality. This is an extreme example of a goaltender having an easier workload and it is already being used to provide an out for those who questioned Canada's goaltending depth heading into the Games.
Earlier in the season I provided a number examples of shot quality masking Price's true ability,  and argued why he should be the starter in Sochi over Luongo. Acknowledging that Price was helped by a smothering defence is easy, but interestingly enough I ran Canada's numbers against an earlier comparable.
The numbers on Price's versus Tuukka Rask's average workload are strikingly similar. The largest discrepancy lies in the amount of shots Price was exposed to in the slot compared to Rask. The number is miniscule when considering Price's sample was 106 shots. Seven extra slot shots for the tourney is good for a goal-and-a-half against on average. What it means is Price's easy ride in Sochi was slightly less taxing than what Rask faces regularly on a defensively disciplined Boston Bruins team.
So no, Randy Carlyle, this collection of arguably the greatest Canadian talent ever assembled isn't proof that being out-shot by nine per game is a prime example of defensive success. Team Canada actually proves the exact opposite of what you are trying to convey. Puck possession rules. When you have the puck, the other team doesn't. Canada was too busy owning the puck for 42 minutes of every game to worry about puck-chasing techniques like hits, blocked shots and toughness.
Team Canada 2014 was the most impressive display of hockey and the last thing I thought of while watching them school the world was Randypuck.