Tuesday, Toronto Maple Leafs head coach Randy Carlyle was relieved of his duties amidst a 3-7-0 streak that saw his team outscored 36-21. That after a previous streak of 8-1-1 that masked a horrendous shot differential.
Last season the Leafs laid claim to one of the worst defensive efforts in NHL history. The number of shots they allowed rivaled that of expansion teams like the 1973-74 Islanders, the '74-75 Capitals and the '92-93 Sharks.
Despite all the off-season discussion of change with new coaches, shifts in systems, and a revamped supporting cast, this year's Leafs are actually doing worse defensively than they did last season. And Carlyle has now paid the price.
The Dallas Stars squeaked into the Western Conference playoffs with 91 points last season and were many prognosticators' pick to make significant strides in the standings in 2014-15. Unfortunately they started this year in a defensive tailspin and didn't winning a lot early. That despite significant off-season roster changes adding Jason Spezza and Ales Hemsky to an already dangerous forward group.
But unlike the Leafs, early season trades helped kick-start a defensive revival in Dallas and they've been one of the hottest teams in the league the past month.
Many observers point to hot streaks for both teams as evidence that they are quite similar. The key distinction between the recent 9-2-1 run for Dallas and that 10-1-1 stretch for the Leafs is that the underlying data supports Dallas's being built on a sustainable defensive foundation that has them dominating possession and scoring chances.
The Leafs' stretch was based on streaky shooting and unsustainable goaltending performances that belied atrocious defensive results.
One of the most regular refrains from NHL insiders and observers who find analytics based on shot attempts a tough buy is that it feels superfluous and uninformative. This is largely based on the premise that since NHL teams have been tracking scoring chances via video analysis since the days of Roger Neilson (a.k.a. "Captain Video") back in the '70s, little extra information is now being added.
The idea that scoring chances—shots from dangerous areas—tell a more complete tale than regular shot counts has long held sway with those in and around the game. This isn't actually contradictory to the views of most analysts when it comes to describing past performance. While debates about "shot quality" have percolated around the world of analytics for some time, various factors relating to specific shots have long been known to affect goal-scoring outcomes.
Based on the wide variety of information recorded concerning all shots, we can cobble together a relatively standardized concept of a "scoring chance." Using shot-attempt location data, time gaps between events and shot types, we can tease specific scoring-chance counts from the NHL play-by-play data.
The grunt work on this has been completed using data as far back as 2005-06 and is available at War-On-Ice.com, with a detailed and specific explanation available here.
This data offers a clear picture of how the Leafs and Stars are diverging in terms of their underlying play as the season progresses. The graph below compares the teams' rolling 10-game Scoring Chance Differential at 5v5.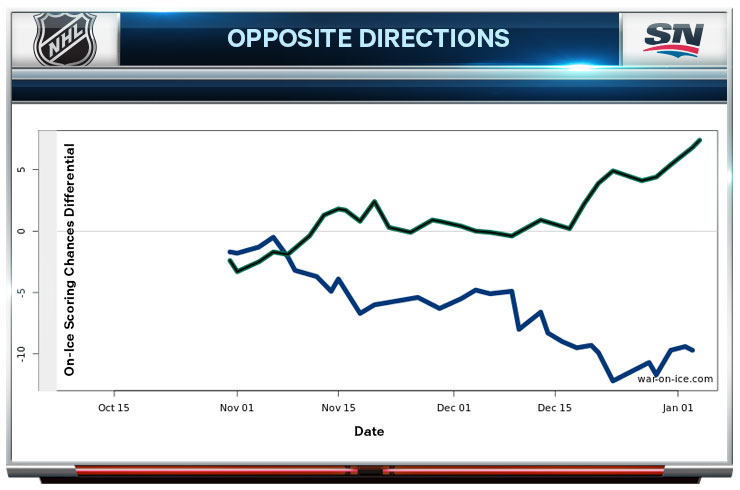 The interesting thing here is that in mid-November, Toronto had played 18 games and Dallas 17. Toronto ranked 28th in the NHL in Scoring Chances Against per 60 minutes at 5v5 (SCA60), allowing 32.8 while Dallas ranked 27th allowing 30.3. Both teams were playing abysmal defensively. Since November 18, Dallas has ranked 22nd allowing 26.9 while the Toronto 18-wheeler has slid closer to the cliff defensively, ranking 30th at 36.6.
Mid-November is a turning point in this story because Stars GM Jim Nill swung two key trades that look to have turned fortunes around for his club. On November 11, the Stars shipped out aging puck-mover Sergei Gonchar in exchange for aging tough guy Travis Moen, who really hasn't made a particularly positive impact. What the move did do, though, was allow Dallas to promote 22-year-old farmhand John Klingberg who has stepped in and is now averaging 21:28 on their blueline. Klingberg's SCA60 is 26.3 at 5v5, while Gonchar's was 32.6, meaning the exchange has been reducing scoring chances against significantly.
The second trade was made on November 21 when Brenden Dillon was shipped to the Sharks in exchange for fellow blueliner Jason Demers and a 2016 third-round pick. At 26, Demers is two years older, but far from over the hill.
He has provided an offensive punch (two goals, seven points) to help make up for the departure of Gonchar, but the key improvement has been his impact on Dallas's defence with a SCA60 of 25.9 in comparison to Dillon's 32.2.
The overall effect of these two trades on the Dallas D-corps is hard to ignore, and does make one wonder what sort of shift could be seen in the Toronto's results if some of their less capable contributors on the defensive side were replaced with parts that minimized chances for the opposition. Standing pat as the Leafs have for the past few seasons when it comes to core pieces has resulted in more of the same, and it's heading downhill fast.
With Carlye now gone, it's now up to management to fix what the coach could not.