Since Mark Scheifele went out with an injury in late December, the Winnipeg Jets have tried a bit of an experiment, using their best two-way forward in Blake Wheeler in the middle.
Wheeler is one of the best wingers in the NHL; I had him ranked as the fourth-best right wing in hockey over the last three years before this season began, but moving to centre is a serious challenge.
The extra defensive responsibility can force players who are inclined towards offence to struggle a little bit, but Wheeler is excellent without the puck, and one of the NHL's better puck battlers.
Moving from the wing to centre, you would expect that where Wheeler battles for loose pucks would change; he would be less inclined to forecheck, and much more involved defensively. Looking at the splits before and after Scheifele went down, we can check if this is actually the case.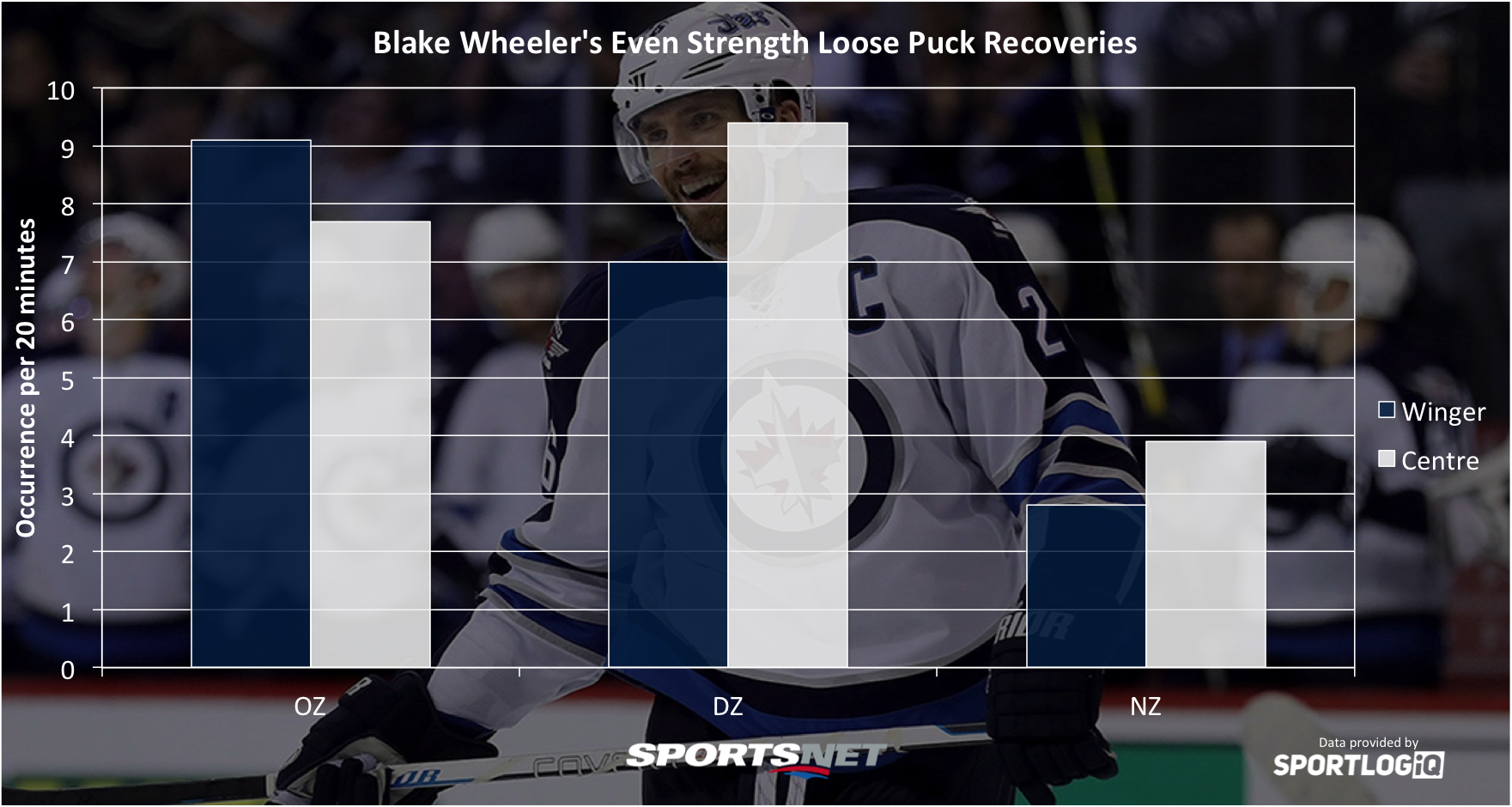 As expected, Wheeler has seen his forechecking drop a fair amount, while his involvement defensively is way up, as is his aggressiveness in the neutral zone. Wheeler has always been one of the Jets' best forecheckers, it's one of his biggest talents in generating offence, so this takes him a little outside his comfort zone offensively.
Yet, since he was moved to the middle, Wheeler leads the Jets with 14 points in 14 games, and has even been respectable on faceoffs at 49 per cent. The question I have, is aside from a little less forechecking, has Wheeler's offensive game changed since he was moved to the middle?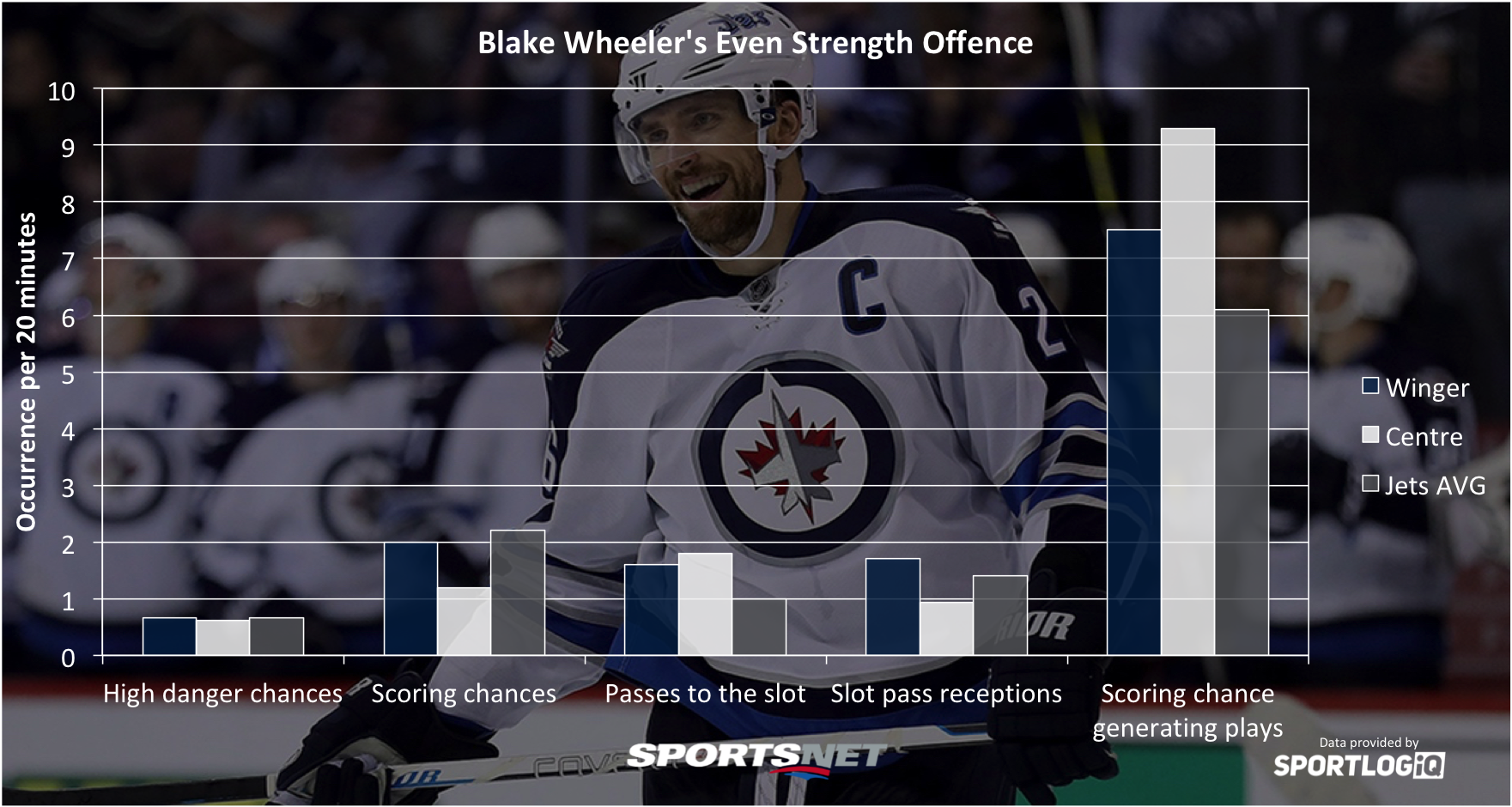 While Wheeler wasn't above team average in scoring chances while on the wing, one thing he was good at was staying open in the slot to receive passes, then shooting quickly. More of his shots on goal involved pre-shot movement than most of his teammates, making him a dangerous scorer.
Since moving to centre, his personal scoring chances have dropped off significantly, as have his pass receptions in the slot, because he has become the playmaker on his line, increasing his own passes into the slot.
As a result, the number of chances he creates for teammates has rocketed upwards to one of the best marks in the league.
However, taking Wheeler's best shots out of the equation does come at a cost, even if he's setting up Patrik Laine.
Wheeler is creating more opportunities for linemates, but that doesn't necessarily mean the Jets are better off. Let's look at Wheeler's on-ice differentials to see how much the Jets have benefitted from this move.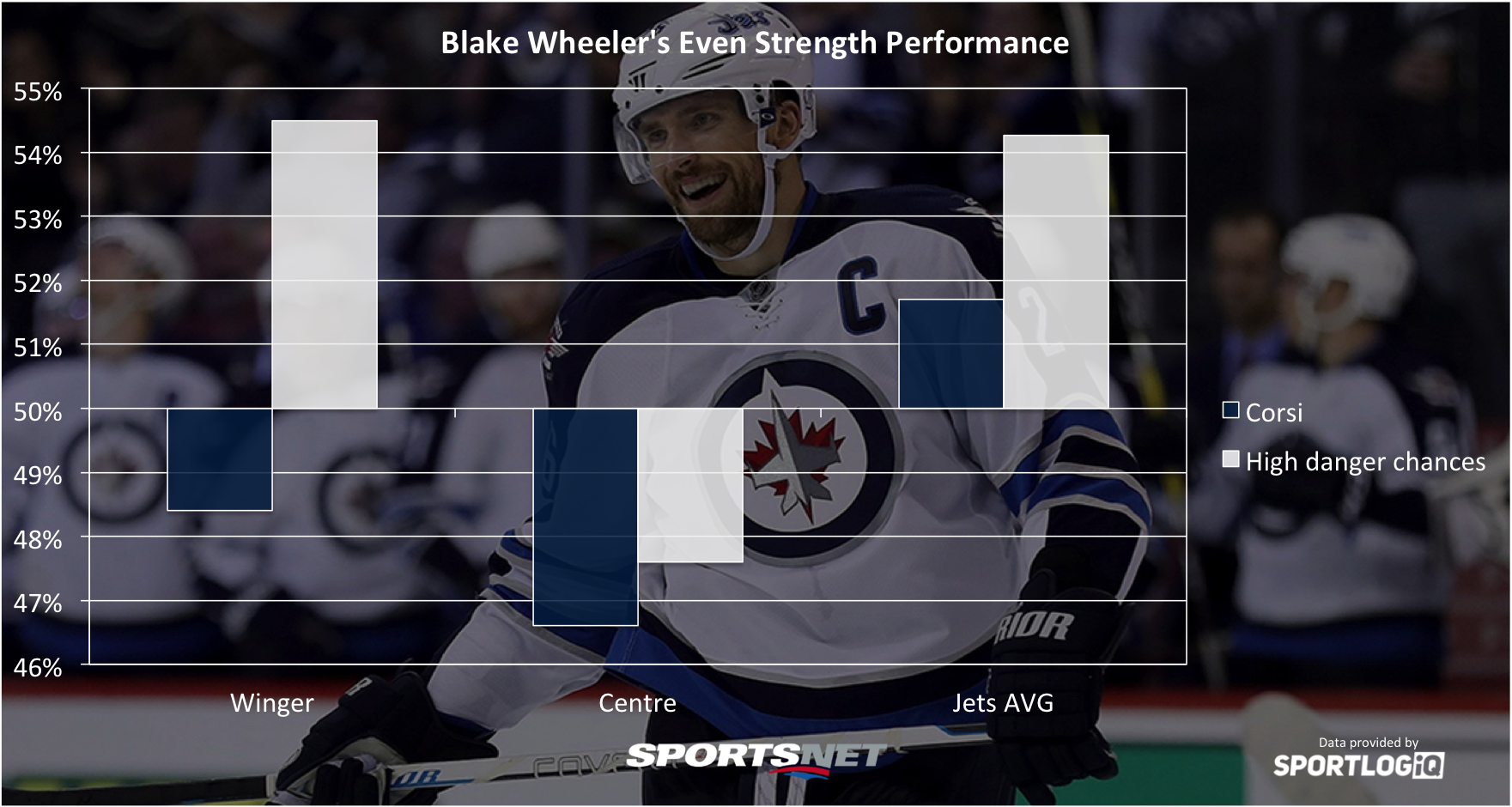 Wheeler's shot attempt differentials haven't been great all season, and really it's not a surprise that he took a hit in Corsi moving to the middle — it's brand new for him. However, despite his poor shot attempt numbers, he has consistently been brilliant in high danger scoring chance differential on the wing, but that hasn't been true at centre.
The Jets are a very good even-strength team, one of the few that has been able to consistently outperform its shot attempts by controlling shot quality this season. Losing Scheifele does more than just force Wheeler to move to the middle, it allows opponents to focus their checking on fewer lines, making Wheeler's job even tougher.
Looking into how things have changed with Wheeler on the ice, defensively the Jets are giving up almost the exact same number of high danger chances at 5-on-5, so he's adjusted to the defensive responsibilities of the centre position perfectly.
The main change has been that the Jets have gone from producing 7.8 high danger chances per 60 minutes when Wheeler was on the ice as a winger, to just 6.2 as a centre. That may not seem like much, but for a low event statistic, it's pretty significant.
Luckily, Wheeler has been great on the power play, with eight of his 14 points over the last month or so coming with the man advantage, but there's still something missing at even strength.
Ironically, what Wheeler could probably use the most is a winger who plays similar to himself to support the attack and hang out in the slot after recovering pucks off the forecheck.
Wheeler's success at centre is a good story, especially defensively, but some good fortune in the short term has made it look a bit more promising than it's actually been. Though who knows what could happen if he adjusts offensively as well as he has defensively.