With just 21 points in 35 games, Chicago Blackhawks all-star Jonathan Toews is currently on pace for the worst season-ending point total of his career—below even the 48 points he scored in the lockout-shortened 2012-13 campaign.
Lots can change in the second half of the season, but there has been a bit of a decline in Toews's offensive production over the past few seasons, where he's gone from constantly flirting with a point per game to becoming a ~60-point centre.
With that said, a big part of the reason why Toews's production looks substandard this season is his 7.4 shooting percentage, which is a hair above half his career-average mark. Toews is a notoriously high-percentage shooter, so the question is this:
Has he been unlucky or bad at scoring goals this year?
Toews has scored 28 goals each of the past three seasons, but is on pace for less than 15 this year, so let's compare him to his past self and see if anything is different.
The first thing I want to look at is his shooting on the power play, because that's the one area where Toews is actually better than last year. It's a small difference, but Toews is scoring 1.89 goals per 60 on the power play this year as opposed to 1.56 last year.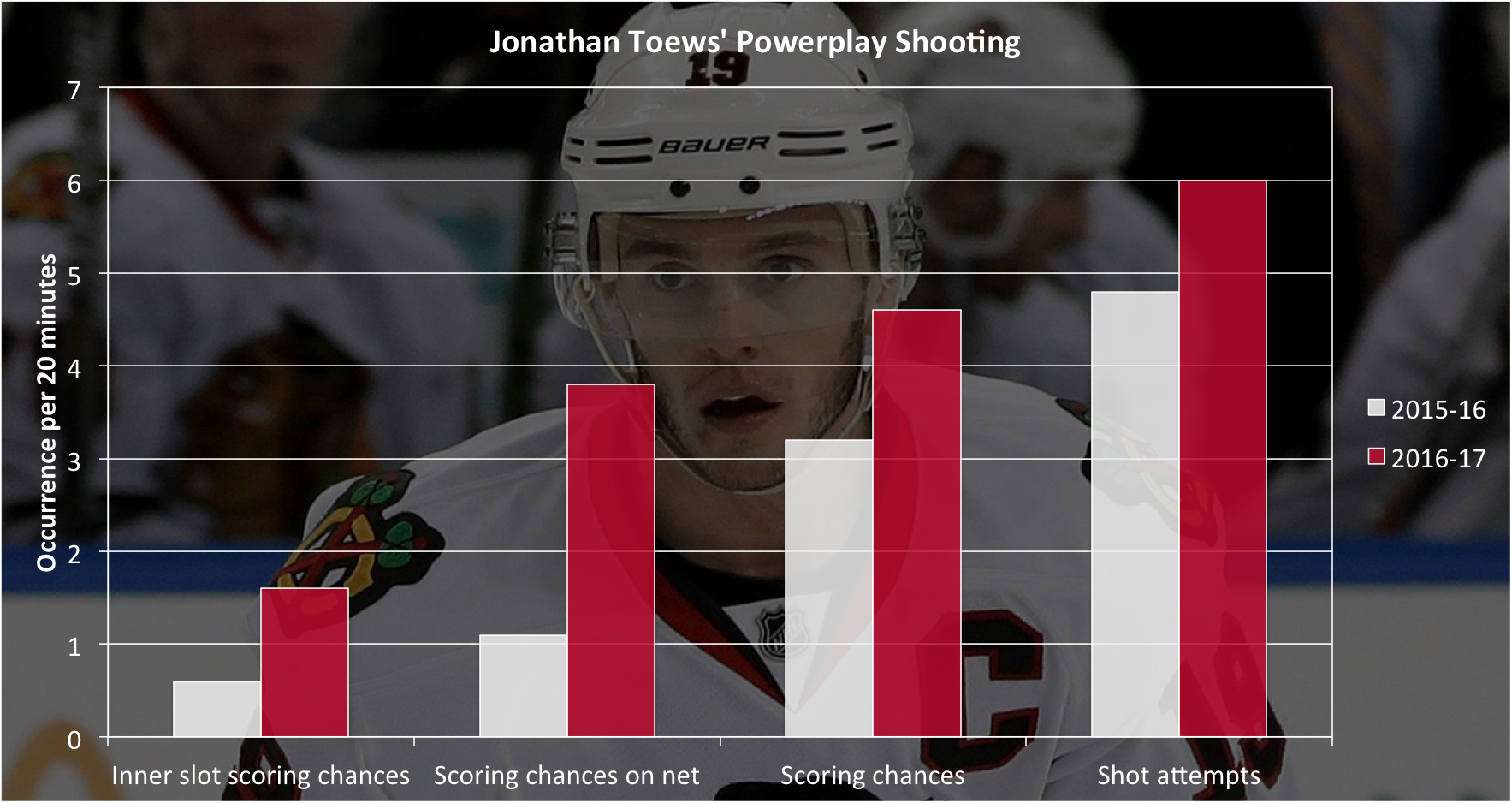 As it turns out, Toews has vastly improved his power-play shooting, taking more shots in general, and far more dangerous ones at that. The biggest difference from last year is that Toews is getting more of his power-play scoring chances on net, creating not only better chances to score for himself, but for his teammates when his shot is stopped and creates a rebound.
What's interesting, though, is that Toews's snake-bitten shooting has hit him on the power play as well. Last season he scored on 19.2 per cent of his power-play shots, but this year he's down to a 14.29 shooting percentage on the power play despite taking shots from far better areas. His shooting percentage on the power play last season likely wasn't sustainable with how few chances he was creating, but the changes he's made to his style of play should lead to more goals there.
Where Toews has truly struggled compared to the rest of his career has been at even strength, where he's scoring on just 3.17 per cent of his shots, leading to a career-low 0.23 goals per 60 minutes at 5-vs-5 hockey, just 23 per cent of his career average heading into this season.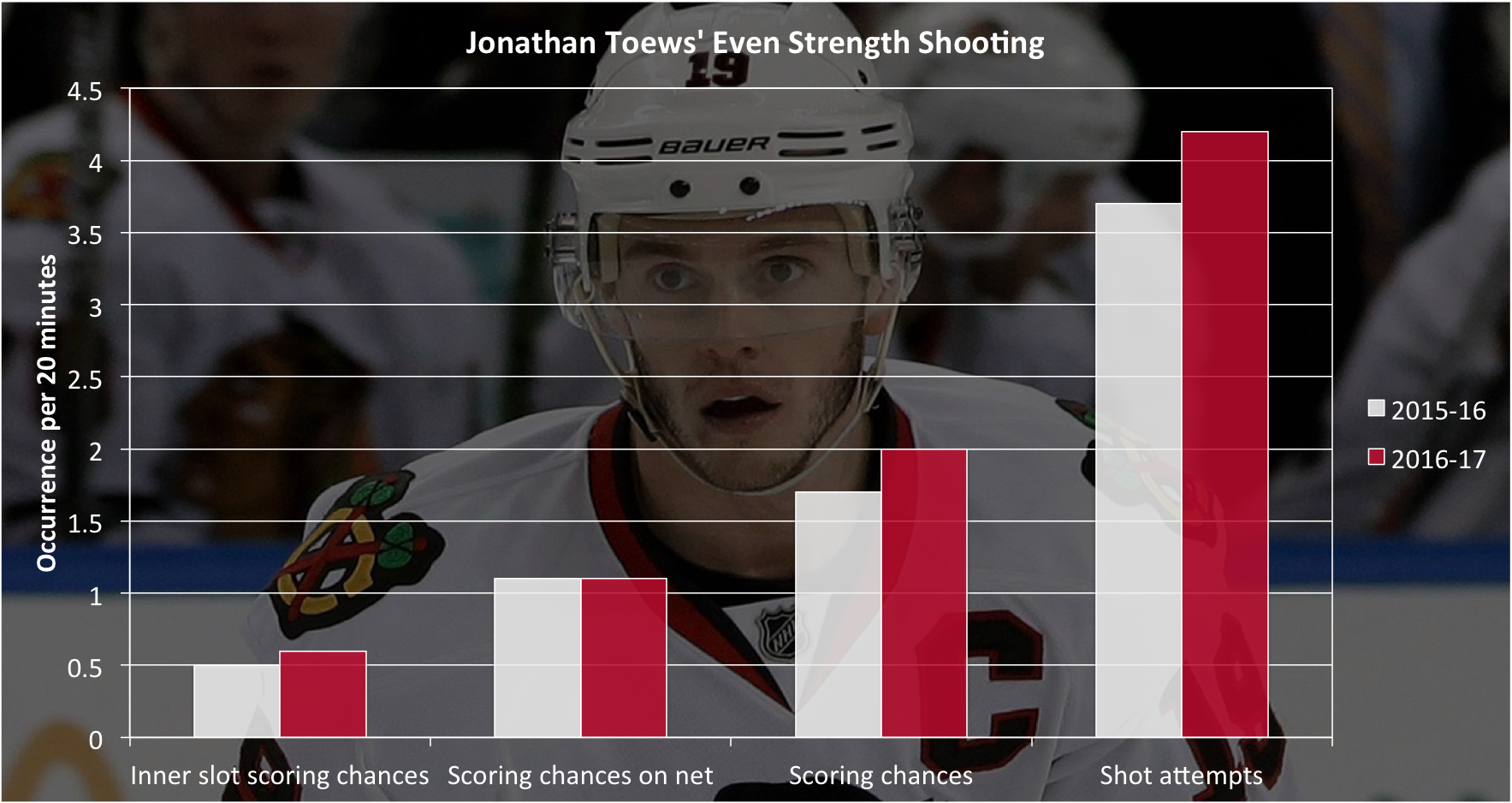 Last year was a below-average even strength year for Toews, so the improvements he's made in scoring chances at even strength aren't especially impressive compared to his power-play work, but he's also scoring less than half as much as last season.
With this kind of shooting spread, it's unlikely we'll see Toews put the puck in the net at the same rate he did in his prime, but he should be getting rewarded with more goals than he has been so far.
For whatever reason, he has been stuck in a hellish slump at even strength despite better personal play than last year, and it's not just goals either. From 2007–08 to 2015–16, Toews registered a point on 71.8 per cent of all even-strength goals Chicago scored while he was on the ice, and this year that number is down to 52.6 per cent, 10 full percentage points lower than his previous career low, which happened in his rookie year.
The facts are that Toews, at 28 and older, is unlikely to match the numbers he put up from 22 to 25, but his production this season is not remotely indicative of the player he is. There's lots of great hockey left for him.