Going into the off-season everyone knew that the Toronto Maple Leafs were going to have to move some salary around in order to re-sign Mitch Marner and have their full core locked in through their prime years, and now we know that two of the names likely to be moved are Patrick Marleau and Nikita Zaitsev, both by player request.
Marleau is at the end of a near-Hall of Fame career, but shouldn't draw much in return for what he's able to do now with the cap hit he carries.
Zaitsev however, is a bit of a wild card. He'll be 28 years old when next season is less than a month old, signed until 2023-24 for $4.5 million per season. The general view is that Zaitsev is overpaid for what he brings, but the average salary for a player on a team that spends to the cap these days is about $3.61 million, so if he's an average player, he's only making a league minimum contract over average wage, which isn't that bad.
Combine that with the value of the contract decreasing as the salary cap increases, the trust Mike Babcock placed in him over the last three seasons — playing over 20 minutes per game last season after playing 22 or more the previous two — and it shouldn't be surprising that there's a bit of a market for him.
Right-handed defencemen always seem to have value, and there has to be some curiosity about Zaitsev's rookie season, where he was given a bit more opportunity to produce offence and managed to put up 36 points.
Is Zaitsev a diamond in the rough stifled by the role the Maple Leafs forced him into behind more talented offensive defencemen like Morgan Rielly and Jake Gardiner? We can dig into the data to find out.
One of the first things I go to in order to get the feel of a player's place in the league as a whole is the positional ranking project I do for Sportsnet in the summer. Obviously that data hasn't been compiled for this season yet since I do that work over the off-season, but we can look at how his first two NHL seasons ranked against his peers.
You can get a detailed breakdown of what goes into this graphic here, but essentially what we're looking at is where Zaitsev ranks in a plethora of categories amongst his peers both as a percentile of positive impact, and in the percentage of the peak player of the position's score.
On the strength of his rookie season, Zaitsev's biggest strength as a player was his ability to take part in the offence, ranking as a high-end second-pairing defender there, but after another season similar to his sophomore year, that will have likely dropped off considerably once the numbers are all crunched.
The minutes Zaitsev plays are between high-end second pair to low-end first pair in terms of difficulty, which while displayed separately for visualization purposes, is already factored into the other metrics.
Even when accounting for those tough minutes, Zaitsev's impact on transition and defence for the Leafs through the first two seasons of his career was that of an average third-pairing defenceman. That's not very promising, and his overall impact added up ranked 139th of 191 eligible defencemen in the project, putting him just outside of top-four defenceman range, which ends at 124.
That's not great news for the Leafs in attempting to get value for a player who is paid like a low-tier No. 3 defenceman, but it's also not including last season, so let's take a look at some key stats from 2018-19 to see if there's more to Zaitsev than meets the eye.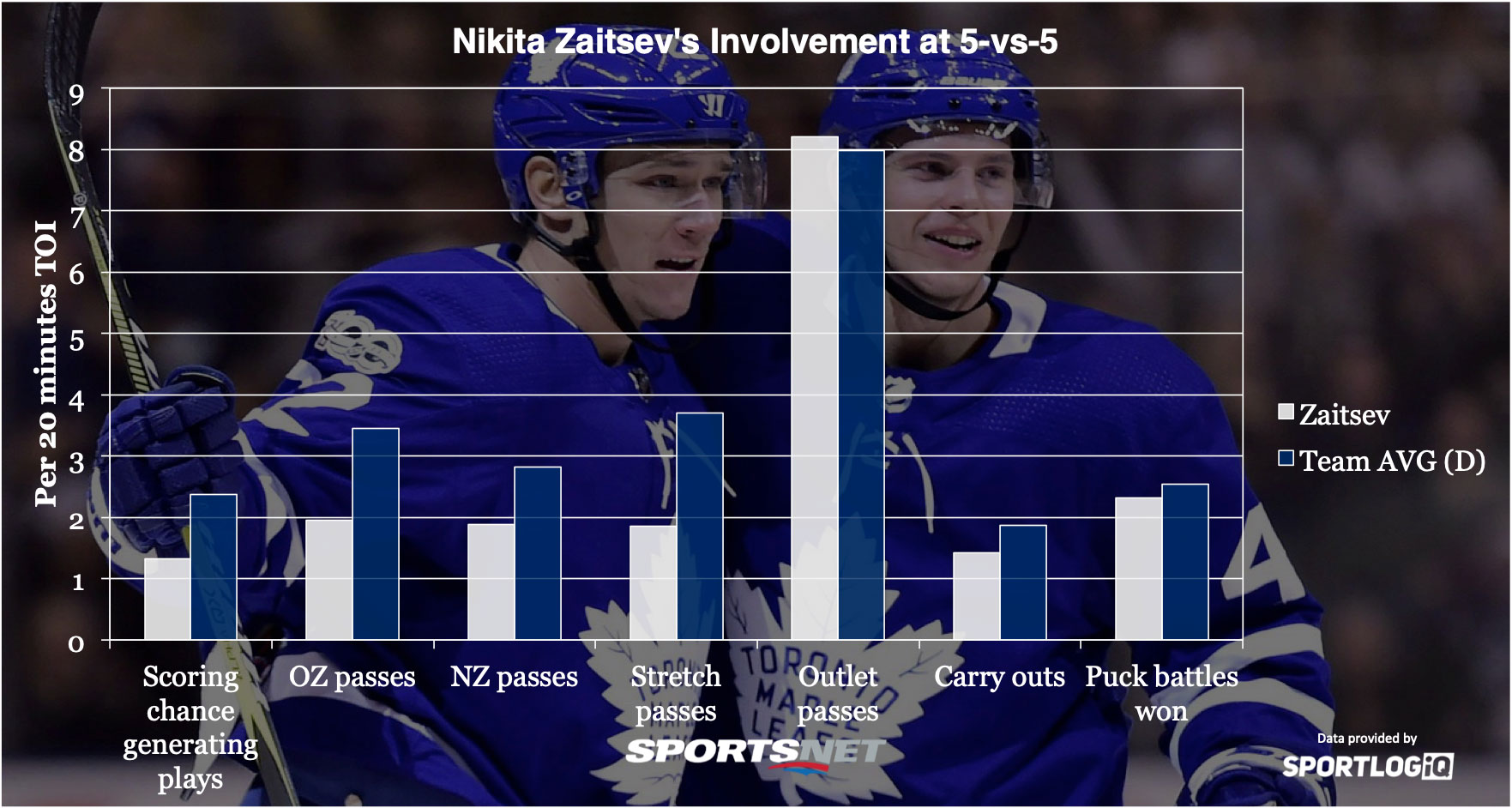 Comparing Zaitsev to his Leafs teammates, things don't come out looking so good.
No Leafs defenceman last year was less involved in the offence than Zaitsev was — even Ron Hainsey was getting in on the action more often. In fact, of the 161 defencemen who played at least 800 minutes at 5-vs-5 last season, no defenceman completed fewer offensive-zone passes per 20 minutes played than Zaitsev did.
Complaining to a Russian publication, Zaitsev claimed that he wasn't given a chance to play in the offensive zone, asked to change as soon as the Leafs gained the zone in favour of other defencemen. That could be a real thing that Toronto's coaching staff did from time to time that stuck with Zaitsev, but it's something we can check.
Last season Zaitsev spent 37.6 per cent of his ice time in the offensive zone, 39.8 per cent in the defensive zone, and 22.6 per cent in the neutral zone. While it may seem tilted towards the defensive zone, it's relatively average zonal deployment for a defenceman. He spent the same percentage of his ice time in the offensive zone as Brady Skjei, Nick Leddy, Darnell Nurse, and Nate Schmidt.
Of course, Zaitsev didn't spend as much of his ice time in the offensive zone as Rielly, but a lot of that ice time is earned, and it's clear from Zaitsev's individual contributions that he wasn't very proficient at moving the puck.
One area where Zaitsev did improve last season was in completing outlet passes, he was even ahead of the team average for the first time, but he was way behind in completed stretch passes and carry outs. He also had the highest turnover rate in the defensive zone of all Leafs defencemen last season, so it's not like he was an excellent puck handler by any means.
Add into all this that Zaitsev was a below-average puck battle winner on the Leafs, an area they struggled in anyway, and the bigger question to me isn't whether he can be a top-four defenceman, but why Babcock trusted him so much.
Whenever you're trading a defenceman who plays hefty minutes for your team, you want to get some value back, but this is a tough one. Maybe the Leafs can find a team who 'saw him good' and is willing to overpay, but expectations on the return should be set relatively low.