When the Pittsburgh Penguins and Washington Capitals met earlier this week in a wild 8-7 game, we were treated to a clash of titans. There was a little bit of everything: goals, back-and-forth swings in momentum, drama surrounding the officiating (or lack thereof) and ultimately an overtime winner. It was a game that reminded us how entertaining a post-season rematch would be.
The instant classic also marked the end of the Capitals' nine-game winning streak, during which they romped their opposition by an absurd 40-11 goal margin. Unlike some of the other extended winning streaks we've seen across the league this season, this one seemed to come and go without much hype.
A large reason for that likely has to do with how conditioned we've become to expect it from the Capitals. After all, they finished last season with a league-best 120 points and they're trending towards a similar mark again.
Their run of regular season excellence makes the short-lived blip in the radar when the team fell off the map all the more incomprehensible when looking back in hindsight.
For those who need a refresher, former GM George McPhee appeared to panic after one too many premature playoff exits. Towards the end of his tenure he nearly imploded a great team in an attempt to make their playing style more compatible with post-season hockey.
The various coaching changes and personnel moves he made cost the organization a few years of competing during their generational star's prime, and McPhee his job.
Ever since the organizational reins were handed over to Brian MacLellan and Barry Trotz, the Caps have essentially regained the form they had during their peak years under Bruce Boudreau: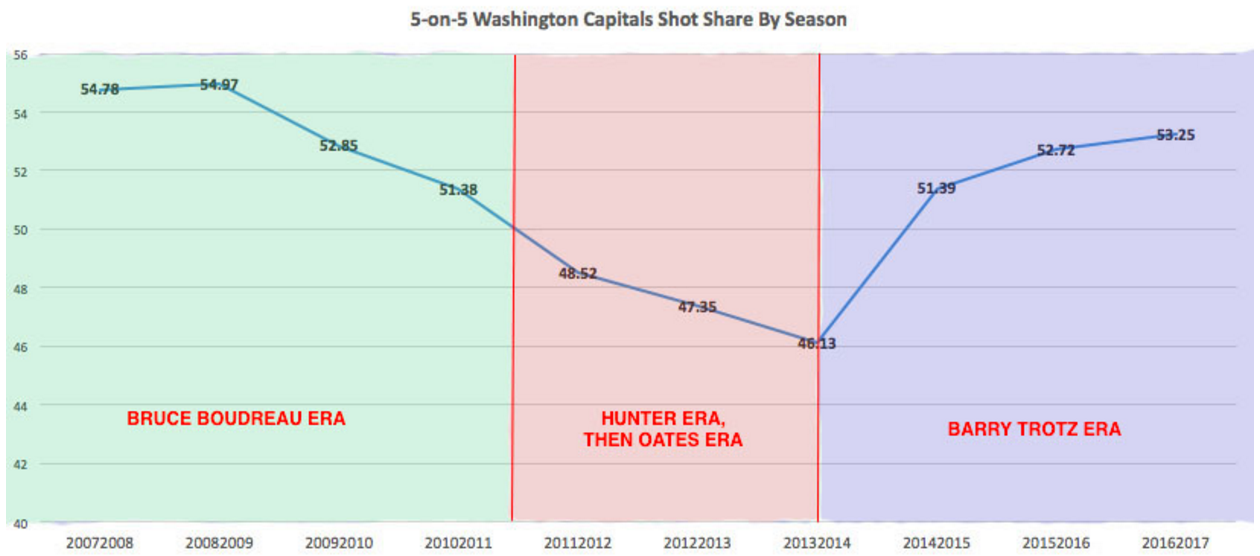 MacLellan's crowning achievement as GM has been the masterful job he's done gradually fortifying the depth of the roster he inherited with complementary talent. There's no question that task was made easier for him with a nucleus of established stars already in place. However, it's also worth noting that McPhee was let go after swinging and missing on surrounding his stars with a productive supporting cast (namely flipping Filip Forsberg and Cody Eakin for 121 fruitless combined games of Martin Erat and Mike Ribeiro).
Each summer since taking over MacLellan has identified his roster's most glaring need and addressed it either through trade or free agency. In his first act, he shored up the blue line by signing Matt Niskanen to a big-money contract (and Brooks Orpik as well, who is still a big misfire, but has admittedly morphed into a serviceable option this season).
The following summer, MacLellan upgraded the team's wing options by swapping Troy Brouwer for T.J. Oshie via trade and Joel Ward for Justin Williams in free agency. While the departing players certainly had their moments in Washington, there's no question the players replacing them had the better talent to fill a top-six role.
Finally, and arguably most importantly, he added a third legitimate option down the middle by acquiring Lars Eller. While it looks like Eller will never reach the individual offensive production he's tantalized people with over the years, he's perfectly suited for the role the Capitals are asking him to play.
Despite his lack of goals and assists, he's been a monster at five-on-five this season, tilting the ice by dominating possession of the puck. In those situations, the Capitals have controlled an obscene 59 per cent of the total shots taken and 55 per cent of the chances created. Amongst forwards, only the lethal combination of Patrice Bergeron and Brad Marchand have been responsible for a higher shot share.
With Eller in tow, everything else has fallen into place for the Capitals up front. Each of the four lines Trotz rolls out are comfortably in the black when it comes to shots, scoring chances, and goals. Of the regulars, Jay Beagle is the only one up front south of 50 per cent in shots for the year — and he has the excuse of heavy defensively-slanted usage.
Even though their goals for rate is inflated because of the combination Braden Holtby's ridiculous hot streak (read: prior to the game against the Penguins) and how many pucks have been going in for them as a team during this run, the expected totals are still impressively high because of the sheer volume of pucks they're putting on net (all data at 5-on-5, via Corsica):
| PLAYER 1 | PLAYER 2 | PLAYER 3 | SHOTS FOR % | CHANCES FOR % | EXPECTED GOALS FOR % | ACTUAL GOALS FOR % |
| --- | --- | --- | --- | --- | --- | --- |
| NICKLAS BACKSTROM | T.J. OSHIE | ALEX OVECHKIN | 52.4 | 52.6 | 57.5 | 65.2 |
| EVGENY KUZNETSOV | JUSTIN WILLIAMS | MARCUS JOHANSSON | 52.4 | 63.2 | 59.7 | 83.9 |
| LARS ELLER | ANDRE BURAKOVSKY | BRETT CONNOLLY | 65.5 | 77.1 | 66.0 | 84.9 |
| DANIEL WINNIK | JAY BEAGLE | TOM WILSON | 50.7 | 51.8 | 52.9 | 81.8 |
I'm not even sure this chart does their depth justice, so let's try to visualize it from another perspective. When you stack up their top-six against everyone else's, there's no question they're amongst the league's best.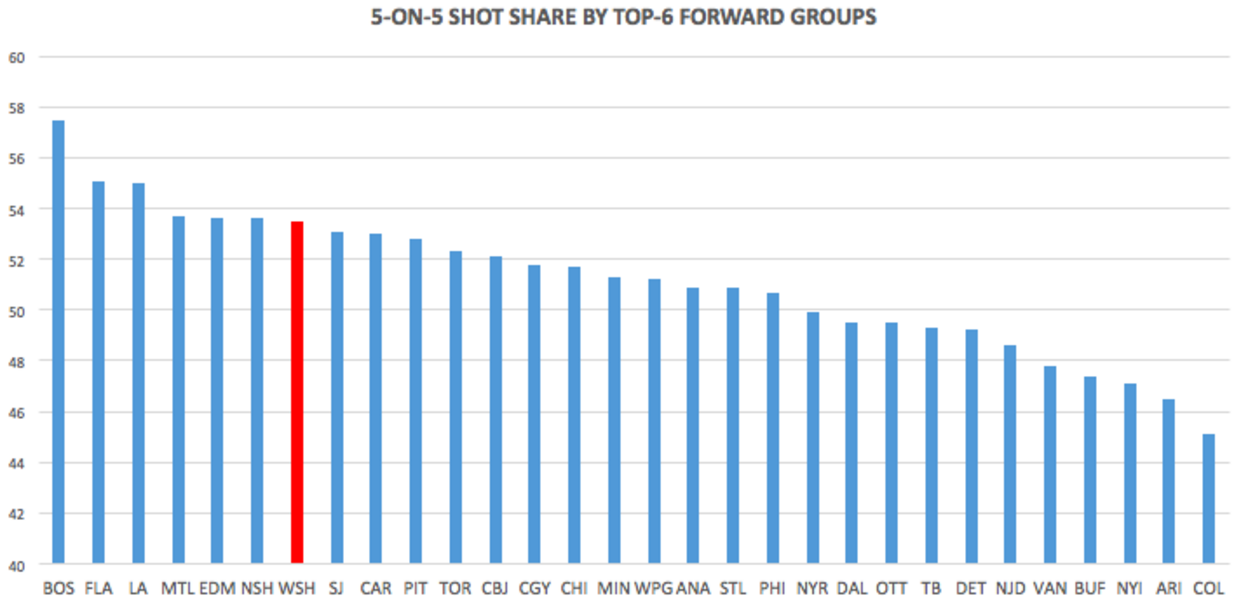 But when you compare their bottom-six to others across the league, a much more noteworthy trend materializes. This is where Washington is truly reaping the rewards of the work MacLellan and his staff have done over the past couple of seasons.
The Washington Capitals are firing on all cylinders right now. The top guns (Ovechkin, Backstrom and Kuznetsov) are still the ones driving the bus, but the supporting cast around them has now been beefed up to the point where it's actually an asset. They're able to cycle through all four lines and all three defence pairings without having to worry about a sizeable dip in performance, which is something few teams are capable of.
Most teams pray that the back-half of their lineup can just hold up and kill enough time for their top guys to catch their breath. Meanwhile, Washington's supporting cast is making a habit of using those minutes to create magic.
Add that kind of depth to an elite power play and a deserving Vezina Trophy candidate, and you've got yourself a formula that'll be awfully challenging to solve for anyone that has to face them.
The elephant in the room with the Capitals is the same as ever: will regular season success translate into the post-season success?
A lot of that will depend on good fortune and timing. They looked primed to finally get over the hump around this time last season as well, but unfortunately ran into a Pittsburgh Penguins buzzsaw. That's the cruel and unpredictable nature of the Stanley Cup Playoffs.
What you can control is loading up your roster, positioning yourself to compete with the best in the league, and then letting the chips fall where they may.
Considering the Capitals don't appear to have any glaring weaknesses in their lineup, it looks like they're at the very least back on the right track.
That's all you can really ask for.