Alex Ovechkin might want to take note if he ever happens to step on the ice at the same time as Evgeny Svechnikov, the older brother of Andrei Svechnikov.
The Washington Capitals superstar shocked the sports world Monday when he knocked out the Carolina Hurricanes rookie during a first-period fight, and the elder Svechnikov took notice.
Evgeny made a reference to famous horror-movie killer Freddy Krueger from the A Nightmare on Elm Street series in a post from his verified Instagram account — and he made sure to tag Ovechkin.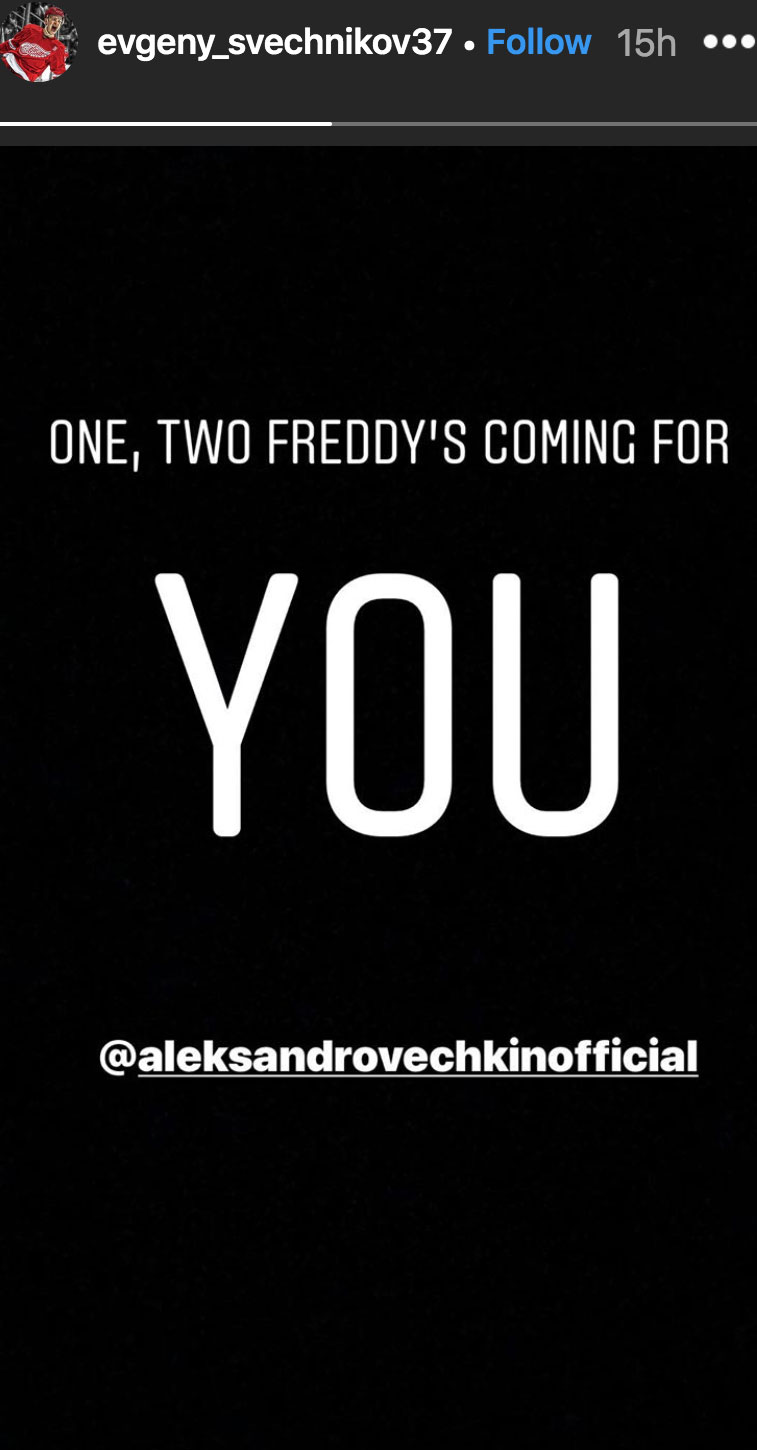 The veiled threat is the first line of an eerie nursery rhyme-style song from the movie series that goes as follows:
One, two, Freddy's coming for you
Three, four, better lock your door
Five, six, grab your crucifix
Seven, eight, gonna stay up late
Nine, ten, never sleep again
Evgeny Svechnikov, who was born on Halloween — which makes the Freddy Krueger reference all the more fitting — was drafted 19th overall by the Detroit Red Wings in 2015 and has spent the majority of the past two seasons with the Grand Rapids Griffins in the AHL. The 22-year-old forward missed the entire 2018-19 season after tearing his right ACL in his team's pre-season finale in late September.
The 33-year-old Ovechkin dropped Svechnikov, who turned 19 in late March, with a hard right hand midway through the first period of what ended up being a 5-0 Hurricanes win. The rookie was out before he hit the ground and the back of his head smacked forcefully against the ice.
The team announced Tuesday that Svechnikov is listed as doubtful to suit up in Thursday's Game 4 in which the Hurricanes will attempt to even the series at two games apiece.
It was the first time Ovechkin had dropped the gloves for a fight since a 2010 scrap with Brandon Dubinsky.
"First of all I hope he's OK," Ovechkin told reporters at PNC Arena following the game. "You're right: I'm not a big fighter … He asked me to fight, I said, 'Let's go, yeah.' So, I hope he's OK. You don't want to see a guy get hurt or something."
Hurricanes head coach Rod Brind'Amour had a difficult time talking about the fight following the game, but suffice it to say he wasn't happy about how it unfolded.
"How do you comment on it?" Brind'Amour said. "It's a little bit tough because I just heard Ovie talk about it: he said our guy challenged him. If that's the case, it's a little different. But if you watch the video, because I got to watch it, he slashes him twice, Ovie – whack, whack – and then Svech gives it back. And then, I don't know if there's words exchanged, but one guy's gloves come off way first. And that's Ovie, it's not our guy."