There's a certain type of "The league is more fun when" talk that often centres on the success of iconic franchises in big markets. Surely the NFL is a more intriguing place when the Chicago Bears are 7-3 and the Dallas Cowboys win a couple straight road games to get to .500.
LeBron James dropping 51 points against one of his former teams while wearing the uniform of the Los Angeles Lakers? Man, the NBA is awesome!
And everyone was thrilled to see the Boston Red Sox win the World Series, right?
That sarcasm-soaked last point — from a Sox fan, you should know — highlights the obvious caveat that this business of getting excited about other team's achievements only works when we're talking about clubs outside the sphere of your immediate sporting biases. For fans of the New York Yankees (or Toronto Blue Jays, for that matter) Major League Baseball is at its best when the Red Sox are getting beaned in the groin.
But show me a hockey fan and I'll show you a person who could probably get behind the Buffalo Sabres.
Western New York's beloved hockey team may not fit the bill in terms of being a big-centre ratings-driver, but the NHL neighbourhood feels a little livelier when the Buffalo Sabres are competitive. And with consecutive road victories in Winnipeg on Friday and Minnesota on Saturday, the Sabres have put together a tasty little five-game winning streak that now has the Atlantic Division standings as such: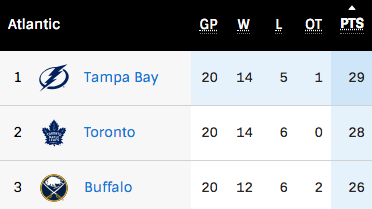 You'd have to have buffalo wings for brains to declare that the Sabres have turned a corner based on this nice run of early-season success. Admit it, though: Part of you wonders if the Atlantic rankings today reflect a new power dynamic in the group.
Toronto and Tampa are set up to soar for years and, man, it's easy to forget we've occasionally thought the same of the Sabres since they drafted Jack Eichel in 2015. The only difference is there's been zero evidence to support the theory.
Now, at last, the Sabres are building a case for themselves. Eichel finally has a winger to play with in Jeff Skinner, and the latter's 14 goals — including one on Friday in Manitoba — are the second-most in the NHL.
Yeah, Skinner can become an unrestricted free agent in the summer, but it's already so easy to believe this is a marvellous long-term fit for the team and the player who grew up outside Toronto, just 90 minutes down the road.
Meanwhile, Carter Hutton's quest to prove he can be a real No. 1 will be a season-long pursuit, but he's hanging in so far and has a .942 save percentage in his past five appearances. And how about Rasmus Dahlin, who just had a draft named after him six months ago, but has been buried in any rookie talk by the astonishing play of his countryman Elias Pettersson in Vancouver.
Dahlin had five points through his first 16 outings, the same number he's now posted in his past four contests, including a 1-1-2 showing against the Wild. We all know defence is the toughest position to master at the NHL level and while the 18-year-old is still having his hiccups on the back end, he has unwavering backing from coach Phil Housley and I'd bet you an unscheduled trip over Niagara Falls that Dahlin's second 41 this season look way better than his first 41.
Geography always has a lot to say about who hopes for what in sports, and surely Southern Ontario is home to some Leaf fans — still bitter about losing the 1999 East final to Buffalo when Dominik Hasek was hurt, perhaps — who hope the Sabres stink forever.
I guess I still get sucked in by this uplifting video set to Florence + the Machine's "Dog Days are Over" that made the rounds after the ultra-rich Terry Pegula bought the team in 2011 and declared, "Starting today, the Buffalo Sabres' reason for existence will be to win a Stanley Cup."
There are a lot of bars to go in the song yet, but the herd is starting to stomp in the right direction.
Around the League
• Buffalo starts a new week playing the last-place team in the Eastern Conference. Usually that's a good thing, but not when that basement-dwelling squad is the presumably-mad-as-hell Pittsburgh Penguins, who lost 6-4 to the Ottawa Senators on Saturday. This should be a huge test for Buffalo.
Also, the Sabres host Montreal on Friday afternoon during the four-day fiesta that is American Thanksgiving. Quick thought: why not start a turkey tradition by having regional-rival Toronto visit on Friday afternoon, then have the return match in T.O. on Saturday night?
• I'm sure we all agree this super-line thing is super rad, especially after watching Colorado's absurd trio of Nathan MacKinnon, Gabriel Landeskog and league scoring leader Mikko Rantanen combine for eight points in a 4–3 overtime victory versus the Anaheim Ducks on Sunday night.
But while we all cross our fingers that Patrice Bergeron's shoulder injury — sustained Friday night when he was taken into the boards by Radek Faksa of the Dallas Stars — isn't serious enough to break up Boston's all-world top unit for too long (Bergeron missed Saturday's win in Arizona), let's give a quick shout out to line logic of a different sort.
As skill becomes king in all contexts of the NHL, there's an increasing tendency to take the top players on a given team, toss them together and wait for the magic to happen. I get it. I like it. You have to acknowledge, though, there's not much of an art to it. That's why it's been fun watching Andrew Shaw succeed beside Max Domi and Jonathan Drouin.
Shaw's game-tying goal against Vancouver on Saturday was his fifth tally in five games since joining Montreal's two most talented forwards. And while his latest score was especially ugly, it's also representative of why the line has worked. Shaw, as Habs Twitter has been happy to scream repeatedly in the past couple years, isn't the world's most skilled player. His willingness to live on the lip of the crease, though, has blended perfectly with the playmaking of Domi and Drouin. Nice knitting there from coach Claude Julien.
Senior Writer Ryan Dixon and NHL Editor Rory Boylen always give it 110%, but never rely on clichés when it comes to podcasting. Instead, they use a mix of facts, fun and a varied group of hockey voices to cover Canada's most beloved game.
Red and White Power Rankings
1. Toronto Maple Leafs: Finished a California three-game sweep with a 2–1 extra-time win in Anaheim on Friday.
2. Winnipeg Jets: Backup Laurent Brossoit continues to impress, allowing just one goal in regulation during Friday's 2-1 shootout loss to Buffalo. He's got a .959 save percentage in four starts.
3. Montreal Canadiens: Domi's point streak now sits at nine games. He's been held off the score sheet just three times in 20 outings this year.
4. Calgary Flames: Sturdy club that can hang with anyone (assuming David Rittich is in goal).
5. Ottawa Senators: Mark Stone bagged a pair in the win over Pittsburgh on Saturday and is November's leading scorer with 15 points in nine games. Teammate Matt Duchene is tied for second in that category with 13 points.
6. Vancouver Canucks: Even when he and his team are going through a rough patch, Pettersson still scores goals like this:
7. Edmonton Oilers: Losers of six of seven and blowers of leads in two weekend losses to Calgary and Vegas. This has gotta change fast for everyone involved. Sorry — what was that about Brossoit?
In your ear
This week's edition of the Tape to Tape podcast, which drops Friday morning, will feature myself and co-host Rory Boylen identifying the best and worst of the NHL at the season's quarter mark.
Looking ahead
Florida's Mike Hoffman returns to Ottawa on Monday night riding a 15-game point streak. Also, don't forget to take your TV to work on Friday (just kidding — check out Sportsnet Now!) as we get a full slate of afternoon action following a league-wide off-day on Thursday.