After a remarkable 10-game winning streak the city of Buffalo hasn't seen in ages, the Sabres have dropped four straight games, though three of them were against the top three teams in the league: Tampa Bay, Toronto, and Nashville.
Since Buffalo's Nov. 1 loss to the Senators they're 11-3-2, which has prompted many to say they've finally gotten over the hump in their rebuild and are a legitimate playoff threat.
There are a few interesting tidbits about that vaunted 10-game winning streak. For example, they won seven of those games in overtime or the shootout, and two more were won by just a single goal.
A win is a win and those points in the standings can't be taken away, but while the results ended up in the right column 10 times in a row, the Sabres didn't dominate their opposition over that stretch — at least not in terms of goals.
Their record looks excellent — especially compared to what was expected of them — but let's look a little deeper to see if this Sabres team is actually for real or not.
Corsica.Hockey's score-and-venue-adjusted Corsi metrics have the Sabres at ninth-last in the NHL, whereas their expected goals metric have them eighth-last at 5-on-5 and sixth-last overall.
That's not encouraging. But let's look at the details of how the Sabres manufacture shot quality versus what they give up to see if they're one of those teams that beats the public data in some obscure way.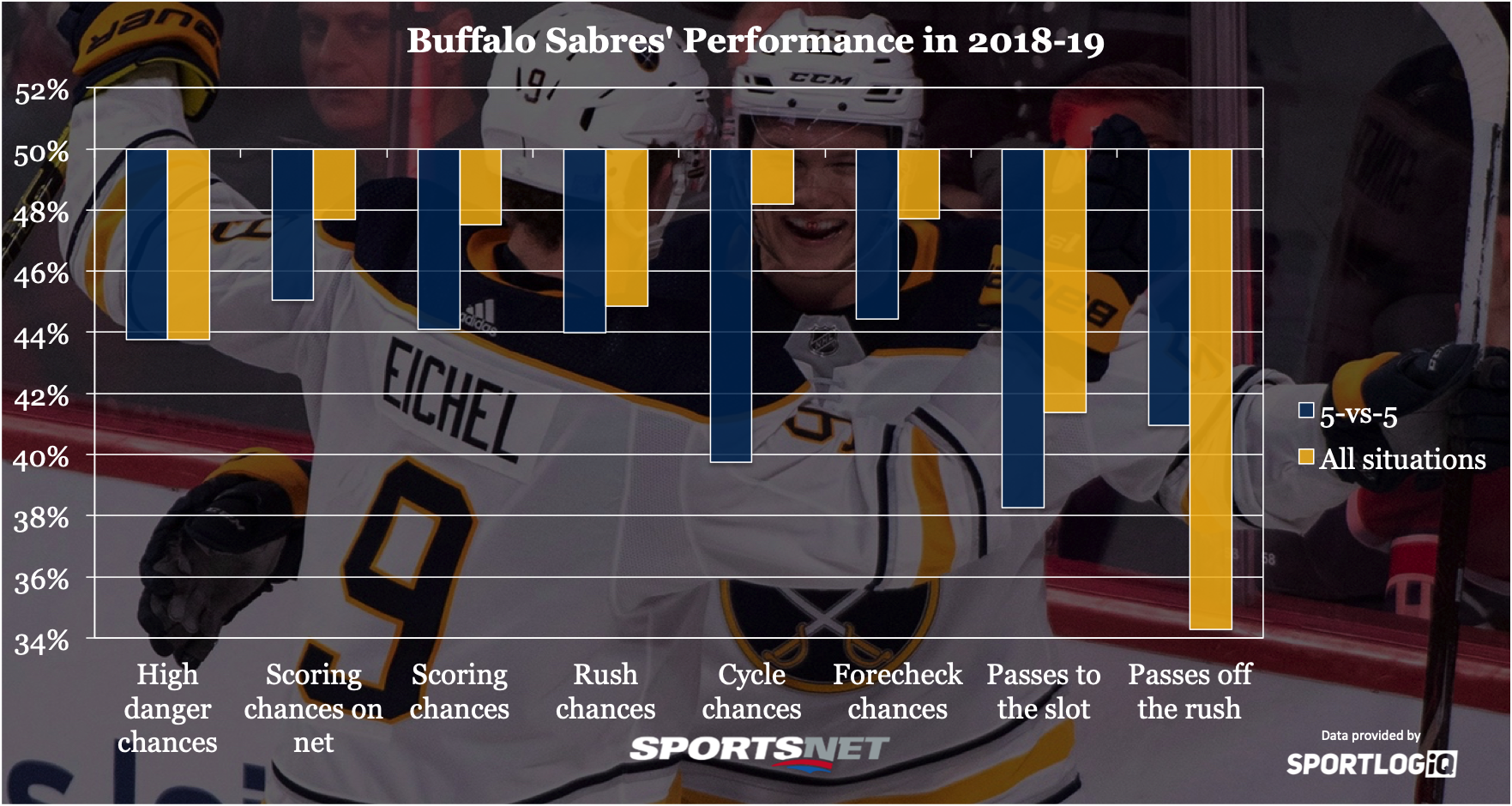 The short answer on whether the Sabres beat the public data in some way is… no, not at all. If anything, the details of the Sabres' shot quality metrics are more damning than what's available in the public sphere.
The Sabres have been a bottom-10 team offensively at even strength by every measure this season, but worse than that is the fact they're a bottom-two team defensively — only the Senators have an argument for being worse.
If it were just shot locations you could argue the Sabres are bad at defending shot positions but good at keeping those shots static, making things a bit easier for Carter Hutton. But the problem is they are exceptionally porous to passes into and through the slot, and passes off the rush. At the same time, they struggle to generate those types of passes themselves.
That means their shots and scoring chances are far more static than their opponents' are, and they generate fewer of them. With this in mind, Hutton has had to be absolutely heroic this season, which should give some context to his .917 save percentage and how impressive that number actually is. Considering the number and type of chances the Sabres give up, a sub-.900 save percentage would be the norm for a league average goaltender.
[snippet ID=3322139]
One thing that does help the Sabres is their power play is legitimately excellent, and their penalty killing is good, too. You can see the impact special teams have by just looking at their gap in cycle chances between 5-on-5 hockey and all situations.
They're much better at getting these opportunities with the man advantage, but it's still not enough to even things out overall. They're still pounded from the high danger area and off the rush in all situations, but this improvement with the man advantage is something to tip your hat to as it's a part of the formula behind their short-term success.
There is undeniable magic in the duo of Jack Eichel and Jeff Skinner on the scoring front, and you can see the depth the Sabres have accumulated at forward and defence have improved, but overall this team hasn't performed anywhere close to playoff contender level.
The way the NHL goes, teams like the Sabres can squeak into the playoffs and a couple seem to make it every year. But unlike, say, Colorado last year, Buffalo doesn't appear to have a particular strength that would lead you to believe they can do damage.
Last year's Avalanche were arguably the NHL's most dangerous team off the rush, which caught the league by surprise in the regular season and nearly put the Presidents' Trophy-winning Nashville Predators on the brink in the first round. The speed Colorado played with was unique, dangerous, and tough to handle, even for strong defensive teams.
This season the Avalanche have made improvements across the board and seem to be a more complete team overall, so perhaps that is the trajectory the Sabres will follow.
I don't want to say Buffalo fans shouldn't be happy that their team is finally spending some time out of the basement of the NHL standings. But if you're starting to get especially excited about the heights this team can climb to and what they can accomplish this season, be cautious. There's a lot of smoke and mirrors going on.
[relatedlinks]