Buying at the trade deadline: Is it worth it?
Every year we make a big fuss over the buyers and sellers of the NHL trade deadline. We focus on the biggest names, the best players, pending UFAs, cap scenarios, the world of prospects and draft picks.
What we probably don't discuss enough is whether major buys at the deadline even work?
There have been 11 Stanley Cup winners since the NHL adopted a salary cap. Let's look at what those teams did within two or three weeks of the deadline.
2006 CAROLINA HURRICANES
IN:
Anton Babchuk
2007 4th-rounder
Doug Weight
Mark Recchi
Rights to Errki Rajamaki
OUT:
Danny Richmond
2006 1st-rounder
2006 3rd-rounder
2006 4th-rounder
2007 2nd-rounder
2007 4th-rounder
Rights to Magnus Kahnberg
Jesse Boulerice
Mike Zigomanis
Kystofer Kolanos
Niklas Nordgren
A recurring theme you'll notice is that many winning teams seem to make a lot of moves but most of them are minor-league deals.
The Hurricanes spent like a pre-cap team in 2006. Weight and Recchi were the only true buys at the total cost of a first, second, two fourths, and two prospects. Those two contributed 16 playoff points each, two of the highest contributions from deadline buys since 2005.
2007 ANAHEIM DUCKS
IN:
Brad May
2007 1st-rounder
Gerald Coleman
Doug O'Brien
Future Considerations
OUT:
Shane O'Brien
2007 3rd-rounder
Shane Endicott
Joe Rullier
Michael Wall
The Ducks pretty much sold at the 2007 deadline, only acquiring Brad May and selling off Shane O'Brien for a first round pick. Their big buy was Chris Pronger which was done the previous summer.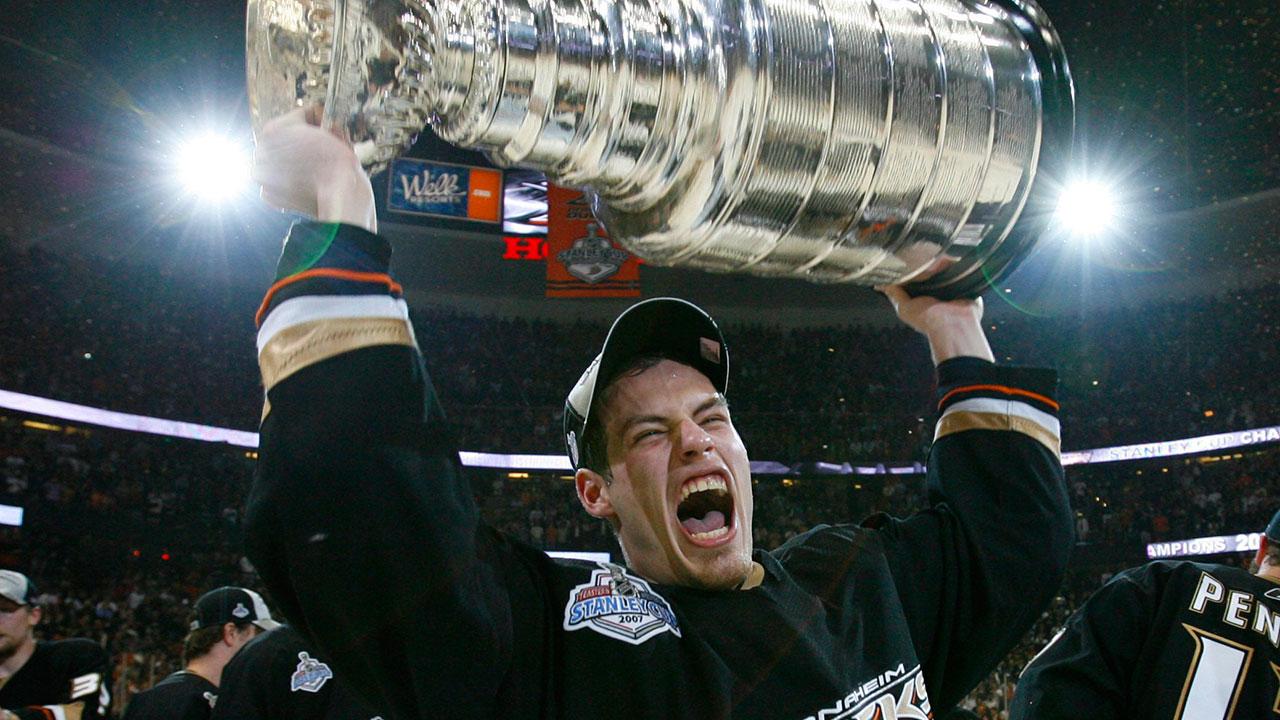 Anaheim Ducks center Ryan Getzlaf holds up the Stanley Cup after the Ducks won the finals with a 6-2 victory over the Ottawa Senators in 2007 (Mark Avery/AP)
2008 DETROIT RED WINGS
IN:
Brad Stuart
Francis Lemieux
OUT:
2008 2nd-rounder
2009 4th-rounder
Brett Engelhardt
Is a second and a fourth too much for Brad Stuart, a veteran depth defender? If that's all you really need, then probably not.
2009 PITTSBURGH PENGUINS
IN:
Bill Guerin
Chris Kunitz
Eric Tangradi
Andy Wozniewski
OUT:
Ryan Whitney
Danny Richmond
2009 3rd-rounder
What a great deadline. A third-rounder for Guerin, who had 15 playoff points, and you lose Whitney but gain Kunitz and Tangradi, who each had three years left on their contracts.
2010 CHICAGO BLACKHAWKS
IN:
Kim Johnsson
Nick Leddy
Danny Richmond
Hannu Toivonen
Nick Boynton
OUT:
Cam Barker
Darryl Boyle
Joe Fallon
Future Considerations
Cam Barker was a casualty of cap hell, but he wasn't even needed. Kim Johnsson was a failsafe and Nick Leddy was a steal for the future. The 2010 Blackhawks practically sold.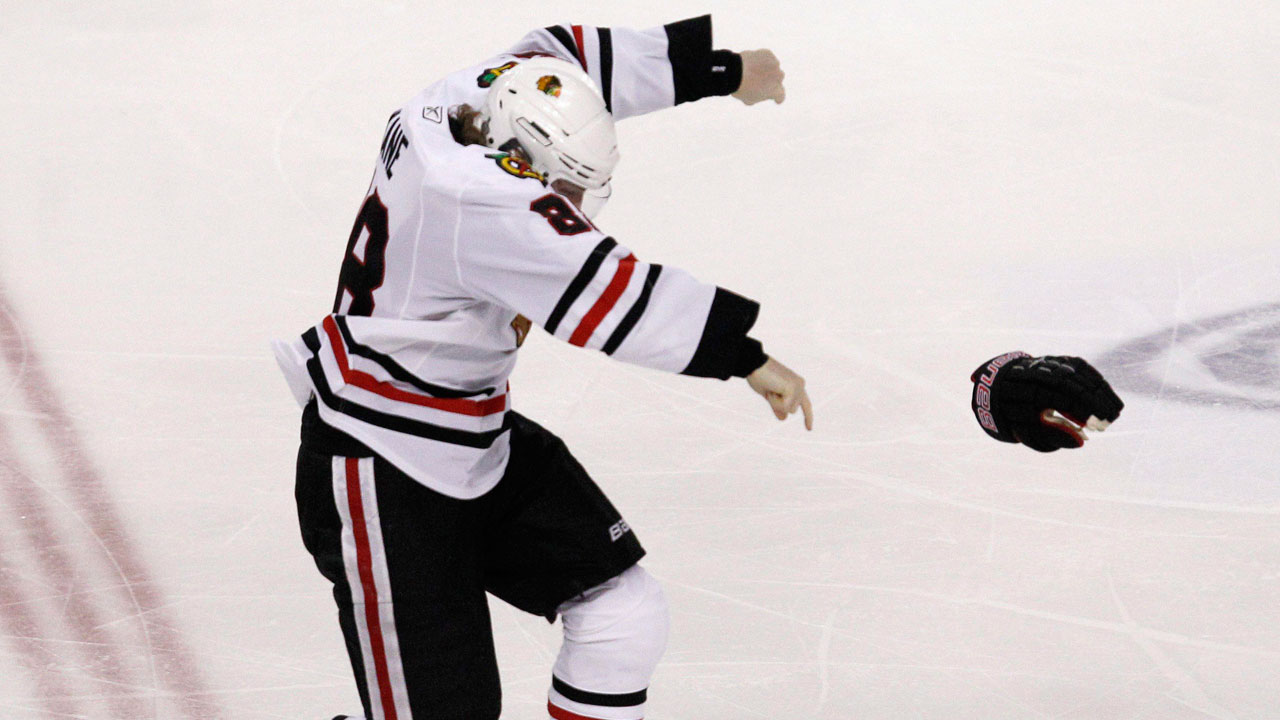 Chicago Blackhawks right wing Patrick Kane celebrates after scoring in overtime to give the Blackhawks a 4-3 win in Game 6 of the 2010 Stanley Cup Final. (Kathy Willens/AP)
2011 BOSTON BRUINS
IN:
Tomas Kaberle
Chris Kelly
Rich Peverly
Boris Valabik
Stephane Chaput
David Laliberte
Anton Khudobin
OUT:
Joe Colborne
2011 1st-rounder
2011 2nd-rounder
2012 2nd-rounder (conditional on playoff success)
Mark Stuart
Blake Wheeler
Brian McGratten
Sean Zimmerman
Jeff Penner
Rights to Mikko Lehtonen
This was an extremely expensive deadline but guys like Kelly, Peverly and Khudobin stuck around. History would have viewed this deadline as a disaster if Montreal had won in Round 1. But Boston came through and Kaberle led all Bruins defenders with 11 points. Blake Wheeler, though, … who cares? Just win, baby!
2012 LA KINGS
IN:
OUT:
Jack Johnson
2013 1st-rounder
What an underrated heist. The Kings went from the playoff bubble to winning their first Cup and having an elite goal-scorer locked up for 10 years. Is it really a deadline "buy" if you're adding to your core long term?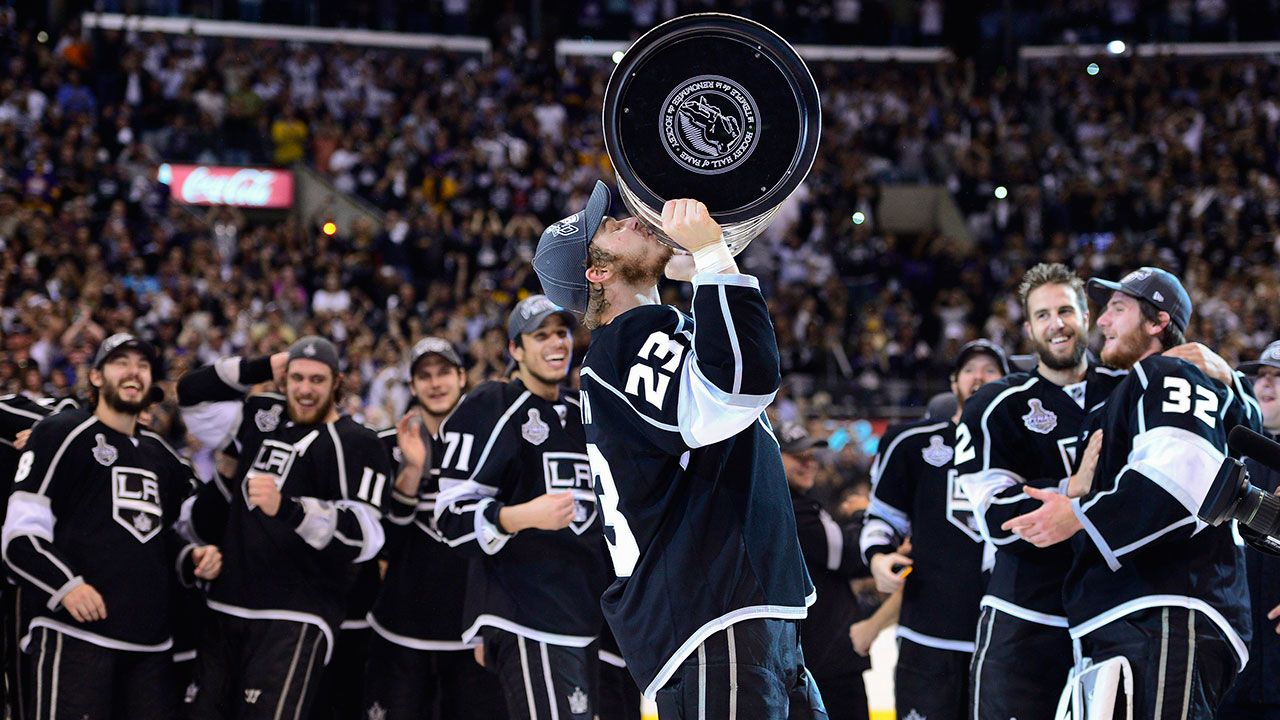 Los Angeles Kings captain Dustin Brown kisses the Stanley Cup after the Kings defeated the New Jersey Devils 6-1 in Game 6 of the 2012 Stanley Cup Finals. (Mark J. Terrill/AP)
2013 CHICAGO BLACKHAWKS
IN:
Michal Handzus
Kirill Gotovets
Maxim Sauve
OUT:
2013 4th-rounder
Philippe Paradis
Rob Flick
So basically just a fourth for Handzus, a guy who contributed 11 points to their Cup run and who stuck around the next season. Cheap, simple and useful.
2014 LA KINGS
IN:
Marian Gaborik
2nd-rounder
Another 2nd-rounder
Brayden McNabb
Johnathan Parker
OUT:
2014 2nd-rounder
Conditional 3rd-rounder
Matt Frattin
Hudson Fasching
Nicolas Deslauriers
The Kings locked Gaborik up long term after he led the team in playoff goals (14) and put up 22 points. The Kings picked up a pair of seconds for a pair of prospects, which isn't a buy or sell. Gaborik was the Kings' only deadline "buy" and he was a relatively cheap one. If the Kings call, the Blue Jackets need to let it go to voicemail.
2015 CHICAGO BLACKHAWKS
IN:
Antoine Vermette
Kimmo Timonen
Andrew Desjardins
Spencer Abbott
OUT:
2015 1st-rounder
2015 2nd-rounder
2016 conditional pick
Conditional 2017 7th-rounder
Klas Dahlbeck
Ben Smith
T.J. Brennan
Vermette only had seven playoff points, although one was an overtime winner. Timonen's ice time was low and he had no points in 18 games. Desjardins was a nice depth add. That's a lot to pay for depth and spare parts but when you win, nobody seems to mind.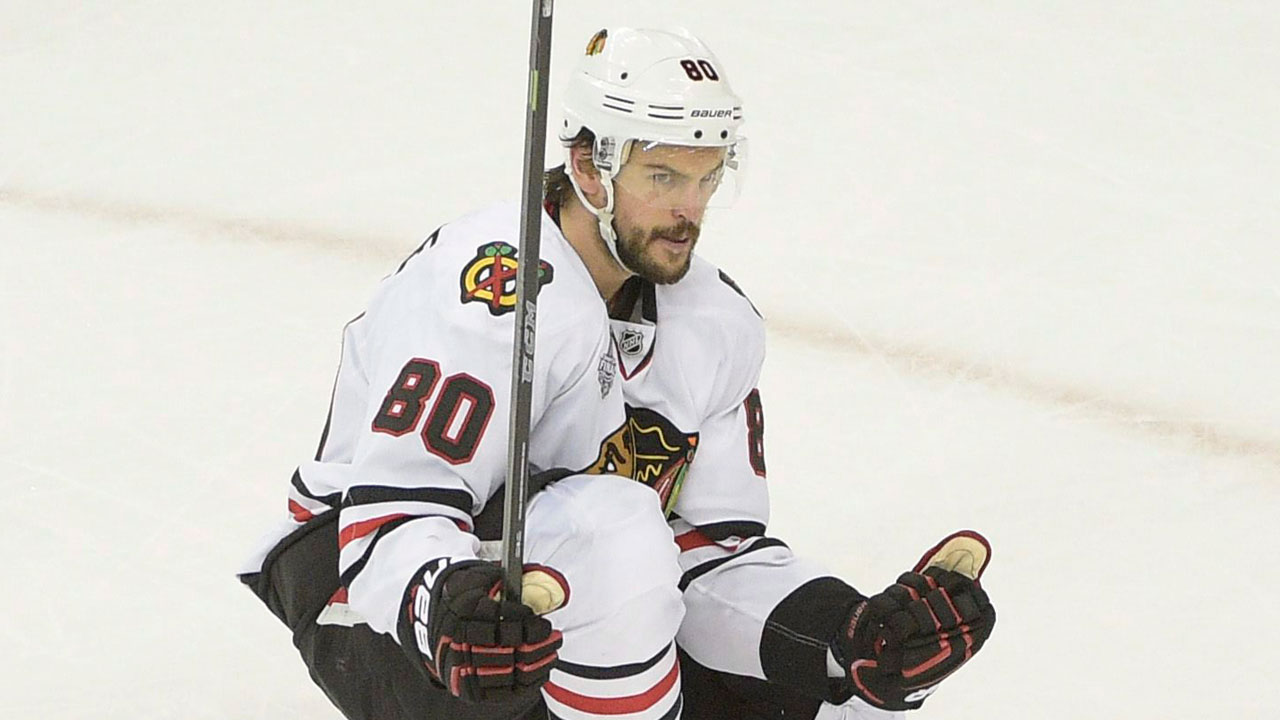 Antoine Vermette celebrates his game winning goal during the third period in Game 1 of the 2015 Stanley Cup Final against the Tampa Bay Lightning. (Phelan M. Ebenhack/AP)
2016 PITTSBURGH PENGUINS
IN:
Justin Schultz (extended)
Dustin Jeffrey
Dan O'Donoghue
James Melindy
Matthias Plachta
2017 Conditional pick
OUT:
2016 3rd-rounder
Sergei Plotnikov
Matia Marcantuoni
All you need to know here is Justin Schultz for a third, which time has proven to be a great deal. The rest is noise.
The theme here seems to be a lot of moving minor-league parts but very little in the way of additions. The players that are "bought" at the deadline are almost always depth adds with the exception of Weight and Recchi in 2006 and Kaberle in 2011. Carter had so much term left that he doesn't count. You could split hairs about Gaborik but he's still in LA.
Buying at the deadline is extremely expensive. The 2015 Vermette deal is a great example of that. If you win then nobody cares but if you miss your shot, you've hurt your chances of winning in the future.
The moral of the story seems to be that almost all of these teams were elite with an exceptional core long before the trade deadline. If you need to add a major piece, like a top six forward, top four defender, or starting goalie, maybe you don't belong with the big dogs in the first place.
Most students cram the night before a test. Great students hit the books early.