It will be fascinating to follow how NHL teams proceed on the player personnel front over the next couple of weeks. While that's theoretically true every year, this summer's action feels especially important with an expansion draft on the horizon. Even teams thinking more short-term will need to consider this to better position themselves for the future.
How that affects the top of this year's unrestricted free agent class will be of particular interest, because it's littered with big-name players who are sitting at precarious points in their careers.
This ties right into a discussion that's been percolating for a while now in hockey circles about the aging process for players and what we should expect their performance to be as they get into their 30s. There's been a lot of work poured into constructing definitive curves to help guide the long-term investments teams make on the open market: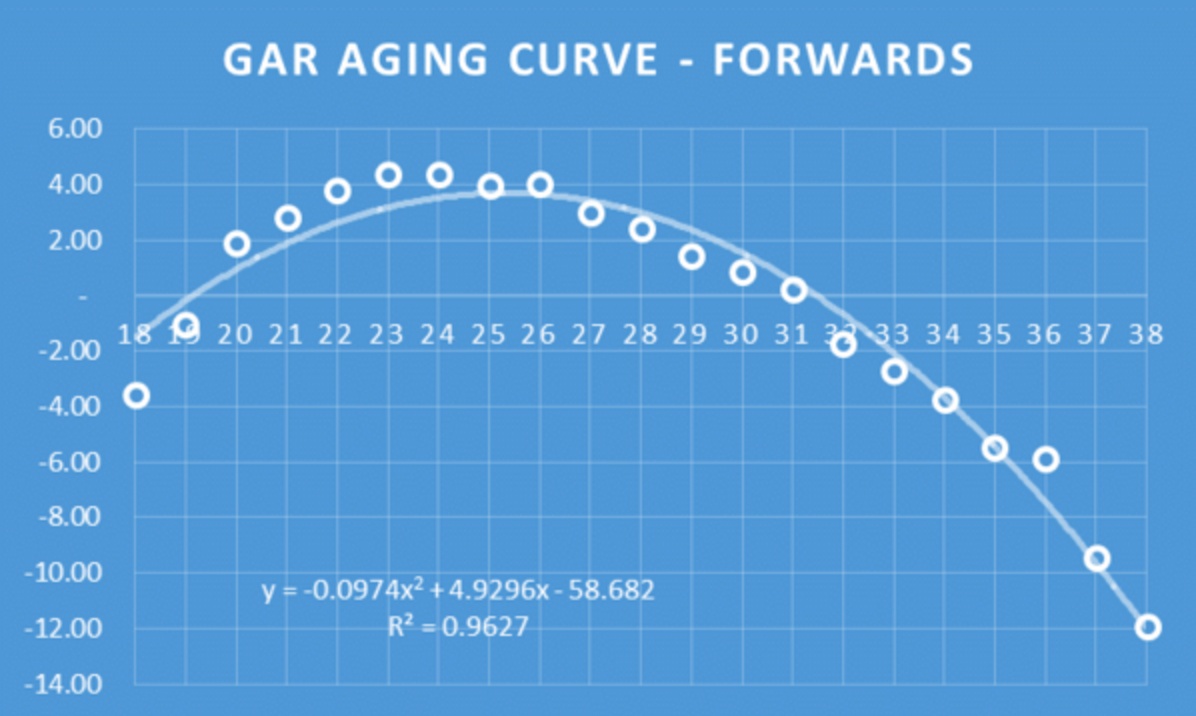 (via the venerable Money Puck)
It's been said before, but I really do believe the most beneficial role of analytically driven player evaluation is to help identify the landmines ahead and steer clear of them. They can help avoid crippling mistakes by highlighting unsustainable production or unearthing underlying trends that may not be obvious through traditional numbers (like a veteran player in decline who keeps posting counting stats because of his volume of ice time).
While the empirical data here is indisputable, the transition towards applying it has unsurprisingly been slow. Every summer, there are several highly inadvisable signings made.
Some of it has to do with the backwards structure in place, in which GMs are incentivized to win immediately at any cost. Except for the most extreme circumstances where there's a legitimate plan in place from the top-down, if you're a GM sacrificing present day wins for building a future foundation, there's a good chance you won't actually be around to reap the rewards of that labour when it starts to pay off.
Putting yourself in the shoes of a GM with that type of mandate, it's easy to see how the internal risk versus reward balance gets swing out of proportion. Assuming you're scratching and clawing to keep your job and satisfy your owner, you'll do everything you can to cobble together wins today and worry about tomorrow's concerns later.
That's how a 30-year-old Dustin Brown got an eight-year, $47-million contract in 2014-15. That deal is the most recent cautionary tale for how quickly the wheels can come off for a player who is that far into his career with that many miles on the tires. In less than three years after striking that deal, the Kings went from giving that same player nearly a decade's worth of financial security to stripping his captaincy and trying to shed his cap space.
There are a few other examples where, if the team isn't feeling the cap bite yet, it will relatively soon: Ryan Callahan (four more years with the Lightning at $5.8 million per) and Ryan Kesler (six more years with the Ducks at $6.675 million per). Those are two examples, but there are many more.
This is a dilemma teams will be faced with when free agency opens on July 1, namely with players such as Eric Staal and Andrew Ladd, who have already started to exhibit signs of decline. While these players would presumably provide an instant shot in the arm to whichever team signs them, it's frightening to think they could sign for premium dollars at this stage in their careers.
Another player who falls into the same bucket is David Backes, who has the added advantage of playing a more coveted position and coming off a productive playoff run. The issue with him is that he just turned 32 years old and his individual production has begun to crater over the past two seasons.
All of this puts St.Louis in a delicate spot. The prospect of losing its captain and leader with nothing tangible to show for it would be a tough pill to swallow for a team that was two wins from the Stanley Cup Final this season.
And yet the alternative of being saddled with an albatross contract for years to come seems like a far more untenable option.
These days we're seeing players like Joe Thornton and Jaromir Jagr make it look easy very late in their careers. With all of the advances that have been made with modern medicine and players more physically prepared than ever, it's not unreasonable to suggest we'll see more players play well into their mid-to-late-30s at higher levels than in the past.
But for now, legends like Thornton and Jagr are exceptions to the rules. The reality is that when contracts are handed out, it's vital to play the odds and learn from history. Even though no one will necessarily applaud the restraint a team shows, sometimes the best moves made in free agency are the ones that aren't made at all.