• Team has seen big-time improvement since Christmas
• Easy to upgrade third defence pairing
• Available options to upgrade at forward
With just two weeks until the annual trade deadline extravaganza, we're fast approaching that divergent crossroads point of the season where teams must decide in which direction they'd like to head.
For some, the choice has already been determined. For the Coyotes and Avalanche, any player who's getting longer in the tooth and whose development timeline doesn't sync up with the organization's is an expendable asset who can be cashed in for future lottery tickets. There's certainly a few other organizations that would do well to follow that same path.
On the other end of the spectrum you've got teams like the Capitals and Sharks, who are clearly in win-now mode. Their directive leading up to March 1 is to identify any potential personnel gaps they have in their lineup and to address them accordingly. Even though the playoffs are a crapshoot, if you're one of the select few teams that has a legitimate chance at winning it all you're doing yourself a disservice if you don't go for it hard and worry about the future afterwards.
But for the vast majority of the league, the choice isn't so black and white. One of the byproducts of the the point system is that it artificially fluffs up the idea of parity in the NHL. With seemingly only a measly 10 points separating 11th (the Senators) and 28th (the Jets) in the standings, it's tantalizingly easy for those with a rooting interest to talk themselves into the best case scenario for their team.
The issues with that kind of gridlock really start to manifest themselves this time of the year, when the turbulent nature of the playoff picture paralyzes faux contenders from doing anything of consequence because they can't decide what they are and where they want to be. That's ultimately the worst place to be in professional sports: stuck in the middle.
For our purposes, let's define that purgatory as not being quite good enough to qualify for the post-season, while also not being quite bad enough to bottom out and have a top draft pick to show for an otherwise lost season: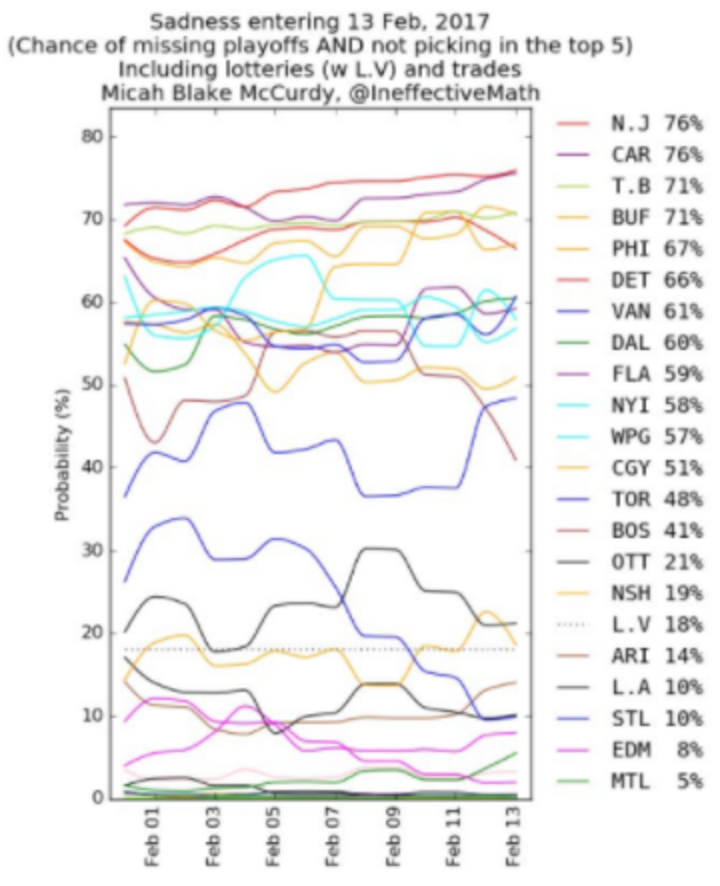 The most compelling of the bunch here are the Calgary Flames, who need to use the next two weeks to figure out which direction they want to go in because right now they're the definition of a bubble team.
With the three Pacific Division playoff tickets ostensibly already taken, that means the Flames, Kings, and whoever loses out between the Predators and Blues are jockeying for just the two wild card spots. That leaves them in a tricky position, fighting an uphill battle against some pretty stiff competition.
According to Micah's model, the chances of Calgary being caught in that purgatory (51 per cent) are greater than the odds of them making the playoffs (37 per cent). That's the obvious case against them going for it and making a push for one of those final spots.
The case for them going for it hit a speed bump Monday night after an embarrassing 5-0 loss at home to the lowly Coyotes, but one poor showing shouldn't obscure the fact they've been improving as the year has gone along.
Even though their full season resume doesn't inspire much confidence on the surface, they've commendably managed to erase a shaky start to coach Glen Gulutzan's tenure behind the bench thanks to an upward trajectory that started some time around the Christmas break: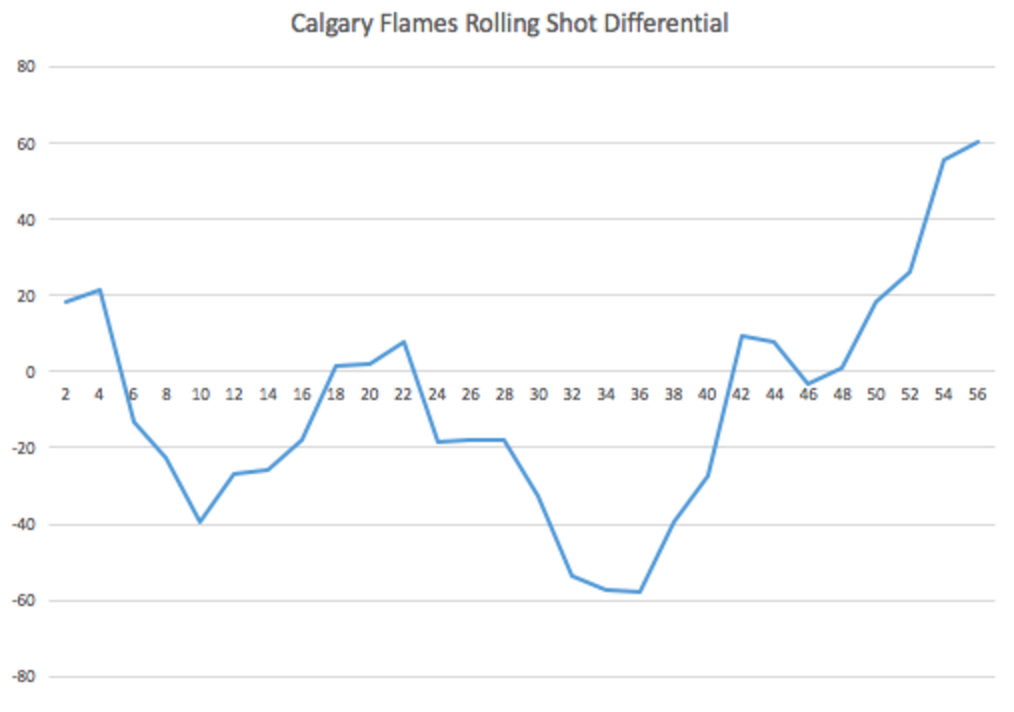 Over the past 20 games they rank third in the league by controlling 53.6 per cent of shots attempted at five-on-five, sandwiching them between the Kings and Bruins, with the Sharks and Capitals atop the leaderboard. This unfortunately hasn't translated into an overwhelmingly high number of wins because they're also ranked 24th in both shooting percentage and save percentage, but if they keep putting together these kinds of efforts the results will eventually come.
Even with that noted improvement, what really makes them a team to keep an eye on is that there's still another gear for them to hit if they play this the right way.
Unlike most of their competition that lacks the means to address holes in their lineups, Calgary possesses a rare combination of clearly defined needs and the flexibility to actually go out and do something about it.
Whether it's at the trade deadline or this summer, there are two notable things that GM Brad Treliving and his staff need to explore: find a complementary third wheel for Johnny Gaudreau and Sean Monahan, and give T.J. Brodie a defence partner who can keep up with him.
After they threw $18 million at Troy Brouwer this summer I imagine they thought he would be able to slide in as the net-front presence who does the dirty work and takes advantage of the cushy opportunities Gaudreau's otherworldly puck skills serve up on a silver platter. But Brouwer has looked like he's skating in molasses, which just presents the Flames with another problem rather than the solution they were seeking.
Fortunately for them, they could potentially get a 'get out of jail free' card if he catches Las Vegas' eye this summer, which seems like a distinct possibility given George McPhee's past ties with him.
In theory, that should be a spot they could fill on the cheap. Someone like P.A. Parenteau figures to be available for peanuts and he's shown time and again that he's perfectly capable of riding shotgun with great players and producing functional offence. He'd be ideal based on price tag and skillset, but he's hardly the only option that would represent a similar upgrade.
The other move is one that'll require some more delicate care. One of the main reasons why the Flames initially took off as a team was the adjustment Gulutzan made on the blue line, when he finally put more on Dougie Hamilton's plate and promoted him to the top pair next to Mark Giordano. It's impossible to quibble with the results, seeing as those two have been one of the most dominant pairings in the league.
Unfortunately it hasn't come without a price. By opting to load up the defence pairings like that instead of taking a more balanced approach like they were at the start of the year, they've really taken a hit whenever Giordano and Hamilton aren't on the ice: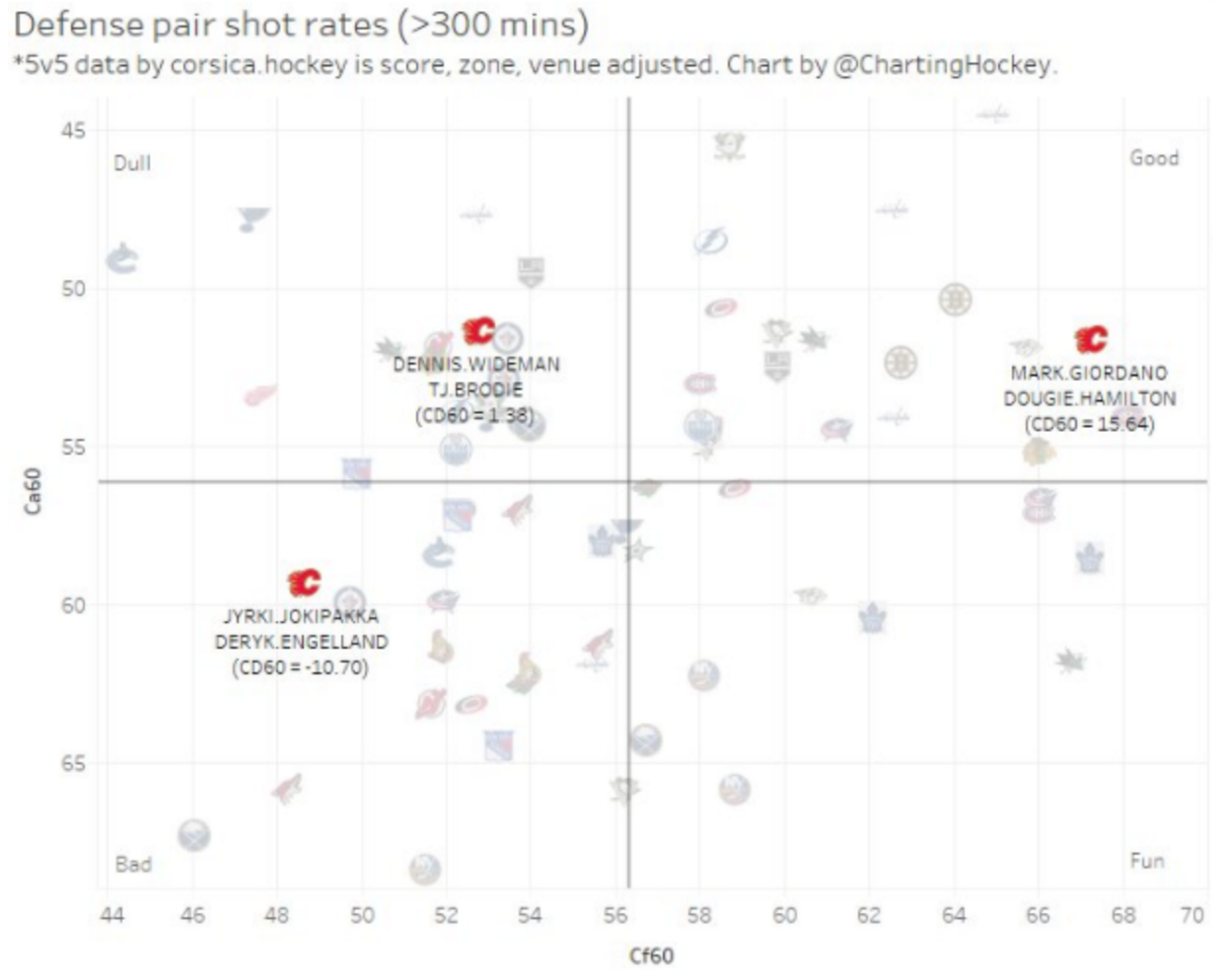 This is where the flexibility component of the equation comes into play. Dennis Wideman – who remains serviceable, but is now vastly overpaid and an anchor at even strength due to his lack of foot speed – comes off the books this summer. Deryk Engelland and his near $3 million cap hit are also no longer on the books this summer.
The third pairing has been the major liability this year, with Engelland and Jyrki Jokipakka having an unacceptably low 44 per cent shot share rate and 40 per cent expected goal clip in the 300-plus five-on-five minutes they've spent together. They'll likely retain Jokipakka's rights as a restricted free agent, but at this point he hasn't shown any reason to believe he's an everyday player who should be relied upon.
It may seem marginal, but replacing the two of them with players who tangibly contribute something in the limited times they're on the ice will go a long way towards leaving the Flames without any real blind spots on the blue line. Considering that in recent weeks we've seen capable third pairing defenders such as Mark Barberio and Zach Redmond put on waivers, and Nikita Nesterov moved for a sixth round pick, finding a legitimate upgrade shouldn't be all that difficult.
Shedding dead weight would leave Calgary with some interesting routes to improve their roster, as does the looming expansion draft, which could provide an opportunity to steal a potentially useful player at a bargain price from a team fearful of losing an asset for nothing. The Flames are one of only a few teams without the requisite number of assets they logically need to protect, which presents an advantageous opening for them to pounce.
For a while it looked like this summer would have been the time when the Flames could fix these concerns and make that next step as an organization. But based on how well they've been playing lately, the door has now been opened for them to potentially explore the idea of fast-tracking that process. By addressing the right needs, they could conceivably kill two birds with one stone by setting themselves up for both the rest of this season and the ones yet to come.