After just two full seasons as teammates, Sean Monahan and Johnny Gaudreau are basically an inseparable pair.
You'll find them together on the ice playing quality minutes for the Calgary Flames. Often away from the rink, too, as close buddies. And more than likely they'll be walking to the bank together this summer when it comes time to sign a second NHL contract.
"I could see us playing together for the next 10 years," Gaudreau said this week. "That's how much I like playing with that guy."
Whether or not they get that opportunity is a multi-million-dollar question facing Flames management. The collective bargaining agreement gives Calgary the option to go as long as eight years with each player, but it's far from a guarantee either will get the maximum term.
What makes the situation interesting is that while Monahan and Gaudreau are so often and easily linked, they'll actually arrive at the bargaining table with different circumstances to negotiate around.
For example: Because Gaudreau signed his entry-level deal in time to play one game at the end of the 2013-14 season, he's only accrued two years of professional experience to date. That means he's still five years away from unrestricted free agency – Monahan is four – and ineligible to be signed to an offer sheet this summer (Monahan can).
As a result, a bridge deal for Gaudreau could stretch as long as four years and still leave him shy of achieving UFA status. Should the Flames elect to go short with Monahan, it would almost certainly mean a contract of three years or less because teams seldom give out a term that walks a player directly into free agency.
No matter the length, both are due for significant raises on the $925,000 – not including performance bonuses – they earned annually on entry-level contracts.
They've each produced at an elite level, with Gaudreau sitting 11th in NHL scoring dating back to the start of last season. Virtually everyone currently on the top-20 of that list will be earning above $7-million next season and Gaudreau might, too, especially if he signs a long-term deal that includes UFA years.
A reasonable comparable for him to raise in negotiations is Vladimir Tarasenko, who signed an eight-year extension with St. Louis coming out of entry-level last summer that carries a $7.5-million cap hit.
Monahan can point to his impressive standing within the 2013 draft class and had to like the $5.9-million AAV that Aleksander Barkov recently received from Florida on a six-year extension. He's outpaced Barkov in goals per game (.35-.26) and points per game (.66-.58) after entering the league at the same time.
Even though the 21-year-old Monahan had a slow start this season, he hasn't spent too much time worrying about his next contract.
"I don't really think about it at all," he said. "I think the way you play, that's your negotiation right there. I think obviously I just stick to my game and try and do my best and lead by example."
Gaudreau indicated that he and Monahan have discussed their pending contract situations from time to time, but have been mindful of not letting it become a distraction.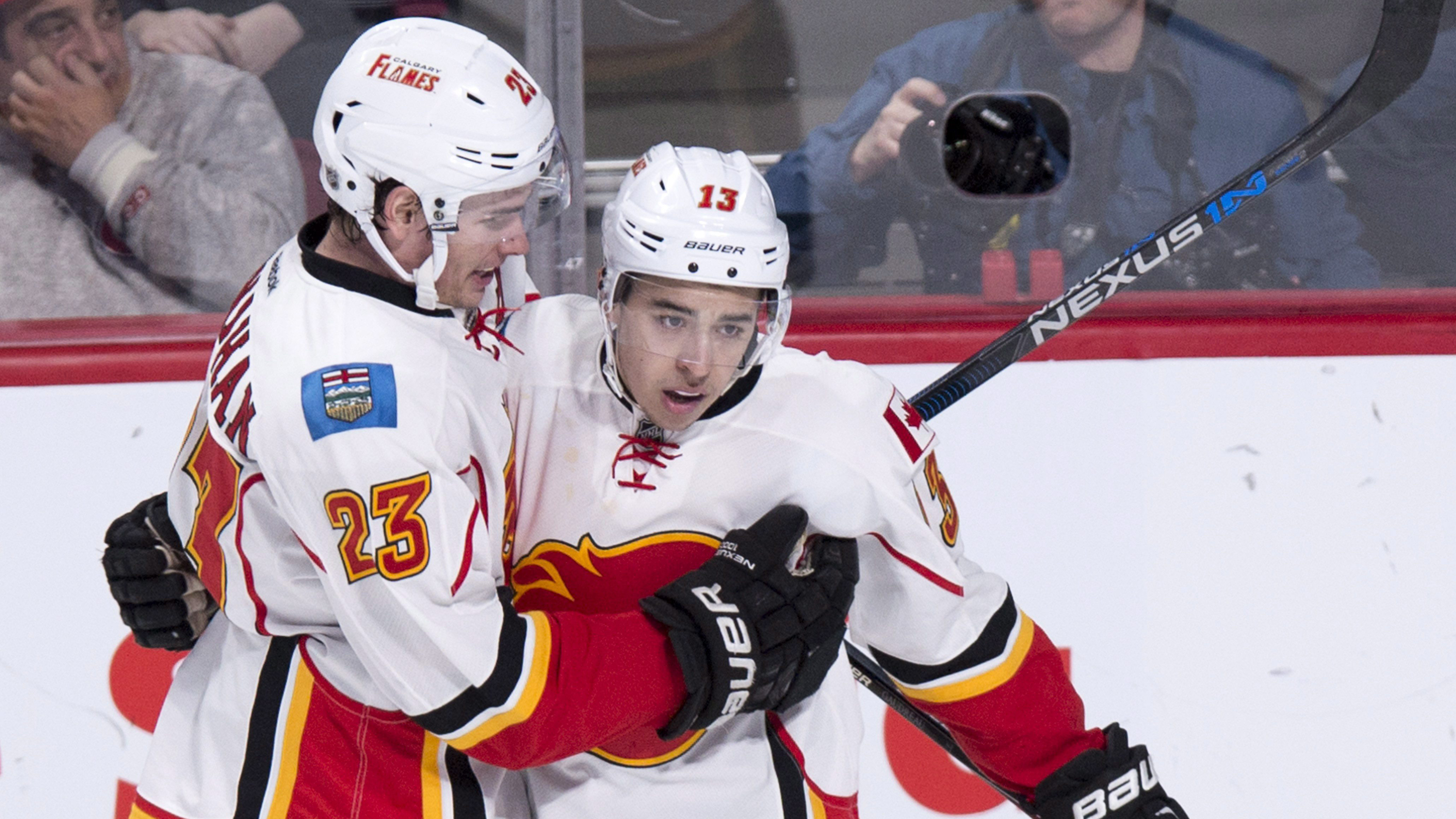 They've actually found themselves in a pretty good position to help one another out – not only as linemates, but also by getting a chance to play three minutes more than any other forward on the team per night.
"It's fun," said Gaudreau. "You try to get him the puck anywhere in the offensive zone. If he gets a point-blank shot, most of the time it's going in. He's got an unbelievable shot. It's so fun playing with him.
"I find myself more of a playmaker so I think we have a perfect fit."
Even though it's been a disappointing season in Calgary, the future still looks pretty bright. With 19-year-old Sam Bennett in the mix, some high-end players on the blue-line and a top draft pick to be added in June – possibly even Auston Matthews – there's plenty of motivation for Monahan and Gaudreau to commit long-term to the organization.
Perhaps they might even consider taking a smidgen less in order to keep the band together.
It's pretty clear that they've truly enjoyed the experience of playing together and getting to know one another the last couple years.
"We have such great chemistry together and we can find each other on the ice and we're great buddies off the ice – which helps on the ice as well – and, you know, I'm looking forward to the next however many years we're going to be together," said Gaudreau.