One of the more common questions I got after posting my top-20 centres based on the numbers at the beginning of the season was if I thought Mark Scheifele could get to an even higher level than I had him. Ranked as the 13th-best centre in the league, that's a tough climb over some elite players, but Scheifele is doing his best to answer that question himself.
After scoring 61 points in 71 games last season, including 29 goals, Scheifele is on a similar pace this year with nine points (five goals) in 11 games. Scheifele's success has come in spite of his team so far, as the Jets are an unimpressive 4-6-1, and below average in goal production.
But more than just his point scoring, it's the long-term sustainability of what he's doing that's impressing me about Scheifele. Last season he was able to establish himself as a top-end shooting centre, and so far this season it seems as though he has taken another step forward offensively.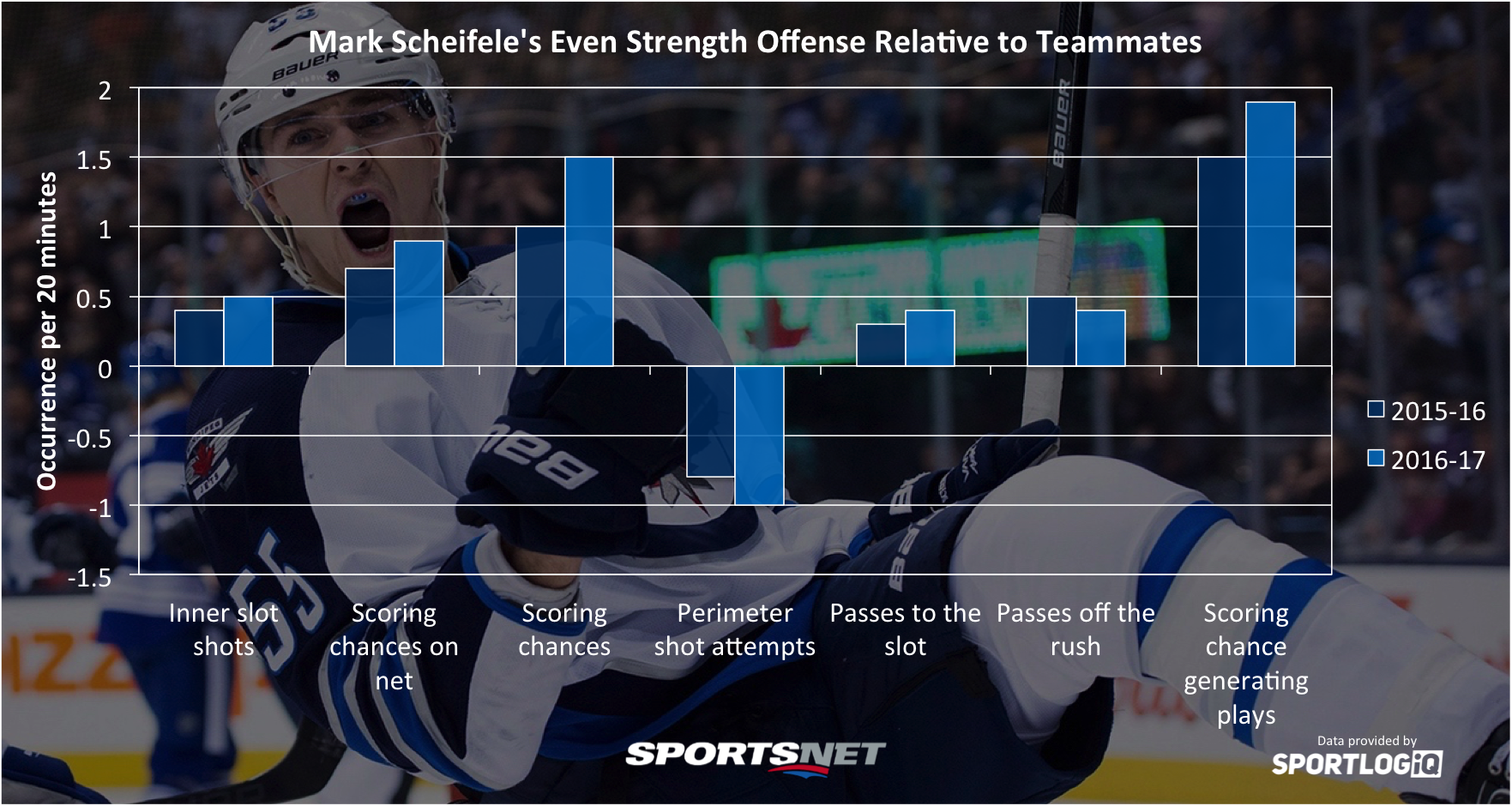 Relative to his teammates, Scheifele has seen nearly across the board improvement versus last season in the most important categories when it comes to producing offence. Where he has dropped is shots from the perimeter and slightly fewer passes off the rush.
After taking most of his shots from within the slot area last season, Scheifele has been shooting from even more dangerous areas this year, which is tough to do when you're already one of the most dangerous shooters in the game.
Also impressive for Scheifele is that he isn't just improving his shooting, but also his playmaking, hitting his teammates in the slot at a higher rate than before, and generating more scoring chances for them as well.
While his development was a bit odd when you look back on it, twice being sent to junior before hitting the nine-game cutoff as a rookie, once he was in the NHL the Jets gave him room to grow as a player and challenged him. They've been rewarded big time.
Considering Scheifele is already a strong defensive and transition player, the chances are very good that he can become a top-10 centre in this league with a strong offensive game that's still improving.
If he is able to sustain this level of offensive pressure on opponents at even strength, a point-per-game season where he flirts with 40 goals is not out of the question. It's possible that we've only seen the beginning of what Scheifele can accomplish in the NHL, and it's already pretty exciting.