The initial field trial of the Calgary Flames' new defensive scheme didn't go very well. Fortunately, the same cannot be said for goaltender Mike Smith, who performed admirably in his first real test. The challenge the rest of the way will be for both to function together on the majority of nights.
The easy part of this was supposed to be the defence corps, a group which on paper is certainly in the top five league-wide. It still seems likely that it will be; one game is no reason to overturn those expectations, particularly when the game in question was on the road and against Connor McDavid.
Nevertheless, it's important to be aware of what this group is capable of doing, and what it is not.
The big addition on the back end is Travis Hamonic. His arrival gives Calgary four top-end defencemen, along with Mark Giordano, Dougie Hamilton and T.J. Brodie. It also pushes other players down into their correct slots on the Flames roster.
Want to livestream all 82 Flames games this season? See how you can stream this + over 300 regular season NHL games with Sportsnet NOW.
He is just one player though, and probably a second-pairing one at that. The Flames defensive group remains much the same as it was last season, and one of the lessons last year it was that this collection of rearguards is not good enough to carry a pedestrian goaltender all by itself.
We know that because Calgary had two such players on its 2016-17 roster: Brian Elliott and Chad Johnson.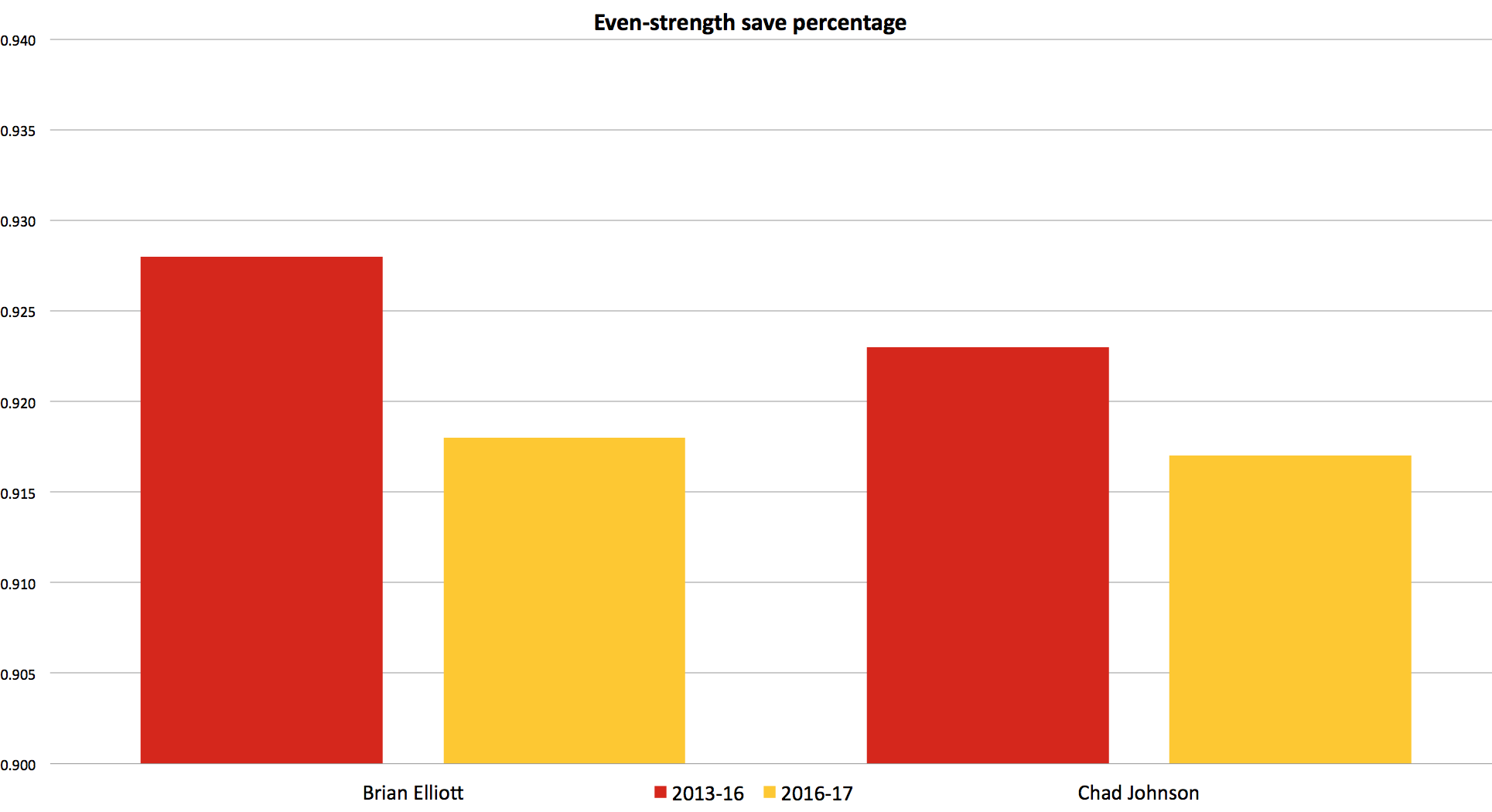 Compared to the three seasons immediately preceding their arrival in Calgary last year, both Elliott and Johnson underperformed.
These are even-strength totals only, which means the median starting goalie in the NHL usually hovers around .925. Coming into Calgary, both goalies were in that range, with Elliott's numbers a touch above and Johnson a touch below. Both plummeted down into backup territory with the Flames.
If Smith delivers a performance in the same range, the results are likely to be the same, even with Hamonic now on the team.
Smith comes in perhaps a little underappreciated. He's 35, which already sets off alarm bells, and at first glance there isn't a lot in his recent history with Arizona that recommends him as a superior option to a player like Elliott. The fact the Coyotes were willing to retain salary to get him off the books isn't reassuring, either.
What may help is a deeper look at his work start by start in Arizona the past few seasons.
Using Natural Stat Trick's game logs, we were able to break Smith's even-strength performance down team by team. We then compared the shooting percentage those teams managed against Smith to what they posted against every other goalie in the league, which allows us to see how many goals Smith saved relative to the league-average goalie over the last three years.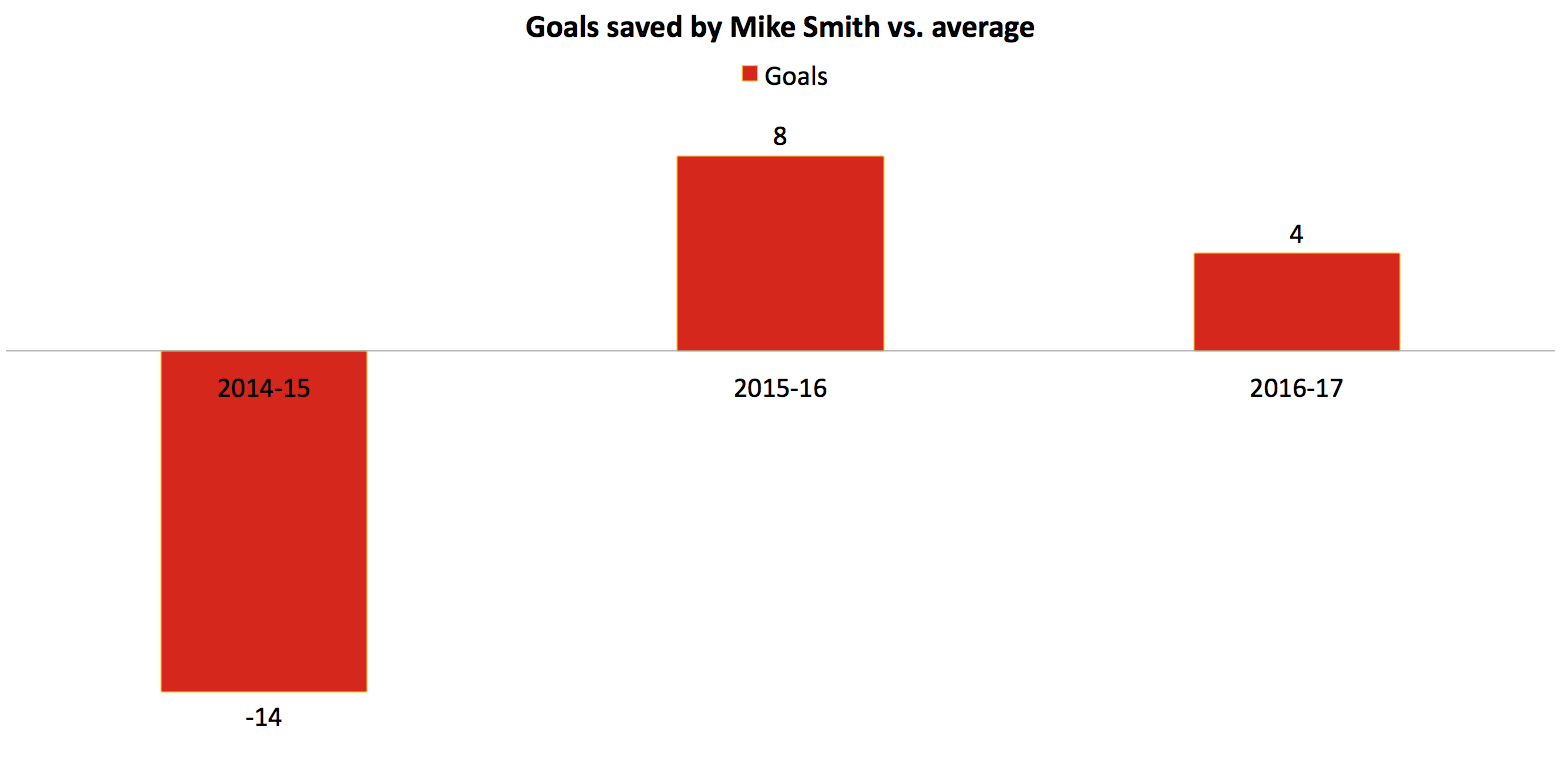 (A fun aside here: Smith was tremendous against Calgary last year. He played four games and posted a .943 save percentage in all situations; he also stopped 93 of 94 shots faced at 5-on-5. It wouldn't have been hard for GM Brad Treliving to have come away with a positive opinion of the player based on recent experience.)
Over the past two seasons, Smith and the Arizona defence have saved 12 goals more than the typical NHL goalie/defence combination would on the same number of shots by the same teams. That's ignoring his disastrous 2014-15 performance, of course, but even including it he's roughly on par with the average NHL goalie over the last three years.
The key bit of context here is that this all happened in Arizona.
The obvious read here is that the 'Yotes defence hasn't been good the past few years. In 2015-16, three of their top four defencemen were Michael Stone, Connor Murphy and Nicklas Grossmann. That's part of it, but there's more to it than that.
One thing we've come to realize in recent years is the way save percentage changes based on game state. When teams have a lead, their shooting percentage tends to go up. When teams are trailing, their save percentage tends to go down.
Fantasy Hockey Pool
Play the Sportsnet Fantasy Hockey Pool for your chance to score big with over $22,000 worth of prizes to be awarded!
The Coyotes have trailed frequently in recent years. Smith himself has been in net for 145 decisions over the past three seasons: 48 wins and 97 losses. He's spent a lot of time in situations where goalie careers tend to die, and while his reputation has taken a bit of a beating he's still generally seen as an average-ish goaltender. He's probably a little underrated, though age-related decline could change that in a hurry.
Playing in Calgary, Smith shouldn't have the same external factors dragging down his performance that he did in Arizona.
Additionally, he's going to face a lot fewer shots. The Coyotes allowed nearly 10 more shot attempts per game at 5-on-5 alone last season than the Flames did, and a lighter workload will result in fewer goals against and presumably less fatigue.
It's the opposite transition of the one Elliott made last season, and while that's far from the whole story it does provide at least one reason to think that Smith won't disappoint the way his immediate predecessor did.