For the sake of Vancouver Canucks fans' sanity, let's assume that the unfortunate result of Jesperi Kotkaniemi holding Elias Pettersson behind the play and falling awkwardly on his leg leads to a much more minor injury than it looked like initially, and Pettersson can get back into games before we know it.
The Canucks will need their rookie phenom to continue to be in top form if they have any hope of making the playoffs this year. At this stage of the season, I don't think I was alone in thinking the Canucks would be much further out of the picture, but the team has rallied around the transcendent performance of Pettersson and sit just one point behind the Anaheim Ducks for the second wild card spot in the West.
Sportsnet NOW gives you access to over 500 NHL games this season, blackout-free, including Hockey Night in Canada, Rogers Hometown Hockey, Scotiabank Wednesday Night Hockey, the entire 2019 Stanley Cup Playoffs and more.
The one wrench in the gears outside of Pettersson's injury is that the Canucks have played more games than every other team they're within four points of, and the team that's the most dangerous to them in Minnesota has a whopping five games in hand.
So the question becomes how likely is it that Vancouver can squeeze its way into one of those wild card spots? Let's look at how the Canucks compare to the teams that are within plus or minus four points of them the standings.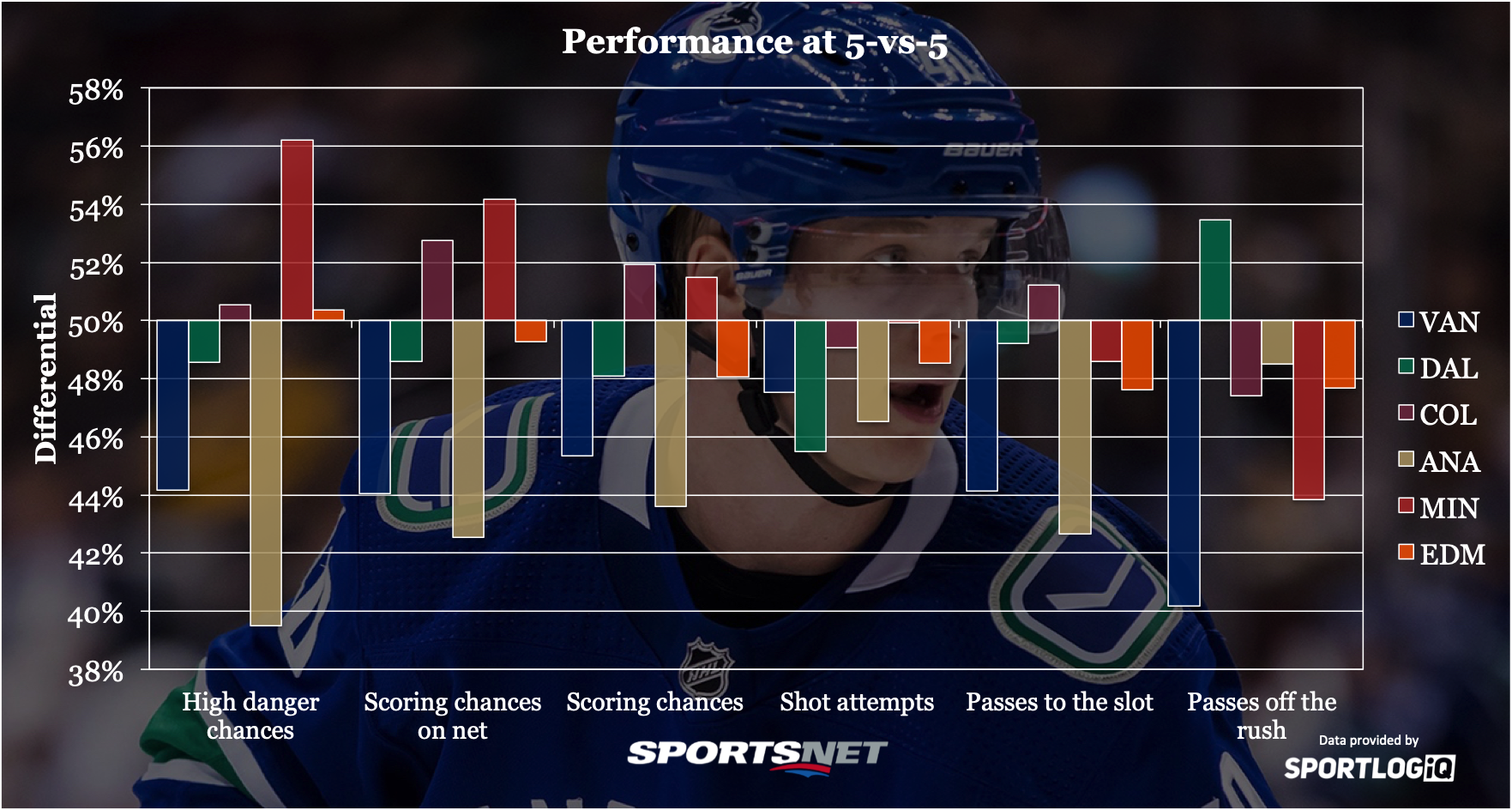 Examining the statistics at 5-vs-5 on a team-wide perspective, things don't look too great for the Canucks. They're outplayed by their opponents in each of the major categories that lead to goal scoring. Specifically, the Canucks are weakest at manufacturing and preventing quality chances, both in terms of shot locations and puck movement.
The good news for the Canucks is that three of these teams can make the cut, and of this group they're currently third in the tiebreaker (regulation or overtime wins with 19, tied with Minnesota). However, that's about the only bit of good news.
Jacob Markstrom has had a strong season for a team that isn't amazing defensively, but of this group, he's only putting up a better save percentage than one team's starting goalie — Edmonton's Cam Talbot, who has been giving up more and more of the net to Mikko Koskinen. Koskinen has also been stronger than Markstrom so far.
Top prospect Thatcher Demko could add depth in goal for the Canucks, giving them more chances to win games that may have previously felt like schedule losses. Even if they start getting better goaltending, their play at 5-vs-5 has to improve if they're going to not only pass one of the teams ahead of them, but avoid being leapfrogged by Minnesota as the season wears on.
Of the teams currently in a playoff spot, the Anaheim Ducks look to be the most vulnerable, despite the fact they're getting fewer than 40 per cent of the high danger chances in their games. They have John Gibson stopping 92.5 per cent of the shots he faces papering over their weaknesses.
Dallas is the other team that looks a little vulnerable, and much like the Ducks they're being carried by great goaltending, with Ben Bishop stopping 92.3 per cent of everything he's seen this season.
A weekly deep dive into the biggest hockey news in the world with hosts Elliotte Friedman and Jeff Marek. New episodes every Thursday.
Looking at special teams doesn't exactly bode well for the Canucks either, as they're among the bottom-10 teams in the league at creating scoring chances on the power play. They also shoot from outside the slot more than league average.
Vancouver does have a very effective penalty kill, preventing scoring chances overall like a top-10 team, while limiting high danger chances like a top-five team. That's something to build on, but hockey goes both ways; you have to prevent goals and score them.
The Pettersson effect has been enough to get them this far, but getting over the hump and into the playoffs is a bigger challenge than simply being almost there. Both the standings and the statistics are stacked against them this season, and while playoff fever may be a tempting feeling for Vancouver to capture once again, I don't think it would be a bad thing necessarily for this group to just miss out on the postseason.
Remember that in September this team was expected to be among the worst in the league. Now, all these young players have realized the team is better initially projected and can play well enough to get close to the playoffs. That lesson, along with a better draft pick, is not such a bad consolation prize if the Canucks can't pull it off.
This is clearly a team on the rise, but they don't look like they're quite at playoff level yet.