To tank, or not to tank? That's the question currently facing Canada's NHL teams.
Most fans are settling into the fact that this will likely be the first Stanley Cup playoffs without a Canadian team for the first time since 1970. Instead, they will be entering into the race for Auston Matthews.
Landing the top pick in the NHL draft used to be a simple race to the bottom. That's not the case anymore as the current version of the draft lottery makes it a crapshoot at best.
Canadian fans still have to be optimistic. The collective face plant by Canadian teams this season means there's currently about a 70 per cent chance the top pick will land somewhere in Canada.
Is losing worth it?
Ask a Chicago Blackhawks fan and they would probably tell you "yes." Their lean years in the mid-2000s translated to a first- and third-overall pick that brought Patrick Kane and Jonathan Toews to Chicago. Voila! A championship foundation was laid.
Pundits are quick to point out an extended stay in the NHL's cellar is no guarantee of success. And they are right. The Edmonton Oilers have been disproving that theory for some time now.
The Atlanta Thrashers also made it clear that top picks aren't a magic cure-all. The Thrashers drafted two prolific scorers first and second overall in Ilya Kovalchuk and Dany Heatley. Atlanta has since moved to Winnipeg, Kovalchuk and Heatley are out of the league, and that franchise is still seeking its first playoff win.
The history of the game makes one lesson clear: Winning the Stanley Cup without the elite talent found at the top of the draft is almost impossible.
Go back 45 years and only two teams have won the Stanley Cup without a top-three draft pick on their roster.
The 2001 Colorado Avalanche didn't have one. But they did trade first-overall pick Eric Lindros for a bountiful return that was key to building a championship roster.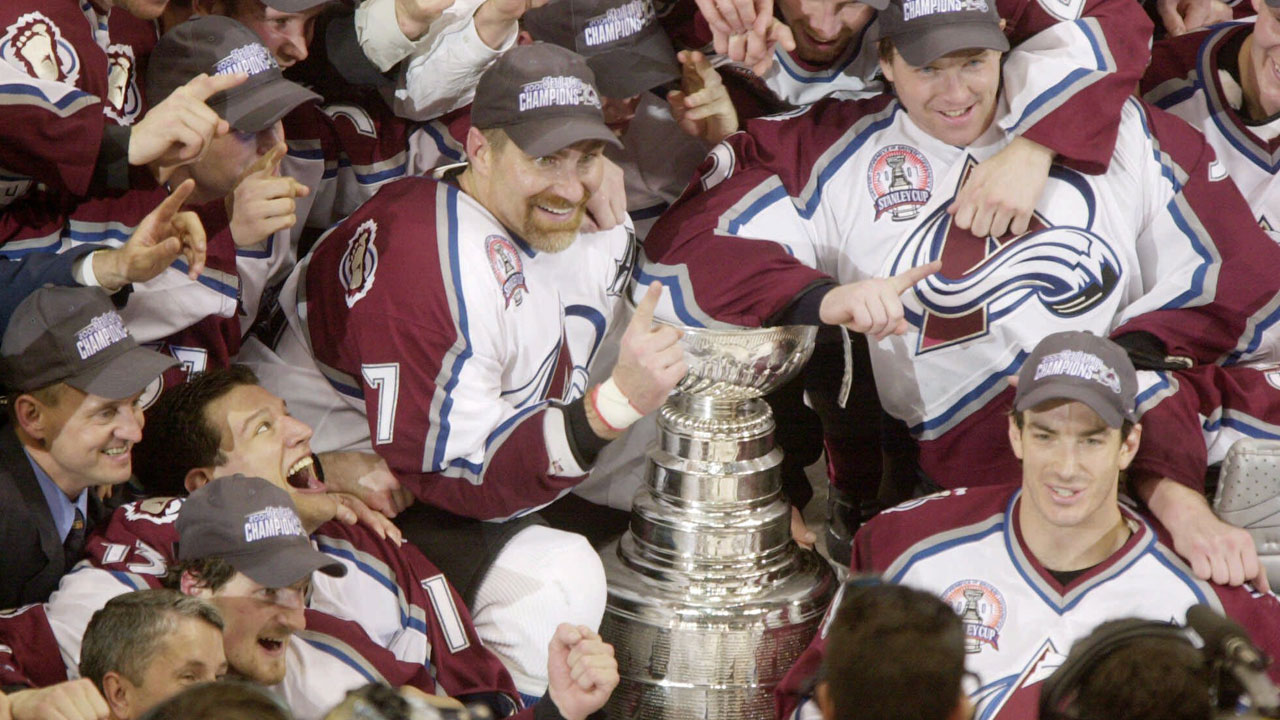 The Colorado Avalanche after winning the Stanley Cup in 2001. (David Zalubowski/AP)
The 1989 Calgary Flames also won without a top-three pick, although captain Lanny McDonald was taken fourth overall in 1973.
You could argue the '84, '85 and '87 Edmonton Oilers didn't have a top-three pick but that's a technicality. It's true because Wayne Gretzky was never in the NHL draft. Had WHA issues not existed, no doubt he would have been the top pick.
In those 45 years, one of those players won the Conn Smythe Trophy 10 times. Twenty times they've lead the playoffs in scoring.
In some cases, teams were lucky enough to land a top-three selection without going through the pain of a rebuild. The Anaheim Ducks won it all in 2007 with Chris Pronger (second overall) and Scott Niedermayer (thid overall) on their back end. Neidermayer signed as a free agent and general manager Brian Burke picked up Pronger in a trade.
As tough as those deals are to pull off in today's NHL, they still happen. Jim Nill was able to acquire second overall pick Tyler Seguin from the Boston Bruins which has since led to a surge for the Dallas Stars.
So take heart Canadian hockey fans: The pieces needed to take you to the very top are usually found at the bottom.
Here's a look at past Stanley Cup winners and whether they had top three draft picks in their lineup.
2015: Chicago Blackhawks – Patrick Kane (1st, 2007), Jonathan Toews (3rd, 2006)
2014: Los Angeles Kings – Drew Doughty (2nd, 2008)
2013: Chicago Blackhawks – Patrick Kane (1st, 2007), Jonathan Toews (3rd, 2006)
2012: Los Angeles Kings – Drew Doughty (2nd, 2008)
2011: Boston Bruins – Tyler Seguin (2nd, 2010), Nathan Horton (3rd, 2003)
2010: Chicago Blackhawks – Patrick Kane (1st, 2007), Jonathan Toews (3rd, 2006)
2009: Pittsburgh Penguins – Sidney Crosby (1st, 2005), Marc-Andre Fleury (1st, 2003), Evgeni Malkin (2nd, 2004)
2008: Detroit Red Wings – Brad Stuart (3rd, 1998)
2007: Anaheim Ducks – Chris Pronger (2nd, 1993), Scott Niedermayer (3rd, 1991)
2006: Carolina Hurricanes – Eric Staal (2nd, 2003)
2004: Tampa Bay Lightning – Vincent Lecavalier (1st, 1998)
2003: New Jersey Devils – Scott Niedermayer (3rd, 1991)
2002: Detroit Red Wings – Brendan Shanahan (2nd, 1987)
2001: Colorado Avalanche – No top-three pick
2000: New Jersey Devils – Scott Niedermayer (3rd, 1991)
1999: Dallas Stars – Mike Modano (1st, 1988)
1998: Detroit Red Wings – Brendan Shanahan (2nd, 1987)
1997: Detroit Red Wings – Brendan Shanahan (2nd, 1987)
1996: Colorado Avalanche – No top-three pick
1995: New Jersey Devils – Scott Niedermayer (3rd, 1991)
1994: New York Rangers – Ed Olczyk (3rd, 1984)
1993: Montreal Canadiens – Brian Bellows (2nd, 1982), Kirk Muller (2nd, 1984)
1992: Pittsburgh Penguins – Mario Lemieux (1st, 1984)
1991: Pittsburgh Penguins – Mario Lemieux (1st, 1984)
1990: Edmonton Oilers – Craig Simpson (2nd, 1985), Jimmy Carson (2nd, 1986)
1989: Calgary Flames – No top-three picks but Lanny McDonald was taken fourth overall in 1973.
1988: Edmonton Oilers – Craig Simpson (2nd, 1985)
1987: Edmonton Oilers – Wayne Gretzky
1986: Montreal Canadiens – Bobby Smith (1st, 1978), Ryan Walter (2nd, 1978)
1985: Edmonton Oilers – Wayne Gretzky
1984: Edmonton Oilers – Wayne Gretzky
1983: New York Islanders – Denis Potvin (1st, 1973), Pat LaFontaine (3rd, 1983)
1982: New York Islanders – Denis Potvin (1st, 1973)
1981: New York Islanders – Denis Potvin (1st, 1973)
1980: New York Islanders – Denis Potvin (1st, 1973)
1979: Montreal Canadiens – Guy Lafleur (1st, 1971), Rejean Houle (1st, 1969)
1978: Montreal Canadienss – Guy Lafleur (1st, 1971), Rejean Houle (1st, 1969), Pete Mahovlich (2nd, 1963)
1977: Montreal Canadiens – Guy Lafleur (1st, 1971), Rejean Houle (1st, 1969), Pete Mahovlich (2nd, 1963)
1976: Montreal Canadiens – Guy Lafleur (1st, 1971), Pete Mahovlich (2nd, 1963)
1975: Philadelphia Flyers – Reggie Leach (3rd, 1970)
1974: Philadelphia Flyers – Reggie Leach (3rd, 1970)
1973: Montreal Canadiens – Guy Lafleur (1st, 1971), Pete Mahovlich (2nd, 1963)
1972: Boston Bruins – Reggie Leach (3rd, 1970)
1971: Montreal Canadiens – Rejean Houle (1st, 1969), Pete Mahovlich (2nd, 1963)