MONTREAL — The long winter is over. The great reawakening begins.
It is here, naturally, where the Stanley Cup playoffs spring to life on Wednesday night and the anticipation for this particular tournament is even higher than usual. With games to be played in Vancouver and Calgary and Winnipeg and Ottawa — plus the magnificent Bell Centre — these playoffs will be felt across the country.
One thing we have been reminded of in less bountiful springs is that hockey may be loved in each region of the nation, but it doesn't bind them together. There is no rallying behind Canada's team, at least outside of the one we send to the Olympics every four years.
STANLEY CUP PLAYOFFS: | Broadcast Schedule
Rogers GameCentre LIVE | Stanley Cup Playoffs Fantasy Hockey
New Sportsnet app: iTunes | Google Play
Instead there are separate fanbases for the Canadiens, Senators, Jets, Flames and Canucks, and they all still have a chance to celebrate a championship.
What could be better than that?
The Montreal-Ottawa and Vancouver-Calgary matchups are among four games that will be featured on opening night.
Winnipeg has to hold on just a little bit longer before its long-awaited playoff return in Anaheim on Thursday.
Fittingly, the two-month marathon kicks off in Montreal. This is the spiritual home of hockey.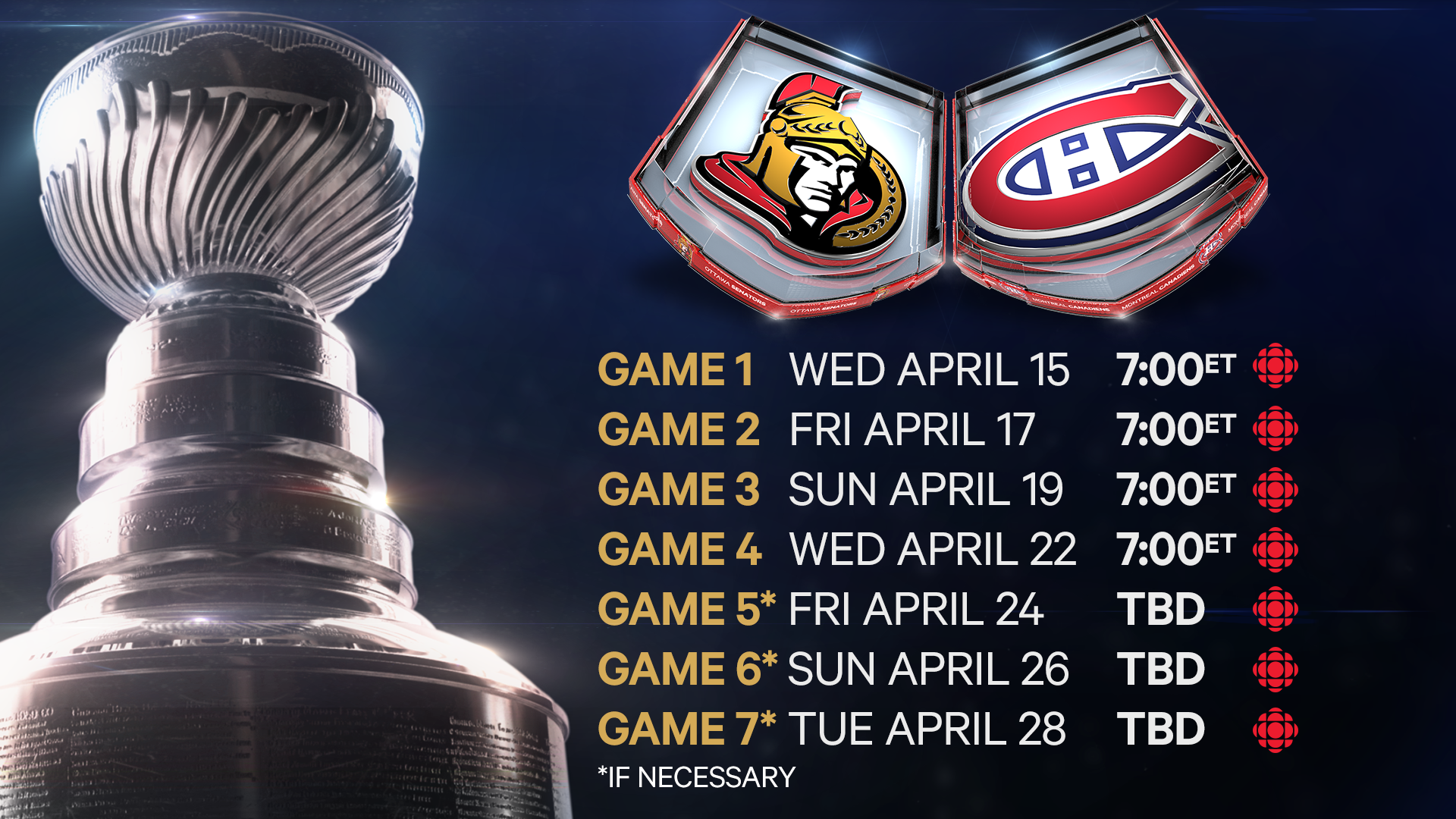 It was during the winter carnival in this city in 1889 when Lord Stanley of Preston first became enthused about hockey — the Governor-General eventually created the Stanley Cup — and it was inside the old Windsor Hotel on Peel St. where the NHL was officially formed in 1917.
The Habs are the sport's most decorated team and the current incarnation is desperate to add to the legacy after reaching the Eastern Conference final last spring. However, they'll be in tough right from the beginning against a Senators team that went on a magical run through March and April just to qualify for the playoffs.
In Vancouver, the Flames and Canucks will renew an old rivalry with new faces. Both organizations found tremendous success in the midst of an overhaul and managed to hold off the defending-champion L.A. Kings in the regular season.
There will be no greater excitement anywhere in the first round than Winnipeg, where hundreds of fans closed down traffic at the city's busiest intersection when the Jets clinched a playoff spot last week.
It's the first time that's happened since the NHL returned in 2011 and provided the final piece of proof that they belong. Inclusion is important. I recall sitting in the office of Jets co-owner Mark Chipman a couple years ago and talking about what the team's rebirth has meant there.
"When I was a kid this was the fourth largest city in the country and there was some sort of pride we took in that," he explained. "It was Montreal, Toronto, Vancouver and Winnipeg. Other cities have gone roaring past us in population and appeal to young people, particularly in Alberta.
"In Winnipeg, I think people feel like it got left behind to a certain extent. When we had the NHL in the first place it was a great source of pride and then when it was taken away it was devastating for a lot of people on a few different levels…"
Chipman paused briefly to collect his thoughts.
"So coming back, really what I think it has done, it's just a source of pride or a badge of honour or whatever for people who stuck it out here, who've committed to living here their whole lives or whose families have been here for generations," he added. "I think it makes people feel good about their decision to live here."
Those sentiments could easily be applied to Canada and the Stanley Cup. A spring like this one has been a long time coming and finally there is good reason to hope the Canadian teams will be involved throughout these playoffs.
At least two will make it to the second round and should the Jets beat the Ducks, it would guarantee that at least one reaches the conference final. The odds have rarely been so in favour of another champion finally emerging from this country.
---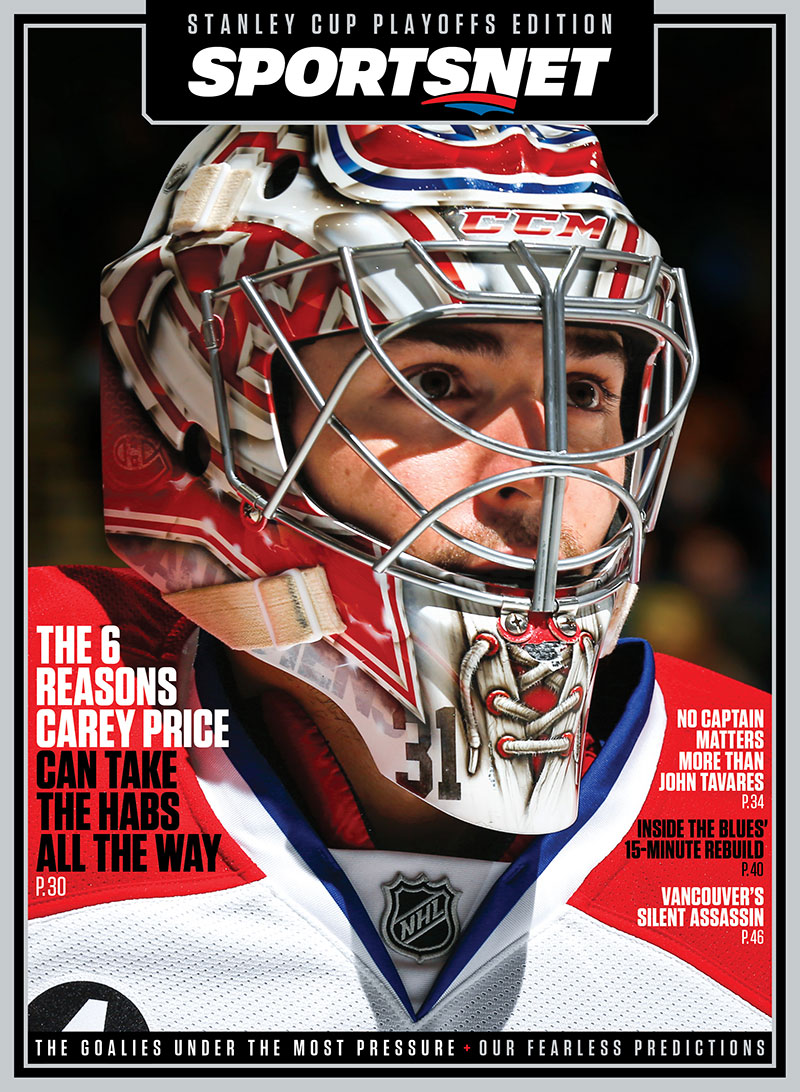 Sportsnet Magazine Stanley Cup Playoffs
Edition:
The six reasons why Carey Price can take the Montreal Canadiens all the way. Download it right now on your
iOS
or
Android
device, free to Sportsnet ONE subscribers.
---
That hasn't happened since the Montreal's 24th Stanley Cup victory in 1993, when the team still played at the Forum on St-Catherine. The late Jean Beliveau was among those in attendance that night as the Habs knocked off Los Angeles.
"We'll watch a parade that every kid in Canada, and elsewhere, would love to take part in," Bob Cole said on Hockey Night in Canada after the trophy presentation. "This parade around your home arena … with the Stanley Cup."
No matter where the trophy gets hoisted in the months ahead, it will return here eventually. It is in Montreal where the names of the winners are engraved into the Stanley Cup at the end of each summer.