EDMONTON — There was a time when these celebrations were commonplace in Canada. A May or June parade, then a gathering in a stadium or town square, and the requisite congratulatory speeches from politicians who may or may not have attended a game all season long.
And a big, shiny hockey trophy, the kind the Oil Kings brought to downtown Edmonton Wednesday afternoon in the kind of ceremony this town used to take for granted. Oh boy, have those days passed.
You may cue the Edmonton jokes now, but you'll have to get in line behind the Edmonton Journal, whose perceptive cartoonist Malcolm Mayes authored an editorial cartoon on the day of the Oil Kings' MasterCard Memorial Cup celebration that featured the regal crown of the Oil Kings crest next to a jester's hat with an Oilers logo on it: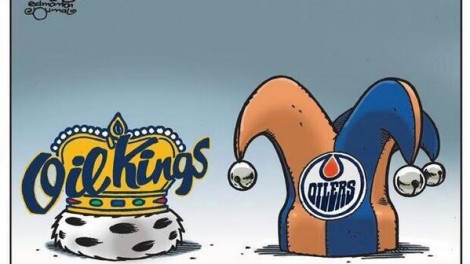 Alas, Rexall Sports Corp. set out to build a hockey team and delivered on a shrewd five-year plan that ended with a loss in the championship series. So they put their heads down, made a couple more savvy decisions and won it all in Year 7.
The problem is, it wasn't the Edmonton Oilers and the Stanley Cup but the junior team and the Memorial Cup. As solid an organization as the Oil Kings are, the elephant in the downtown core on Wednesday was the fact the Oilers are still light years away from hosting one of these celebrations themselves.
So, have your laughs at Edmonton's expense. But don't laugh too loudly if you're a fan of any of our National Hockey League clubs other than the Montreal Canadiens. Because we're not sure any of them are much closer to mapping out a parade route than are the Oilers — even if Maple Leafs Sports and Entertainment CEO Tim Leiweke has one planned out at all times just in case.
This junior team had a remarkable year: 68 wins in 98 games; the first team in Western Hockey League history to win the championship in Game 7 on the road; winners of the longest game in Memorial Cup history. As such, with a bevy of whereas and wherefores, mayor Don Iveson declared May 28 Edmonton Oil Kings Day in Edmonton. Great.
Every June day was Edmonton Oilers Day in Edmonton 35 years ago. And when the Oilers failed to make it the Stanley Cup just twice in the eight years between 1983 and 1990, well, no problem. Montreal (1986) and Calgary (1989) took care of the Cup for Canada in Edmonton's off years, even playing each other in '89.
Can you imagine? Eight straight Cups featuring a Canadian team?
In the 22 Stanley Cups contested since, our country has sent six teams to the finals, winning just once. Ottawa took a turn in 2007, and each of Calgary, Edmonton and Vancouver (twice) have suffered the indignity of a Game 7 loss in the final in the years since the Habs won our last Cup over Los Angeles in 1993.
Yes, the last 19 Stanley Cups have been won by American teams, and with the Habs eliminated Thursday, our little bundle of joy will turn 20 in June.
How distant a memory is 1993? Here are a few facts, compiled by our crack stats and info department here at Sportsnet:
• Four of the 24 teams that were in the NHL in 1993 have since relocated. The Quebec Nordiques became the Colorado Avalanche; the Winnipeg Jets became the Phoenix Coyotes; the Minnesota North Stars went to Dallas; the Hartford Whalers became the Carolina Hurricanes.
• Six teams — Columbus, Nashville, Winnipeg (formerly Atlanta), Anaheim, Florida and Minnesota — have all joined the NHL since the Habs win in '93.
• There have been 22,649 regular-season games since '93 and 1,714 playoff games. That is 24,363 total NHL games since the last Canadian team won a Stanley Cup.
Nearly 25,000 games since our Holy Grail was hoisted on an NHL ice surface north of the 49th parallel. How shameful is that, when you consider that roughly half of the men bleeding, sweating and risking their health for the trophy are our boys?
So go ahead, have your laugh at Edmonton as it celebrates a MasterCard Memorial Cup. The Oilers will draft third in Philadelphia this June, testimony to what's really going on with hockey in Edmonton.
But look at the draft order: Calgary drafts fourth, Vancouver sixth. Toronto picks eighth, Winnipeg ninth, and the Ottawa Senators would've held the 10th pick, but they dealt it to Anaheim in the Bobby Ryan trade.
That's six of our seven clubs that filled out the bottom third of the NHL standings this season. It looks like there aren't many fans in a position to laugh at anyone these days in Canadian NHL circles. Except in Montreal, and this spring, it was not about Canadians and their teams.
It was about the Canadiens and their team, our last gasp here in the country that, er, invented hockey.