It appears Quebec City has a few hurdles in their quest to land an NHL expansion franchise.
Sportnet's Damien Cox pointed to some concerning comments from former Canadian prime minister and current Quebecor chairman Brian Mulroney during this week's segment of Headlines.
"He talks about the Canadian dollar, where it is, and why it's proving to be a problem for Quebecor," Cox said. "It is the first time anyone has said anything about this. He also said he doesn't expect an announcement soon."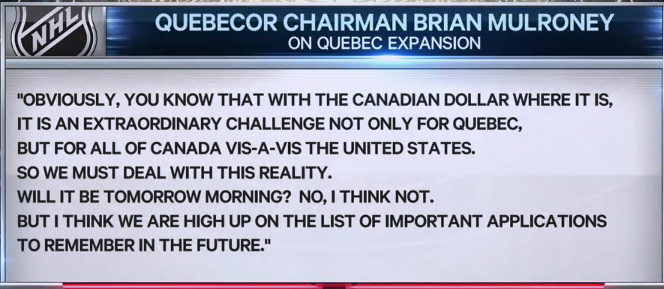 Quebec City and Las Vegas were the only two cities that applied for an NHL expansion franchise this past July.
Otherwise, Sportsnet's Elliotte Friedman said the league is likely to present the logistics for a possible expansion this week at the GM meetings in Florida.
"It is expected the GMs will get an idea of the kind of framework the league is looking at in terms of an expansion draft," Friedman said. "However, they are also going to be warned that they haven't talked about it with the (NHL Players' Association) yet so don't take it as the gospel."