In February I took a look at which Canadian team had the best first line, settling on the McDavid line in Edmonton, which is tough to dispute simply because of Connor McDavid's dominance this year.
Because that was such a fun one to look at, Sportsnet thought it would be a good idea to see which team had the best defence pairing in Canada, so I looked into it.
Last time I picked a representative from each Canadian team, but unfortunately this time I didn't feel it was necessary to do that. With all due respect to some decent pairings in Edmonton, Toronto, and Vancouver, none of them had a tandem that really stacked up to the other four Canadian teams, so I figured it would be easier to just focus on the better defence pairs.
I wanted to look at existing pairings, though I made exceptions for Ottawa and Winnipeg because the Karlsson/Methot pairing is so persistent, and Methot just had the tip of his finger lopped off and won't be playing for awhile, and because Trouba has only had one partner with a decent sample size.
With that in mind, here are the top pairings for the four teams I'm going to look at:
Montreal Canadiens: Andrei Markov – Shea Weber
Calgary Flames: Mark Giordano – Dougie Hamilton
Ottawa Senators: Marc Methot – Erik Karlsson
Winnipeg Jets: Tobias Enstrom – Jacob Trouba
We'll attempt to build a nice cross section of responsibility for defencemen, but to start let's look at the overall results in terms of percentages while each pair is on the ice for their team, relative to when they're not.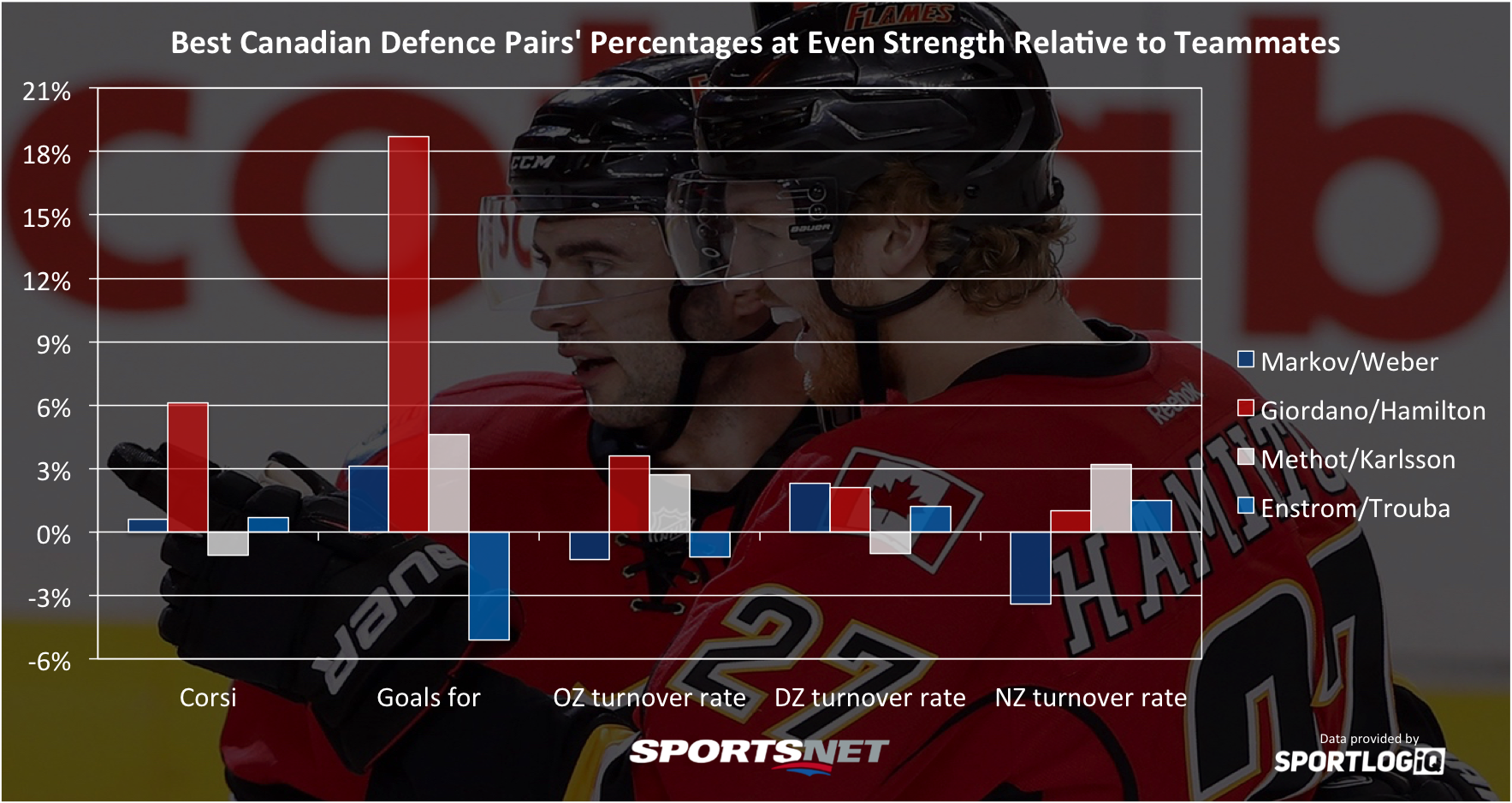 Looking at the results, the Jets' tandem falls behind pretty significantly, while the Senators' duo struggles to drive possession but is strong in terms of goal differential, even though they're a little risky in their own zone. The Canadiens' top pair drives possession a little bit, drives goals a little bit more, and is the safest in their own zone, but struggles to make plays in the neutral zone and offensive zone.
The outlier here is clearly the Flames' pairing of Giordano and Hamilton, who are absolutely crushing it in every zone, driving possession better than almost any pair in the league, let alone Canada, and have easily the best goal differential, roughly six times better than the closest challenger.
To be honest, I was hoping the field would be a little closer than it appears to be to create some sort of intrigue, but unless something crazy appears in other data, Giordano and Hamilton are winning this one in a walk. However, we've got to look at everything, so let's jump into the microstats.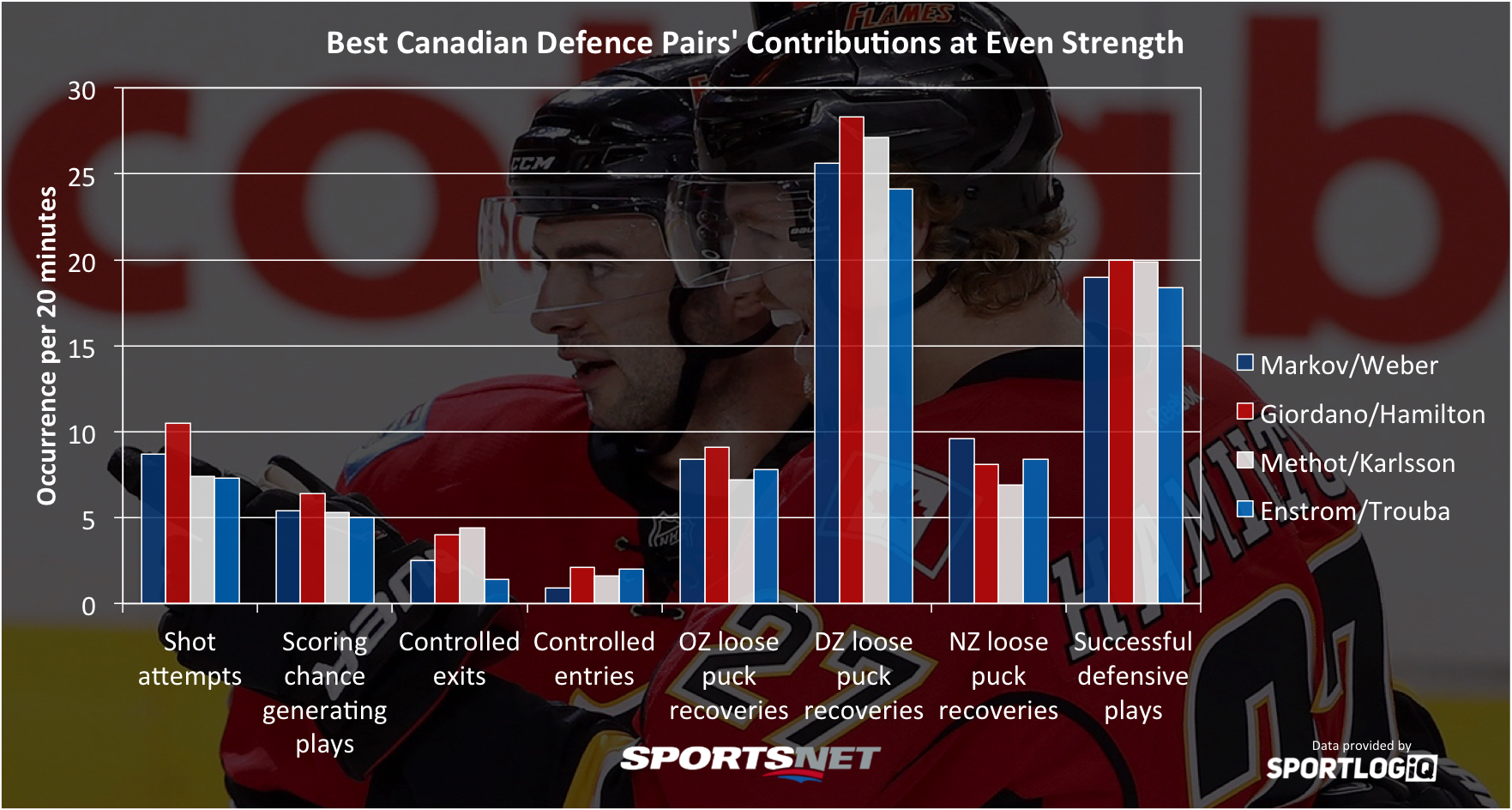 Things are a little tighter in this grouping of statistics, with pairing of Karlsson and Methot creeping up to the Flames' level in removing the puck from opponents with pass blocks, shot blocks, stick and body checks (successful defensive plays), exiting their own zone a little more cleanly and almost catching up in defensive zone loose puck recoveries.
What's interesting in all these combined numbers is that Karlsson accounts for close to 75% of the events that took place, which as I was collecting the data made me think of the line John C. McGinley's character says to Tom Smykowski in Office Space "What would you say… you do here?" when it comes to Methot. Not to be mean to the guy, but Karlsson does just about everything for that pairing.
The Markov/Weber pair also looks better here, where they are the most aggressive tandem in the neutral zone, but struggle the most at moving the puck with control, and as we saw earlier, their good neutral zone defence is undone by poor puck management when they acquire it.
When everything is laid out though, once again it's hard to come to any conclusion that wouldn't favour the Flames' top pair. Mark Giordano has been criminally underrated for years now (I had him ranked as the second best defenceman over the last three years in the summer), missing out on two possible Norris Trophies due to late season injuries, and Dougie Hamilton has blossomed from a good top-four guy to a good top-pairing player over the last year or so.
The dominance of that pairing is another checked box for the Flames. They are built into a contending team, and no one should be taking them lightly.