Brendan Gallagher hasn't played half the amount of games he saw in 2016-17 and he's already scored three more goals than last season. That improvement comes despite the Montreal Canadiens as a team scoring at essentially the same rate as last season, so there hasn't been any boost to his numbers from a "rising tide lifting all boats" situation.
Gallagher has long been one of the NHL's premier possession drivers and even-strength shot attempt producers (only Alex Ovechkin, Max Pacioretty, Evander Kane, and Brent Burns took more shot attempts per minute played at 5-on-5 than Gallagher since he entered the NHL). But for most of his career he's been a bit of a below average shooter for a top-six forward, scoring on just 9.7 per cent of his shots on goal overall.
Last season Gallagher experienced the worst shooting percentage of his career, scoring on just 5.3 per cent of his shots on goal, while this year he's currently at a career high of 14.4 per cent.
The immediate question that arises is whether Gallagher's shooting tendencies have changed, which is something we can look into rather easily.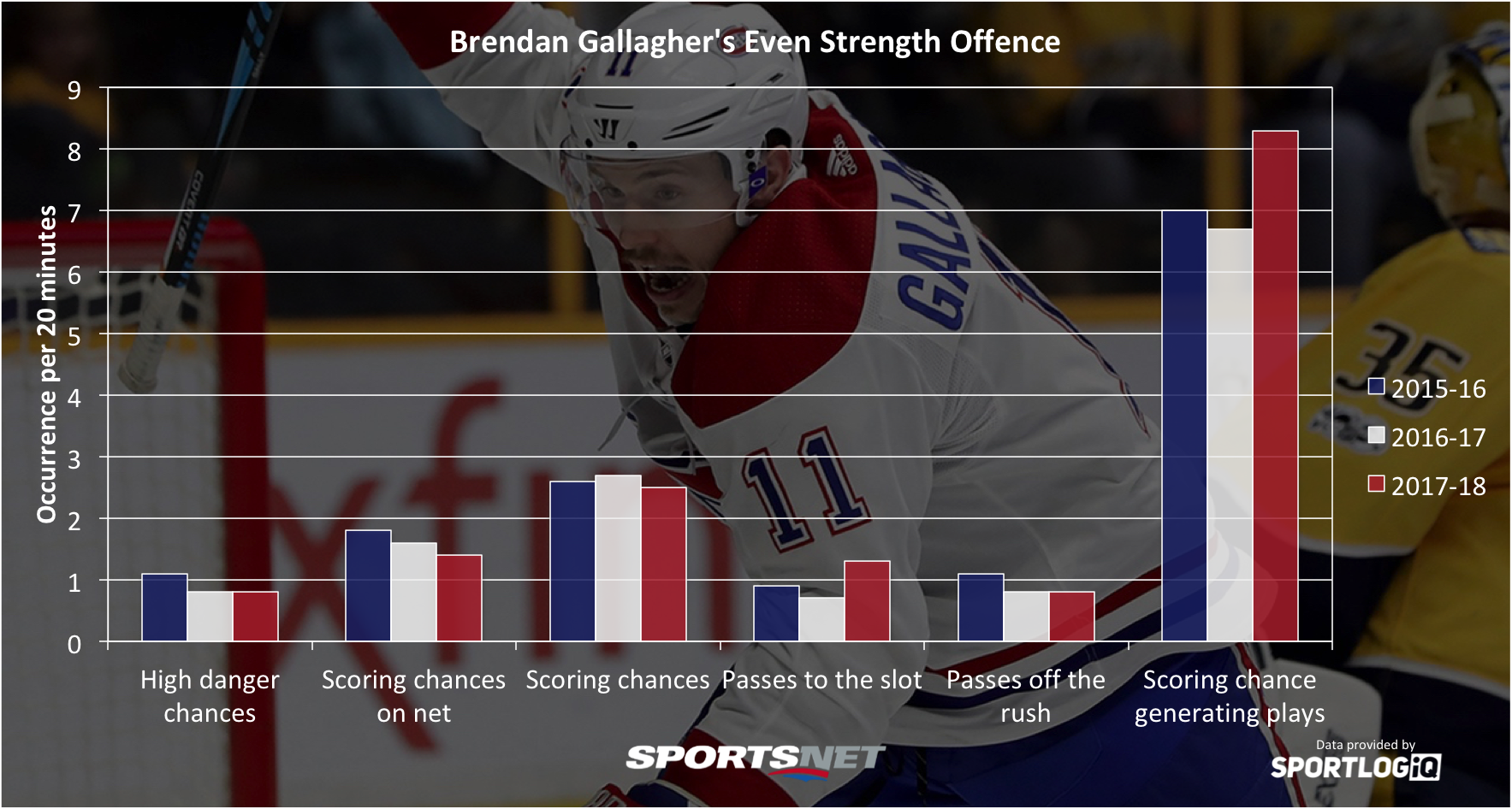 Over the past three seasons Gallagher's scoring chance production is relatively consistent, though the past two years he's actually been shooting less from right in front of the net, and more from the high slot.
The inner slot or high danger area carries with it the highest expected shooting percentage of anywhere on the ice, but interestingly most of the NHL's best goal scorers actually prefer to shoot a bit more from the high slot. In that area, there's a bit more room, meaning a split-second more to pick your spot, move your point of attack with a deke, or avoid a stick check.
With that said, moving more of his shots further out from the net without increasing his scoring chance numbers overall shouldn't really create an inflated shooting percentage.
However, one thing to note with Gallagher is that he's passing the puck a lot more often, and a lot more successfully. He has nearly doubled his completed passes to the slot year over year, from 0.7 per 20 minutes to 1.3, which creates a bit more hesitance among defenders who are used to defending a shoot-first player.
[snippet id=3317857]
Gallagher's extra focus on playmaking this season has made him the Canadiens' best scoring chance generator, even if his personal numbers haven't really moved, and that extra versatility makes him significantly harder to defend.
Another added layer of context here is that Gallagher has had his left hand broken by shots twice in the past two seasons: once blocking a shot in 2015-16 and again last season when Shea Weber's terrifying one-timer hit the same hand, in the same spot, and undid all that healing.
Gallagher was quoted last season saying he didn't think his hand would ever be 100 per cent again, and that worried some about his future production, since his shot was never a bullet, his goal scoring came from his ability to get to the dirty areas and his pure volume.
But this season it appears Gallagher's shot is heavier than it's ever been, and his release is a little bit quicker. It's likely that over the off-season he spent a lot of time working on compensating for his hand, and the result has been a vast improvement in the quality of his shot.
All this said, a 14.4 shooting percentage is something you can expect out of an Auston Matthews-level talent, not usually a Brendan Gallagher, so he's not likely to keep that level of finishing ability going all season and push 40 goals. That's an unreasonable expectation.
What we could see is a career year, as players do tend to have those in their mid-20s. And after last season's bad luck, Gallagher is more than due for a few extra goals. Forty may be unrealistic, but 30 is not.
When you add in Gallagher's improved playmaking ability, and the fact his linemates, Charles Hudon and Tomas Plekanec, are both only scoring on 5.1 per cent of their shots on goal, we'll likely see a big increase to Gallagher's assists as well.
Everything points to a career year for Gallagher, and that's despite the fact he's playing more than a minute less per game than he was two years ago. If he gets a bit more ice time, something he's clearly earned, his production could go even higher.
[relatedlinks]