TERREBONNE, Que.,–Jonathan Drouin stood in front of the backdrop that was set up at his charity golf tournament, eagerly awaiting the opportunity to talk about this important step in honouring his commitment to help raise $5 million over 10 years for the University of Montreal Hospital Foundation. He was traded to the Montreal Canadiens from the Tampa Bay Lightning in June of 2017 and had entered into this agreement with the Foundation three and a half months later, pledging $500,000 of his own money and immediately endearing himself to Montrealers in the process.
This — among other initiatives he's embarking on to help raise funds for the cause — should've been the topic of the day. But Drouin wasn't more than two answers into his 12-minute media session before the topic of Max Pacioretty's awkward standing with the Canadiens came up. And as he was wrapping up his comments for the day, several media members gravitated away from his scrum and towards Pacioretty to ensure they wouldn't miss anything he might have to say about his situation.
Drouin wasn't upset about that. It was unavoidable, really, and he knew it. And having to discuss the subject didn't appear to put a damper on what promised to be a memorable and special day. It's just something he and Canadiens teammates Nicolas Deslauriers, Jordie Benn, Charles Hudon and David Schlemko, who were also in attendance, were aware was going to come up. Something they knew they'd have to deal with.
"I think we can't focus on what's going on with Max," Drouin said.
But they can't ignore it, either. Pacioretty is the captain of a team that doesn't want him, he's on an expiring contract, and, unless he's traded in the coming days, he'll be in uniform when the Canadiens begin training camp in a week. How this team will avoid all the negativity that comes with that, how they'll keep it from dragging them down, is anybody's guess.
The Canadiens are coming off one of their worst seasons in franchise history and hope to leave it in the dust and start anew, and this situation is casting a dark cloud over all of that.
As for Pacioretty, he's already caught up in the storm.
"I just want to focus on putting on my skates and playing hockey," the captain said on Thursday. "When you're a kid growing up playing hockey you don't dream about stuff like this. You don't dream about contracts and all that. You dream about playing hockey and having fun and that's really what I want to focus on right now."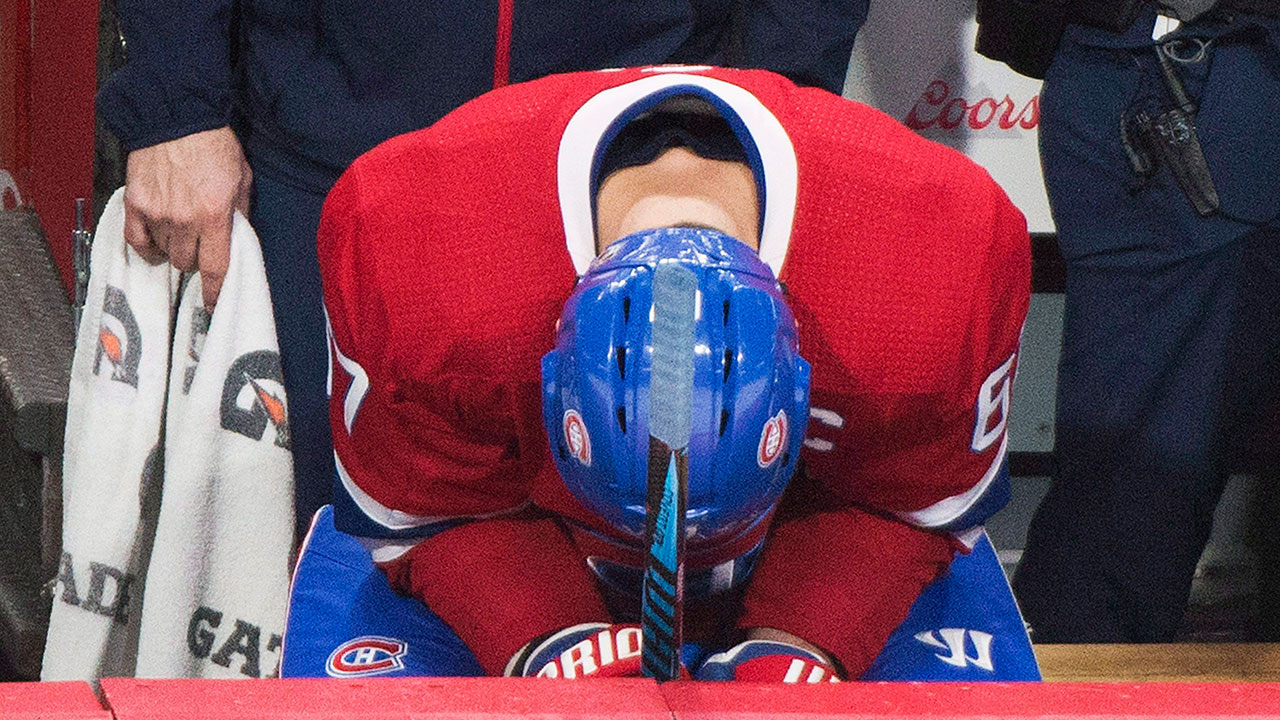 It's one of the reasons Pacioretty has decided he will not negotiate a contract extension with the Canadiens, or with any other team, once the regular season gets underway in October.
He said that another is that he's attempting to spare his teammates from getting wrapped up in the conversation on a daily basis.
"As I learned last year, it is very difficult to play to the best of your abilities when you have this much of a distraction," said Pacioretty, who only scored 17 goals last season after recording at least 30 in each of the last five non-lockout-abbreviated seasons. "I do understand that there will be distraction regardless this season, but I want to try to make that as minimal as possible, and I think it's unfair for me and my teammates if I'm standing up here every day talking about my contract situation, talking to them about it every day. I think this will make it much easier on focusing about just playing hockey, and that's what I have to get back to doing and that's what I'm looking forward to doing, and that's, I guess, the reason behind [not wanting to negotiate during the season]."
[snippet ID=3322139]
But so long as Pacioretty's a member of the Canadiens, there's nothing else he can do to minimize the distraction of his situation. And if he and Drouin couldn't cast it aside on this day, they won't be able to ignore it even in good times.
Never mind how hard it'll be to get away from when the team goes through even the slightest bit of adversity.
"Obviously Montreal makes it a little more [difficult with] media [and with] more stuff revolving around it, but you've got to live," said Drouin. "This is [Pacioretty's] situation. He's got family, he's got stuff to think about. There's hockey but there's other stuff to look at. I lived it [with Tampa] and you feel like you're on the outside, but I don't think you want to bring that negativity into pre-season and training camp. I don't think we need that. I know that's not his goal of doing that with what he's doing right now. It's just the way it is right now, and we've got to live with it."
Drouin, Pacioretty and the Canadiens would be better off if they didn't have to.
[relatedlinks]