LAVAL, Que. — The sun was shining and optimism was in the air for the Montreal Canadiens at the beautiful Laval-sur-le-lac golf course on Monday.
And then the questions came—about the team's need to fill the considerable void veteran defenceman Andrei Markov's departure created, about the roughly $8 million in cap space general manager Marc Bergevin has available to him, and certainly about the team's lack of depth at the centre position.
For the sixth time in his tenure, the GM stepped to the podium at the team's annual golf tournament and was peppered in both of Quebec's official languages—particularly about that last item.
His answer was a familiar refrain.
"I'm aware of the reality of an NHL general manager; what's out there, what's available," said Bergevin. "Nobody will give you a top centreman. Nobody. Why would they do that? If ever it would happen, it would cost an arm and a leg, and everybody knows those are the toughest guys to get."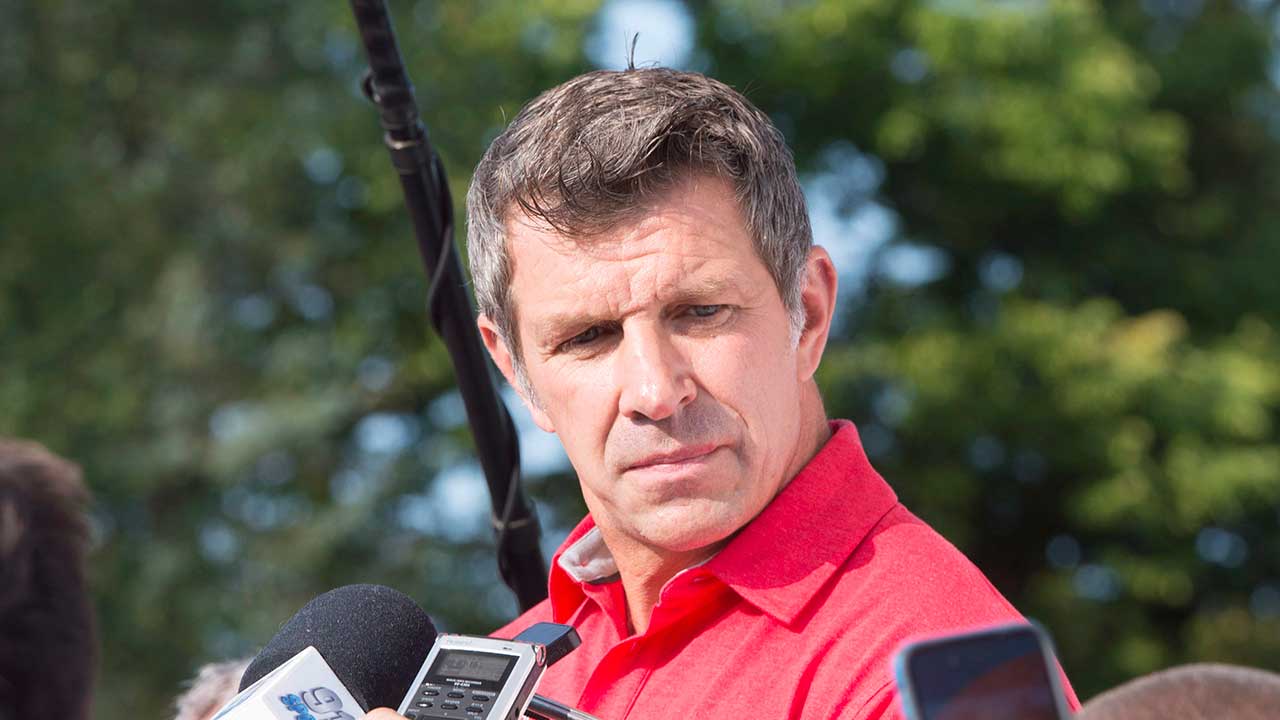 And so, barring the unforeseeable, he stated that his intention is to have the Canadiens venture into the 2017-18 NHL season with what they have up the middle. There's Jonathan Drouin, a prolific offensive player who will be moved to the position after playing exclusively on the wing in his previous seasons at this level. There's Phillip Danault, who managed a career-best output at centre last season, scoring 40 points and proving to be quite reliable in his own end. There's Tomas Plekanec, who turns 35 in October and is coming off a career-low 28-point season. And there's Torrey Mitchell, who's never had more than 23 points in any of his 12 NHL seasons.
If you were hoping 23-year-old Alex Galchenyuk might get another crack at it after putting up 23 points in his first 24 games at the position last year before a knee injury derailed his season, you might be a little bit miffed at what Bergevin had to say about that possibility.
"Until further notice Alex will be playing wing," the GM said. "I've been here for six years, I've seen Alex every day, and at this time centreman is a tough position. It's demanding. I'm sure as we speak today Alex is not able to play that position every day. And I don't need 10 more tries, I know he's not."
It's nearly impossible to find another player on the team's depth chart who can step into the middle slot of one of the top two lines and have an impact, and it's almost just as difficult to find one who can bring what Markov brought to the team's blue line over the last 16 seasons.
"It's a big hole," said Bergevin. "Andrei was a very good player for us, but we added Mark Streit, which I think fills some of that role. We added David Schlemko. I think by committee we should be able to fill that gap. Let's keep in mind we didn't lose a 25-year-old defenceman. All respect to Andrei, he's going to turn 39 in December. At some point we have to move forward."
The Canadiens will have to do so without puck-mover Nathan Beaulieu, who was traded to Buffalo in the summer. They'll have manage without Alexei Emelin, who was exposed at the expansion draft and selected by the Vegas Golden Knights. And they'll move forward without stud prospect Mikhail Sergachev, who was traded to Tampa Bay to acquire Drouin.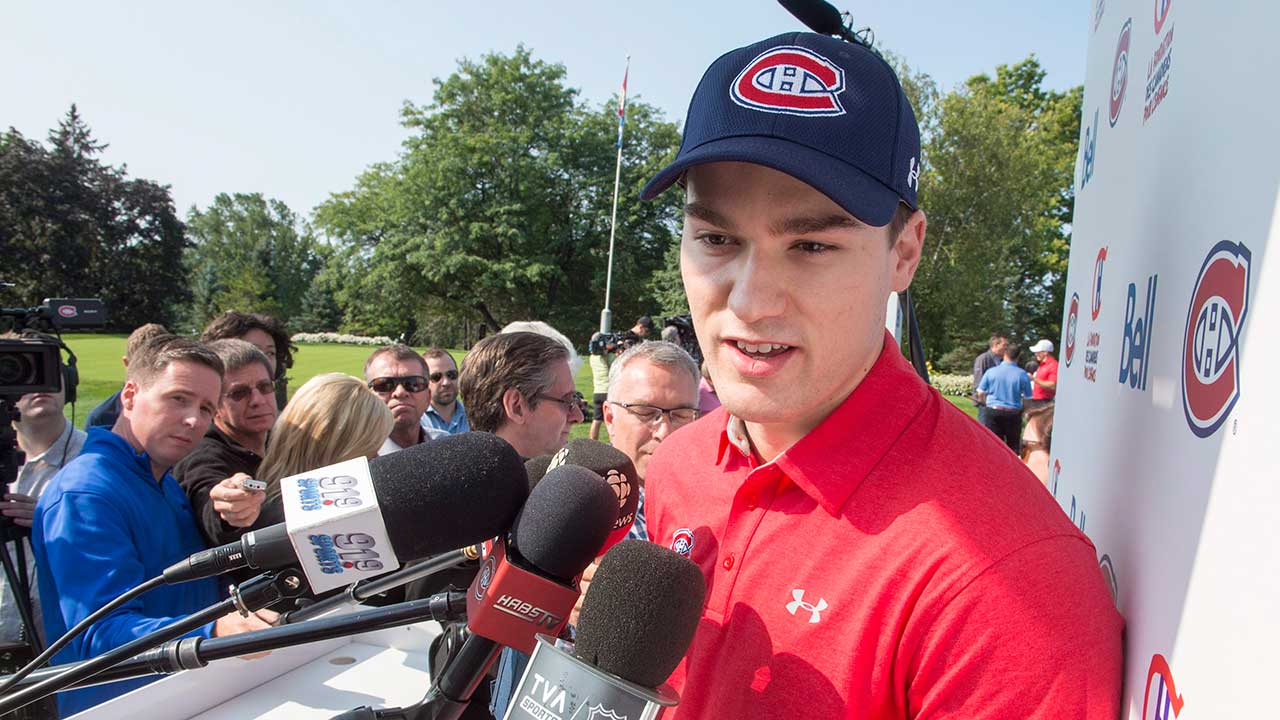 One player the Canadiens are banking on to help overcome Markov's loss is Karl Alzner, who signed a five-year, $23.1 million contract on July 1. But it would be a dramatic stretch to think he'd be able to fill in adequately on the power play or drive the play offensively. He's only managed 117 points in 591 NHL games.
"We're such completely different players," said Alzner on Monday. "What I'd like to try to do is a bit of leadership. That's something that I can maybe help with. But in terms of ability of play, you get something different with me than you do with [Markov]."
You also get something different with the 39-year-old Streit, who couldn't crack Pittsburgh's lineup while three of the team's best defencemen were sidelined by injury en route to their second consecutive Stanley Cup win last spring. You surely get something different with Schlemko, who was acquired from Vegas in June and has never really sustained a role as a top-four defenceman in previous seasons with the San Jose Sharks, Calgary Flames, Dallas Stars, New Jersey Devils and Arizona Coyotes. Ditto for Joe Morrow, who signed as an unrestricted free agent over the summer after getting his feet wet in the league with the Boston Bruins.
Offensive defenceman Jakub Jerabek, who signed with Montreal out of the KHL, will have a chance to show what he can do in training camp. So will 26-year-old Eric Gelinas, who's arriving on a tryout after two disappointing seasons in Colorado. But it's hard to imagine either player can jump right in and play at the level Markov provided.
Senior Writer Ryan Dixon and NHL Editor Rory Boylen always give it 110%, but never rely on clichés when it comes to podcasting. Instead, they use a mix of facts, fun and a varied group of hockey voices to cover Canada's most beloved game.
In spite of the issues at centre and on defence, the bar remains in the same place.
"The expectations are to make the playoffs and to go as far as we can once we do," said team owner Geoff Molson.
You get the sense meeting those expectations is going to depend a lot on how Molson's money gets spent between now and the trade deadline in late February.
"It's a nice asset to have," said Bergevin of the remaining cap space, which he admitted he's inclined to hold onto if nothing changes between now and the beginning of the season.
"At this point there's not much available," he said.
Nonetheless, Bergevin and the Canadiens are excited about what they currently have in place.
"Internally we have a healthy competition and we have a lot of NHL defencemen and we have some young forwards who are trying to establish themselves as NHL players," the GM said. "We have eight preseason games and [head coach] Claude [Julien] will make a lot of experiments."