As the NHL's trade deadline approaches on Feb. 26, there could be more big-name players available than we've seen in several years. One of those names, provided the Montreal Canadiens don't suddenly get red hot, is Max Pacioretty.
Despite the Canadiens' captain still having a year left on his extremely team-friendly contract ($4.5 million cap hit) after this season, the rumours have been swirling for months that Pacioretty could be on the move, and his goal scoring struggles this season have only fanned the flames.
Over the past five seasons, including this one, Pacioretty has scored the eighth-most goals in the entire NHL with 153, and the fourth-most at even strength with 110. If you remove this season from the equation, Pacioretty jumps to the fourth-most goals overall, behind only Alex Ovechkin, Sidney Crosby, and Joe Pavelski. At even strength, only Vladimir Tarasenko scored more than Pacioretty's 102 goals from 2013 to 2017, with 103.
For those who argue Pacioretty piles up unimportant goals, it's true that he leads the league in empty netters the past five years with 13, tied with Blake Wheeler and Michael Grabner. But that still leaves 140 more goals and 37 of them were game-winners (second-most in the NHL), 31 were the first goal of the game (tied for fourth-most), and eight were overtime goals (tied for third-most). When playing in all situations and having the goal scoring ability Pacioretty does, you'll end up with some empty netters along the way.
When I ranked the top-23 players in the NHL at each position coming into this season, Pacioretty came in fifth among all left wingers, with the weakest area of his game being transitioning the puck up the ice — and he still ranked as a high-end second line talent.
Based on his cap hit, production, and place in the Canadiens' leadership group, it seems absolutely crazy to think the Habs, a team that can't score at the best of times, would consider trading one of the best goal scorers of his generation. But Pacioretty's value as a trade piece might be the one way Montreal can solve its long-term issues up the middle of the ice.
Seeing the massive haul the Colorado Avalanche pulled in for Matt Duchene, the Canadiens, if they choose to move Pacioretty, should be looking at a package that has significantly more value.
Pacioretty, 29, isn't as young as Duchene, but he's bigger, cheaper, and better both offensively and defensively. Having played essentially his entire career without a No. 1 centre and always as the top threat for opponents to check, if Pacioretty moved to a contender it could unleash all-new levels of dominance in a slightly reduced role, similar to the career renaissance experienced by Phil Kessel in Pittsburgh the past two seasons.
Unlike Kessel, though, Pacioretty is decent but not special on the power play, though he excels at even strength and shorthanded. A complete, top-line winger available at the deadline who comes with a cap hit almost any team could fit in? It's tough to figure out how high the bidding would even start.
Getting into the specifics, let's look at where Pacioretty's strengths beyond driving shot attempt differentials and weaknesses lie as of this season, as teams who are interested in him no doubt have the magnifying glass out.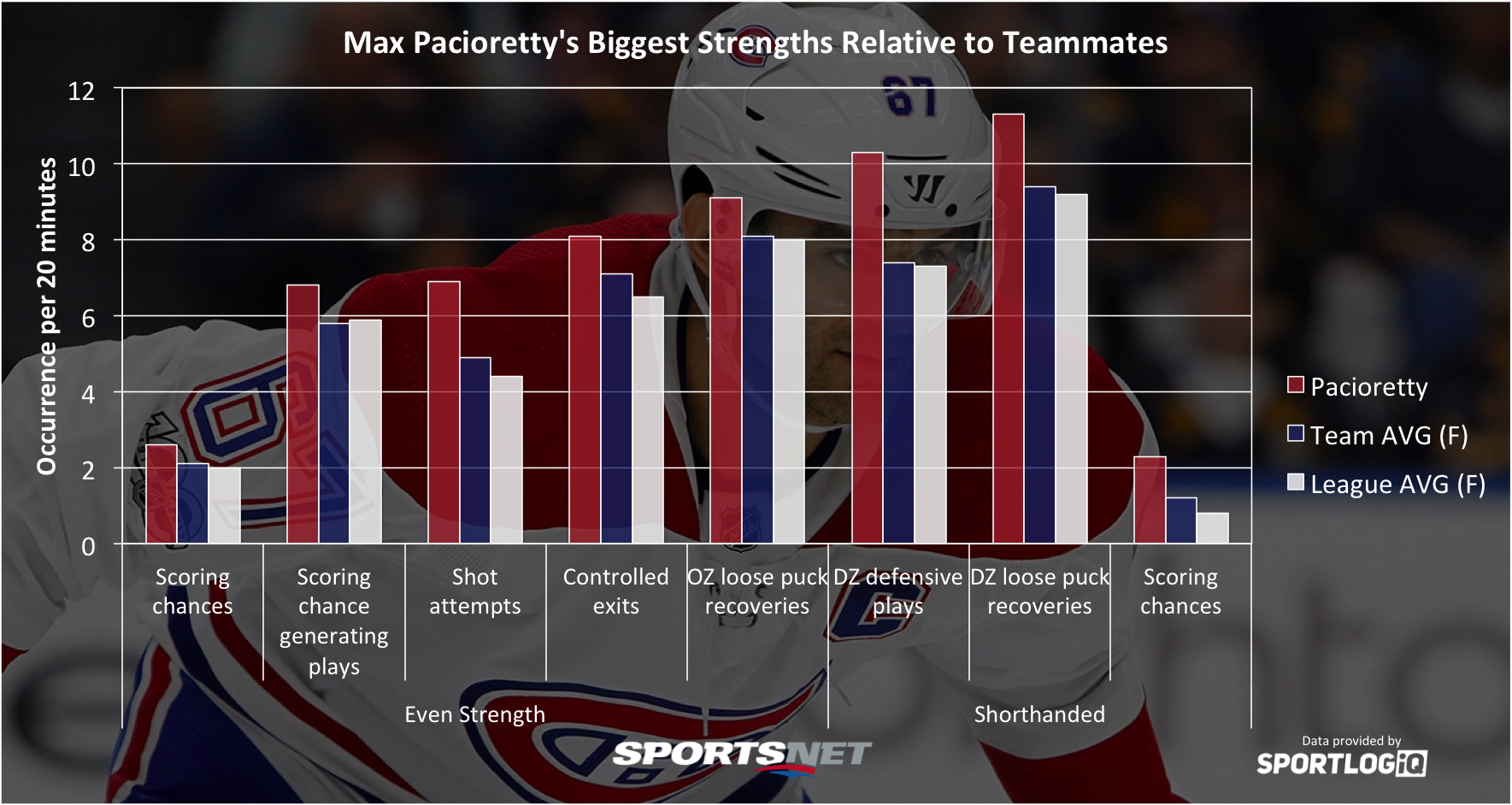 Pacioretty's most elite skill without doubt is his shot, so it shouldn't be a surprise that where he stands out from his peers has a lot to do with that. Pacioretty puts up a ton of shot attempts and shots on goal, which translates into a huge number of scoring chances. That didn't lead to many goals over the first three months of this season, but the tide is starting to turn.
Away from the puck Pacioretty is a high-level forechecker, leading the Canadiens in loose puck recoveries in the offensive zone over the past three seasons combined, though his numbers have taken a slight dip this year.
In the defensive zone, Pacioretty's biggest even strength contribution is in controlled zone exits, where he's behind only Brendan Gallagher on the team. It is no surprise that he and Gallagher are the two biggest drivers of shot attempt differentials on the Canadiens.
While shorthanded, Pacioretty stands out defensively in both his ability to win the puck away from opponents, and recover those loose pucks in the defensive zone, starting transition going the other way and putting almost as many scoring chances on net per minute as he does at even strength, which is sort of crazy.
In contrast to his versatile toolbox of strengths, all of Pacioretty's weaknesses come in the same area: puck management. When Pacioretty is on his game he almost exclusively makes short passes, and he's decent at that, but when he's pushing to make things happen he tries a little bit too hard to be a playmaker, and he just isn't that type of player.
This season Pacioretty has been below 50 per cent in completing his passes in the offensive zone, a career low, and part of that is due to lack of confidence when goals weren't going in. As he felt his shot wasn't going to work, he tried to make more passes, and it just hasn't worked.
In every area of the ice, Pacioretty's passing game is below average, but one thing to remember is it's partly due to having to take on some of the extra play-driving responsibilities that centres usually take care of. Jonathan Drouin and Phillip Danault are good players, but neither are top-end centres capable of dealing with opposing teams' top checkers. Pacioretty is often forced to make plays when most wingers are free of the puck and skating to open areas, which exacerbates a weakness in his game.
Surprisingly, despite all those failed passes, the only area where Pacioretty is a direct turnover risk is in the offensive zone, which is where forwards commit most of their turnovers, especially skilled ones. This isn't a huge deal, but it is a weakness in his game.
Overall, Pacioretty's profiles as a player who would benefit more than most from coming into a team where he has to do less. Keeping things simple and focusing on goal scoring could easily get him back into the 40-goal range, and that could be more than enough to turn a good team into a contender, or turn a contending team into Stanley Cup favourite.
Players this good simply don't become available.
[relatedlinks]