When the Montreal Canadiens acquired Jonathan Drouin he was billed as a 22-year-old star player, and then was shifted to the centre position, which only increased pressure on the young player.
Drouin has repeatedly insisted that he thrives on the pressure, and to his credit it doesn't appear as though it's getting to him. But those big expectations has led the hype around him to drop off somewhat, with a minority of fans even thinking he's been a disappointment so far.
Certainly, Mikhail Sergachev's 23-point production in Tampa Bay doesn't help the optics for the Canadiens, but you have to compensate for how different the two teams are on offence. And though Drouin is on pace for a relatively paltry 48 points this season, I wouldn't argue he's been a disappointment.
Keep in mind that Drouin is currently scoring on just seven per cent of his shots on goal, down from last season's 11.5 per cent, and his career average of 9.6 per cent. Drouin isn't a high-volume shooter, but he does have a great shot, so you should expect more in the future.
Drouin also had the misfortune of playing his best hockey this season in October, when the Canadiens couldn't score to save their lives. Operating as a playmaker primarily, Drouin put sure goals on teammates' sticks almost twice per game in the first month of the season, with very little to show for it.
Since then, Drouin has been a little banged up here and there and his play hasn't been quite as strong, but overall this season he's still been an offensive force compared to his peers.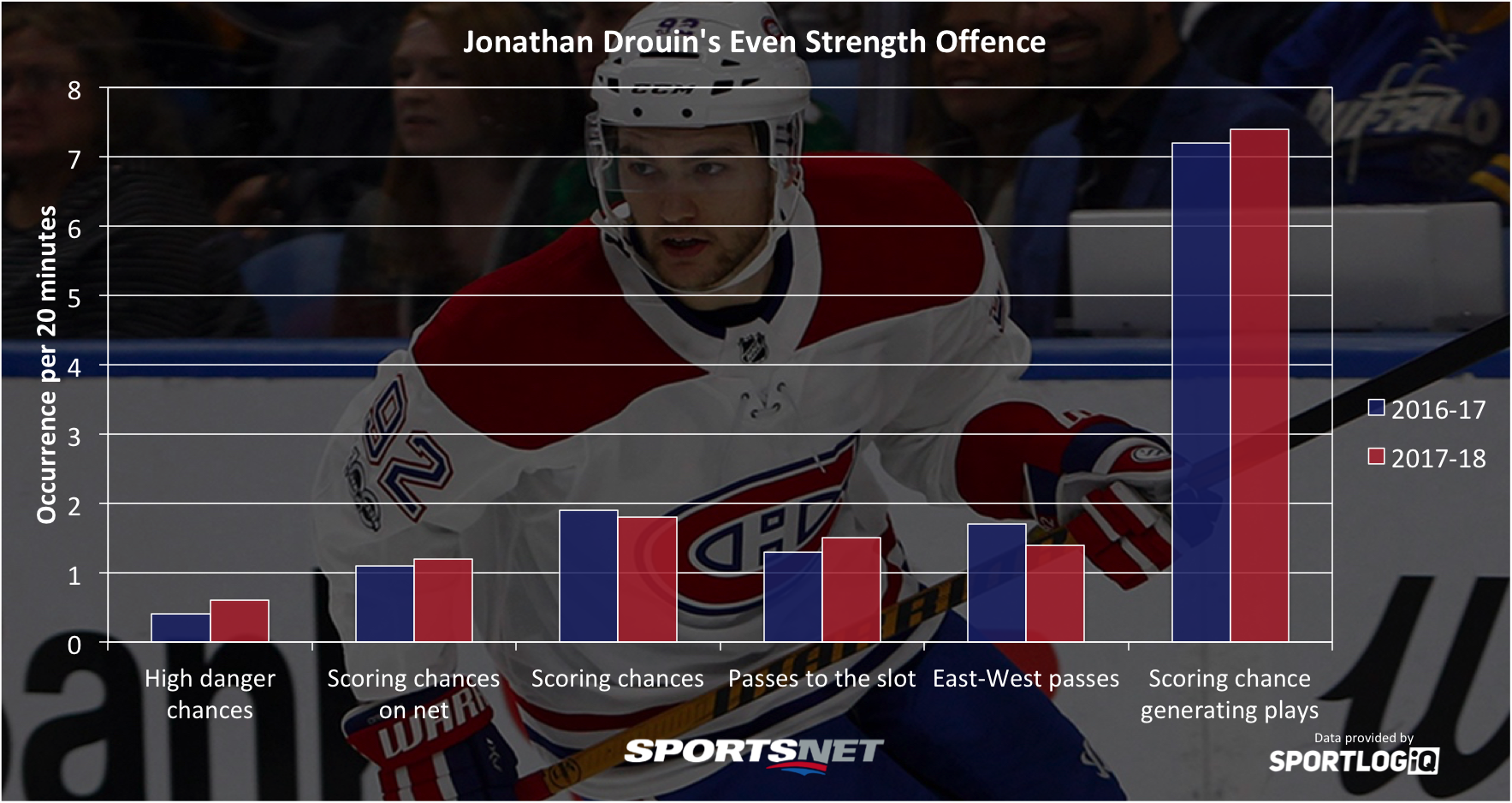 Comparing Drouin's performance at even strength to last season, not much has changed. He's getting slightly better quality scoring chances for himself, completing more passes to the slot, and fewer East-West passes, while creating slightly more scoring chances for his teammates.
That Drouin is playing essentially the same as he was in 2016-17 makes sense, because if you adjust his shooting percentage to last season's average, he would be on pace for 55 points, essentially the exact same production.
The problem with Drouin, or the perception that there is a problem, is that people expected rapid offensive progression while he moved to a lower-scoring team at a new position.
Many of the point projections for Drouin coming out of Montreal in the pre-season were in the 70s, which just isn't realistic. The Canadiens have only had four players hit the 70-point mark since 2000-01: Saku Koivu twice, Alex Kovalev, and Tomas Plekanec. The last of those was in 2009-10. The odds were always going to be long Drouin would hit that number.
The shift to centre has also exposed some of Drouin's defensive issues, which isn't a knock on him. You can tell by watching that he's trying extremely hard to learn the details of playing up the middle, but there are bound to be bumps in the road.
[snippet id=3317857]
If Drouin were put back on the wing where his tendency to play on the offensive side of the puck wasn't such an issue, the Canadiens might actually see his offensive game take the jump many expected from the dynamic young player. The issue then, of course, becomes who can the Canadiens trust at centre?
The stats say Alex Galchenyuk has always been a better centre than winger, but he has the same defensive issues Drouin does, and the organization doesn't have the same level of belief in him.
On paper, it would make sense to just swap Galchenyuk and Drouin and see what happens, but the Canadiens are also in a position where they don't have room for experimentation.
It's an interesting situation, and how you feel about Drouin's performance likely has more to do with your personal expectations than it does with what he's actually accomplished this season. He remains one of the Canadiens' best players, but maybe not the star-level one they thought they were acquiring.
[relatedlinks]