MONTREAL — It's time for the Montreal Canadiens to try Alex Galchenyuk as their No. 1 centre.
"He can be the best player in the league," said teammate P.K. Subban at the Canadiens annual golf tournament in September. "He has that much skill."
But Galchenyuk can't be his team's top centre if Canadiens coach Michel Therrien isn't willing to trust him more.
"For us, you gotta make sure you're really responsible," said Therrien last Friday. "It's tough for young players to play against top players in the league. So it's a process."
But the Canadiens can't afford to wait any longer to move the soon-to-be 22-year-old further along in the process.
Galchenyuk is in his fourth season in the NHL, his first as a full-time centre in the league, and he's on pace to match his career high in goals (20) and shatter his career high in assists (26) despite his average ice-time being cut by a minute and 25 seconds from last season's 16:25 average.
Galchenyuk (10 goals, 17 assists) has been that productive with a left-winger in Lars Eller who's never scored 20 goals at any level of professional hockey and a combination of right-wingers in Daniel Carr and Sven Andrighetto who have 46 games of NHL experience between them.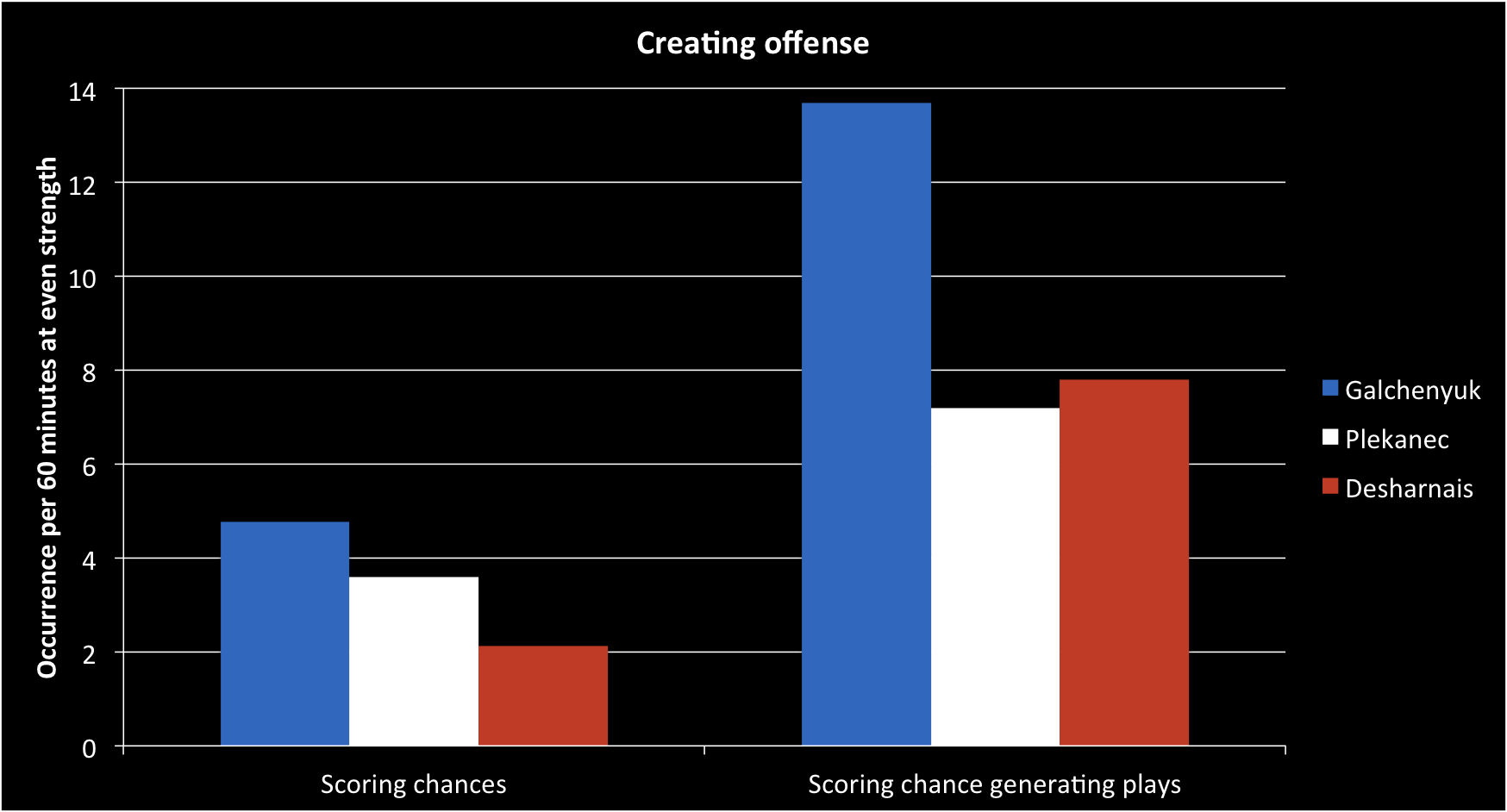 Meanwhile, the Canadiens have averaged 1.9 goals per game and faltered with the NHL's worst record since Dec. 1, and Therrien has tried every line combination but the most obvious one.
Why won't the Canadiens coach put Galchenyuk with the team's most productive wingers, Max Pacioretty (19 goals, 17 assists) and Brendan Gallagher (11 goals, 13 assists in 29 games)?
"We tried the experience for three games, and honestly we didn't have not one scoring chance," said Therrien.
But Therrien's statement wasn't entirely accurate.
Galchenyuk centred Pacioretty for two games this season—back-to-back losses to the Boston Bruins and Detroit Red Wings Dec. 9, 10 respectively—and if they weren't able to produce any scoring chances, it surely had something to do with Andrighetto (not Gallagher) playing to their right.
In 12 games Galchenyuk played between Pacioretty and Gallagher last season, he recorded four goals (including his first-ever hat trick) and five assists. The Canadiens went 9-1-2 over that stretch.
Rather than revert back to that combination after 14 losses in 18 games since Dec. 2, Therrien's answer over this past weekend was to put Galchenyuk on the left wing of the David Desharnais line after experimenting with the combination in the third period of Montreal's 2-1 loss to Chicago last Thursday.
"I felt that they had a little bit less responsibility defensively," said Therrien to justify the move. "They could concentrate about trying to generate more offensively."
The results were hideous in back-to-back losses to St. Louis and Chicago Saturday and Sunday.
Neither Galchenyuk nor Desharnais produced a point over the weekend and they were a combined minus-8. They also got destroyed in the possession metrics; both players had negative Corsi For percentages in the St. Louis game (the Canadiens had 75 shot attempts) and Galchenyuk was a team-worst 38.1 per cent Corsi For against Chicago Sunday while Desharnais was second-worst at 42.1 per cent.
Meanwhile Galchenyuk came into the weekend with a 54 per cent Corsi For as the team's third most-used centre.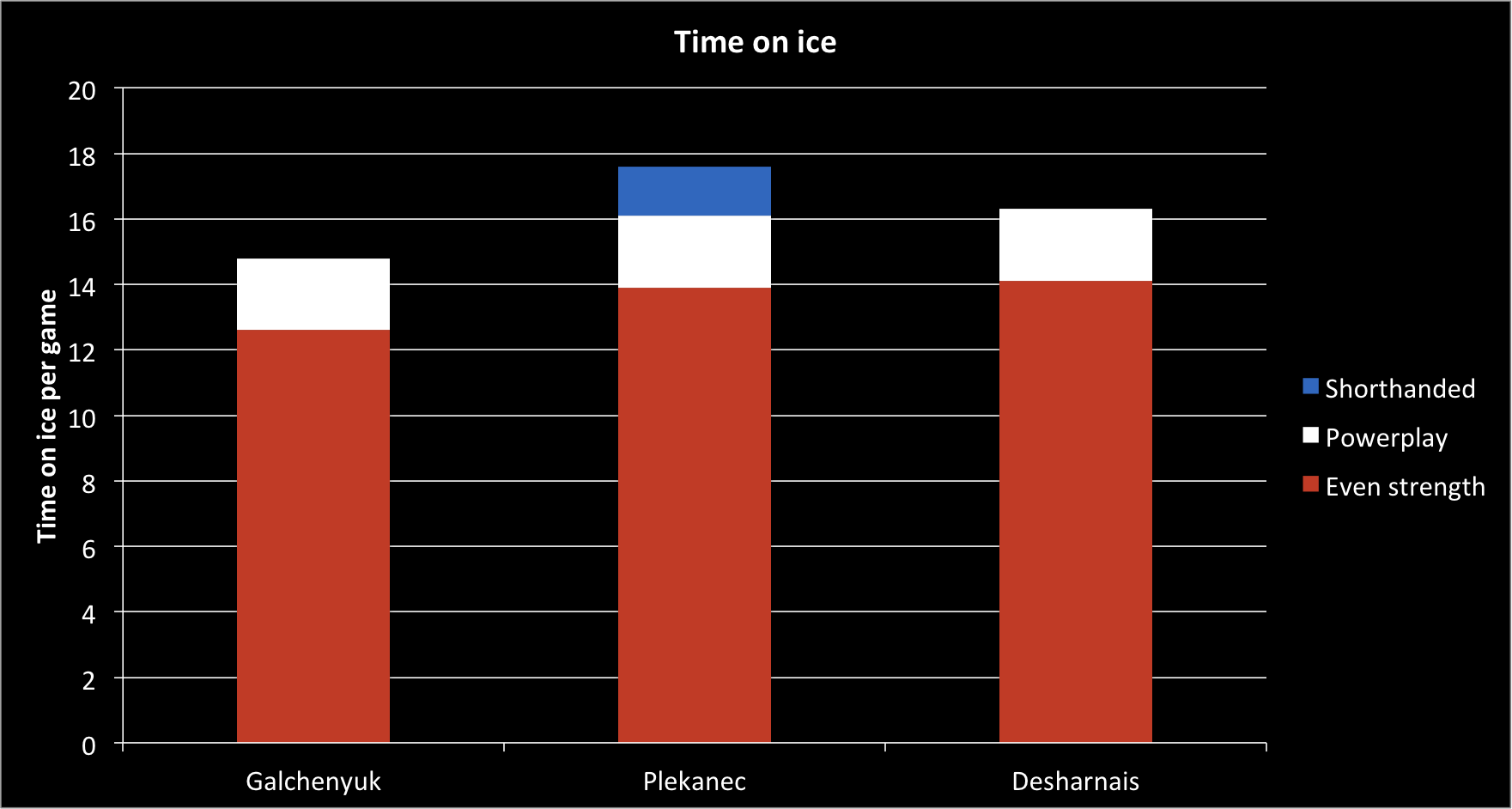 If Therrien isn't willing to promote Galchenyuk and demote Tomas Plekanec (who has two goals in his last 30 games) or Desharnais (who has two goals in his last 27 games), then general manager Marc Bergevin needs to acquire better linemates for him to play with.
Easier said than done.
The Canadiens are reportedly taking a hard run at Tampa Bay Lightning forward Jonathan Drouin, who, like Galchenyuk, is a former third overall draft pick (2013). They had several members of their scouting staff watching the Syracuse Crunch —with whom Drouin is currently playing—last weekend. Canadiens assistant general manager Rick Dudley was among those in attendance.
But acquiring Drouin from a divisional rival would cost the Canadiens a premium, and it's a deal that could take time to consummate.
If the Canadiens fail to land Drouin, they'll likely have to wait for there to be more separation in the standings to acquire other scoring options.
In the meantime, it's worth it for Therrien to put his best offensive players together and give them a chance to carry the team out of its funk. He can lighten the defensive burden by giving them more starts in the offensive zone and he can mitigate against the risk of having Galchenyuk face the other team's best players by controlling the matchups on home ice.
Therrien can start with that strategy when the Canadiens host the Boston Bruins Tuesday or he can continue to watch his team fail offensively.

(Graphics in this article were prepared by Andrew Berkshire of Sportlogiq and are representative of the Canadiens' last 24 games prior to Saturday.)