It was a two-week period that saw two of the most promising Montreal Canadiens prospects take big steps forward in a year that's already seen both of them grow by leaps and bounds.
One of them, Cayden Primeau, left two years of college eligibility on the table and signed his three-year, entry-level contract with the organization on Mar. 31. He packed up his gear and joined the American Hockey League's Laval Rocket for a week's worth of experience he deemed "eye-opening" in a telephone interview with Sportsnet on Tuesday. And then, before hopping on a plane to Buffalo to accept the Mike Richter Award as the NCAA's best goaltender for the 2018-19 season, he got a life-changing phone call from Team USA's general manager for this year's world championships, which will take place in Slovakia in May.
"Chris Drury called me I'd say a week ago," Primeau said. "It's crazy to think [I'd get this opportunity], but any time you get to represent your country, it's huge. I wouldn't turn up an opportunity like that ever, so I'm just thankful and really excited. Just playing at that level and experiencing the top players at that level, just practicing with them, it's definitely going to be huge for my summer."
It's an opportunity the 19-year-old will begin preparing for this weekend. Meanwhile, as Primeau was focusing this week on finishing his final classes at Northeastern University, Canadiens prospect Nick Suzuki was in the process of lifting the Guelph Storm out of a 3-0 hole against the London Knights in the Ontario Hockey League Playoffs.
The 13th-overall pick in 2017, who was chosen 186 spots ahead of Primeau, posted his third consecutive 90-plus-point season in the OHL before bringing his game up to another level to help Guelph beat London in the reverse sweep — scoring five goals and adding six assists over the final four games of the series.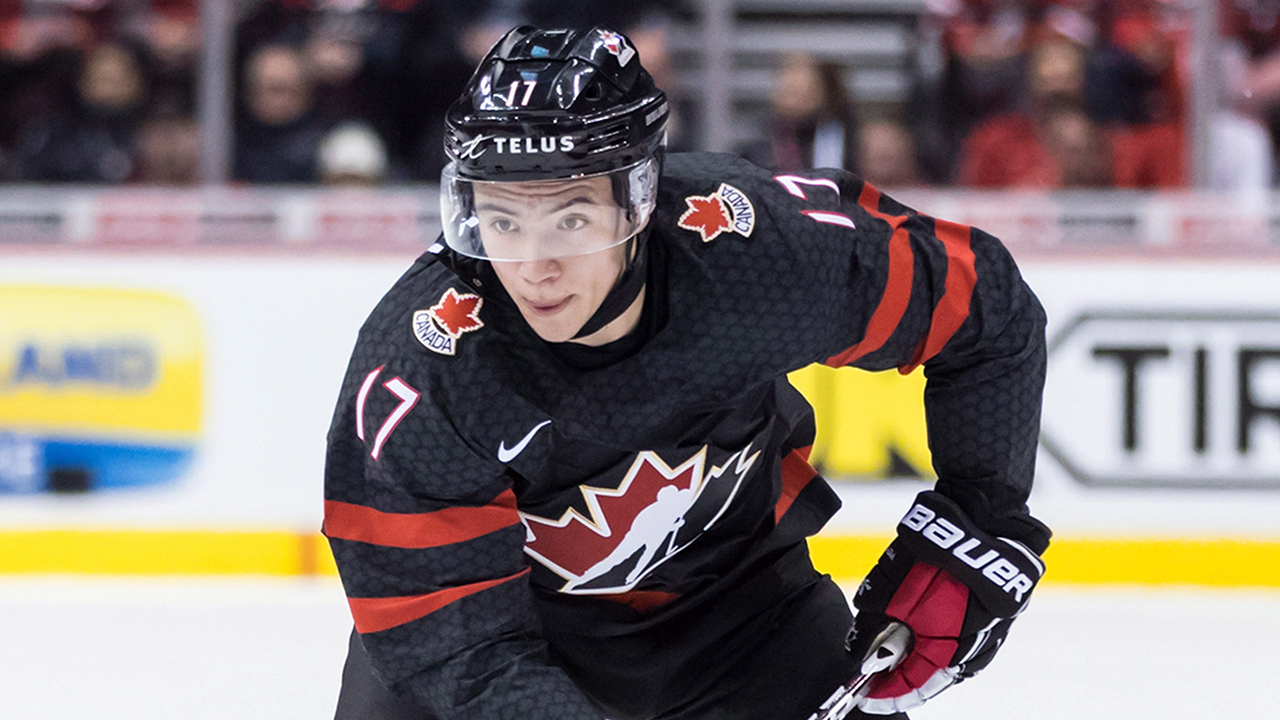 We caught up with the Storm's general manager and coach, George Burnett, who was blown away with what Suzuki offered to help save his team's season.
"It goes without saying Nick's a guy that can be a game changer and a difference maker," Burnett said. "We quietly challenged our top players. We have a number of them — there's four kids on our team that played in the world juniors and three with Canada and one with the Russians and we have others who have great experience in the post-season—and we asked all those guys to elevate their game in Game 3. Although we lost, I think it might still be one of our best games. We found a way to score some goals and felt better about ourselves despite the loss. Nick is clearly one of the guys who elevated his game and he took charge of the situation and controlled as much as he could through his good play."
It sounds a lot like what Primeau did this season, helping Northeastern to a second consecutive Beanpot championship in February — he was named MVP of the tournament that pits the Boston-based universities against each other — before helping them to a Hockey East Championship in March. In between, he backstopped Team USA to a silver medal at the World Junior Championships.
The Voorhees, N.J., native said he changed his approach coming into this pivotal year.
"Last year was my first year, and I was just trying to figure out college hockey and just trying to give the team the best chance to win," he said. "But this year I really tried to be the reason that we won games. I tried to step up and give myself bigger responsibility."
The numbers were almost identical — Primeau put up a .931 save percentage a year ago and had a .933 this year — but the player emerged as one who was much more prepared for the transition to professional hockey.
The Canadiens were hoping Suzuki would undergo the same process this season. The 19-year-old arrived in the September trade that sent former captain Max Pacioretty to the Vegas Golden Knights for a 2019 second-round pick and Tomas Tatar, and then he was sent back to junior well before final cuts were made at Canadiens camp. The goal was for him to dominate, for him to improve his skating, his shot, and his work habits, and Burnett said he did all of that and more.
[relatedlinks]
"He's not short in any particular area," Burnett added about the player who had 22 goals and 45 points in 30 games before being traded to the Storm from the Owen Sound Attack. "I don't think there's any question he's got a very bright future ahead of him. I think he's understanding. I know how closely the Canadiens are monitoring his progress and communicating with him frequently, and the things we talk about. It's the work and competing for loose pucks, the practice habits — all those things that young guys, whether they have great skills like Nick does or not, need to realize are hard to do at the next level.
"The transition to the next level is extremely hard. It's the biggest jump that anyone will ever make and even to the American Hockey League and on to the National League. I think he has a good understanding of his work this summer and the expectations that come with being in a trade like the one he was in last year. No one comes in to Montreal under the radar, so he'll be watched closely and I'm sure he's going to put in a great summer of work in preparation for that challenge, which is the next step on his path."
Suzuki could indeed take that next step with the Canadiens next fall. As for Primeau, with Montreal starter Carey Price in Year 2 of an eight-year, $84-million contract, he's just working on becoming a better goaltender and excited for the opportunity to play in Montreal or Laval.
"I really just try to go with the flow, just take every day as a new challenge and as it comes and not thinking too far ahead or looking into the past too much," he said. "I've been trying to do that pretty much my whole life, and the last couple of years it's really been exemplified, and that's why I feel like I've been able to grow the past couple of years."