If there's one thing we've learned about the Montreal Canadiens this season, it's that they can't win without getting elite-level goaltending. It's a fact that makes their current situation even bleaker than it appears.
Before any games were played Sunday, Montreal's chances of making the playoffs stood at 13.7 per cent, according to sportsclubstats.com.
In order for the Canadiens to hit 94 points in the standings (that's the projected threshold to clinch a playoff berth in the Eastern Conference), they'll need to collect 36 points over their final 26 games.
But star performances from goaltenders Mike Condon and Ben Scrivens have been few and far between, and anything average from Montreal's netminders this season just hasn't cut it.
The evidence of how good the Canadiens' goaltenders needed to be was easier to ignore during the first nine games of their season—all of them wins. The team averaged four goals per game over that stint, but Carey Price and backup Condon also combined for the league's stingiest goals against average and its highest save percentage.
Elite goaltending continued to be the main factor in Montreal's success when Condon delivered five wins and points in two losses the team suffered with Price out of action from Oct. 30 to Nov. 20. His average save percentage in those games was .927.
But in the 22 losses the Canadiens combined for since Price went down for the second time this season, they got an average save percentage of .875 — that's an enormous drop off from elite.
Over that same period of time (Nov. 27-Feb. 3), the Canadiens put up the NHL's fifth-best Corsi For percentage and its worst shooting percentage.
To give you a sense of how good Montreal's goalies have had to be since the team's shooting percentage fell through the basement floor, take a look at what they provided in their wins since Price's Nov. 25 injury: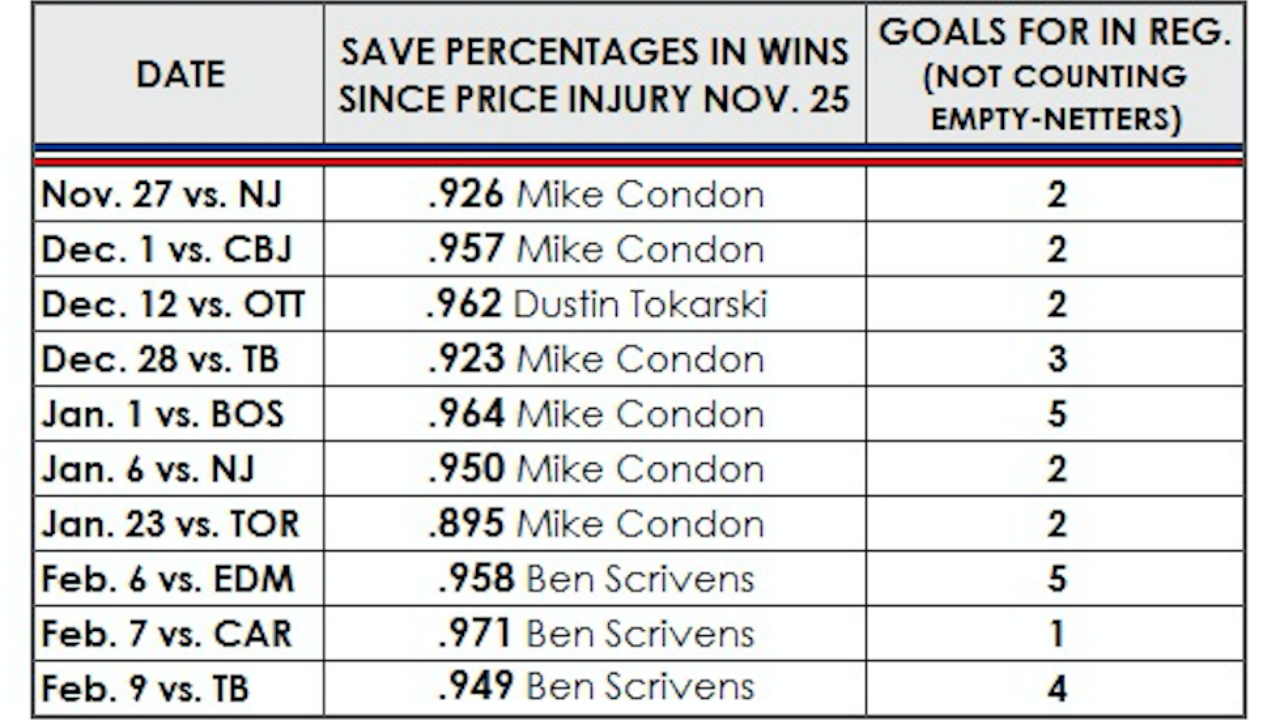 The only outlier in this 10-game sample was Montreal's 3-2 shootout win over a Toronto Maple Leafs team that had scored just eight goals in seven games prior. Condon, Dustin Tokarski (now with the Anaheim Ducks) and Scrivens combined for a .951 save percentage in the other nine games and needed to be at least that good in six of them decided by a goal.
Raise your hand if you think Condon and Scrivens can be that good in 18 of Montreal's remaining 26 games. Keep in mind what you saw in Buffalo on Friday, when Scrivens allowed three goals on eight shots before Condon relieved him and allowed one on his first shot against in the team's 6-4 loss to the 28th-ranked Sabres.
Here's another scenario for you to chew on: Say the reports on Price's rehabilitation going poorly are greatly exaggerated—as Canadiens coach Michel Therrien said Friday morning, the earliest he'll be back in action is likely by the trade deadline on Feb. 29. He's not with the team for games they'll play in Arizona and Colorado this week, and he's yet to practice in full equipment.
If Price were to put pads on and join the Canadiens for practice when they return to Montreal later this week, he'd probably need at least one more week to be game-ready.
The Canadiens have six games to play between now and the deadline. Three of them are against teams currently in playoff spots, including one against the league-leading Washington Capitals.
If the Canadiens' playoff chances have somehow increased by the end of that stretch, what do you expect from Price after he's missed three full months of action?
He might be the best goaltender in the world, but the idea of him playing nearly every game and playing considerably better than the leading Vezina-Trophy candidates—who have save percentages between .930 and .933—is ludicrous, isn't it?
Therrien remains in place, his job secured until season's end. He hasn't changed the team's tactics nor has he altered the deployment of his players. And his boss, general manager Marc Bergevin, hasn't brought any players in to change the dynamics that are forcing the goaltenders to be otherworldly.
"We know how hard it's going to be to make the playoffs," said Therrien after consecutive losses that followed the all-star break.
Three unbelievable performances from Scrivens since turned some heads and bought the Canadiens some hope, but his terrible outing last Friday only reinforced how improbable it is that this team will be participating in the post-season.