There's no question the Montreal Canadiens are interested in Steven Stamkos.
The only question is, at what price might they decide the price is too high.
Stamkos, the 26-year-old sniper who's averaged just a shade under a point per game over his 568-game NHL career, would immediately make the Canadiens legitimate Stanley Cup contenders by filling a three-decades old void at centre.
The bidding for Stamkos has begun, and the price looks exorbitant.
There is already speculation that Buffalo Sabres owner Terry Pegula is willing to offer as much as $12 million for each of the next seven seasons to get a deal done. Detroit Red Wings general manager Ken Holland pulled off a magic trick at the draft Friday, shipping recently retired Pavel Datsyuk's and his $7.5 million cap-hit to Arizona.
The Red Wings are expected to be in the thick of the Stamkos chase.
And then there's Stamkos' hometown of Toronto. Maple Leafs president Brendan Shanahan has already met with Stamkos' agent Don Meehan to inform him of their interest. It's also believed the Boston Bruins, Vancouver Canucks and New York Islanders intend to do the same, if they haven't already.
With a little under 96 hours to go before Stamkos can sign with whomever he pleases, Tampa Bay Lightning general manager Steve Yzerman has little hope of retaining his player. His offer—an eight-year deal worth a reported $68 million—appears to be the best one he can make.
"The process hasn't changed," Yzerman said from the draft floor in Buffalo last week. "We're both very clear on our positions."
The more time that passes, the more it seems likely one of the best players in the game is headed to market. It would be a rare occurence in the cap era.
The question is: What does Stamkos covet the most? Is it his net earnings? Is it location? Is it the opportunity to be a No. 1 centre for the majority of his next contract, playing for a team that can compete for the Cup for years to come?
Only he can provide the answers.
The order of those priorities will determine whether Montreal is realistic destination for him.
The Canadiens have a franchise goaltender in Carey Price, a franchise defenceman in P.K. Subban, an elite scorer in Max Pacioretty, a budding star in Alex Galchenyuk, and a couple of warriors in Brendan Gallagher and newly acquired centre Andrew Shaw. It's a core that should give Stamkos confidence he'll have a chance at winning over the course of his new deal. And his place as the team's top centre would be virtually secured throughout.
But this decision is about much more than hockey.
A superstar such as Stamkos would be worshipped in Montreal, and he'd be given the opportunity to go down as one of the greatest Canadiens of all-time, should he perform. But how does he feel about the added pressure and loss of privacy life in Montreal would also present?
What about a tax bracket in Quebec that would see him forfeit a little over 50 per cent of his salary? It would take a lot of creativity from Molson and general manager Bergevin to mitigate the tax situation without circumventing salary cap rules.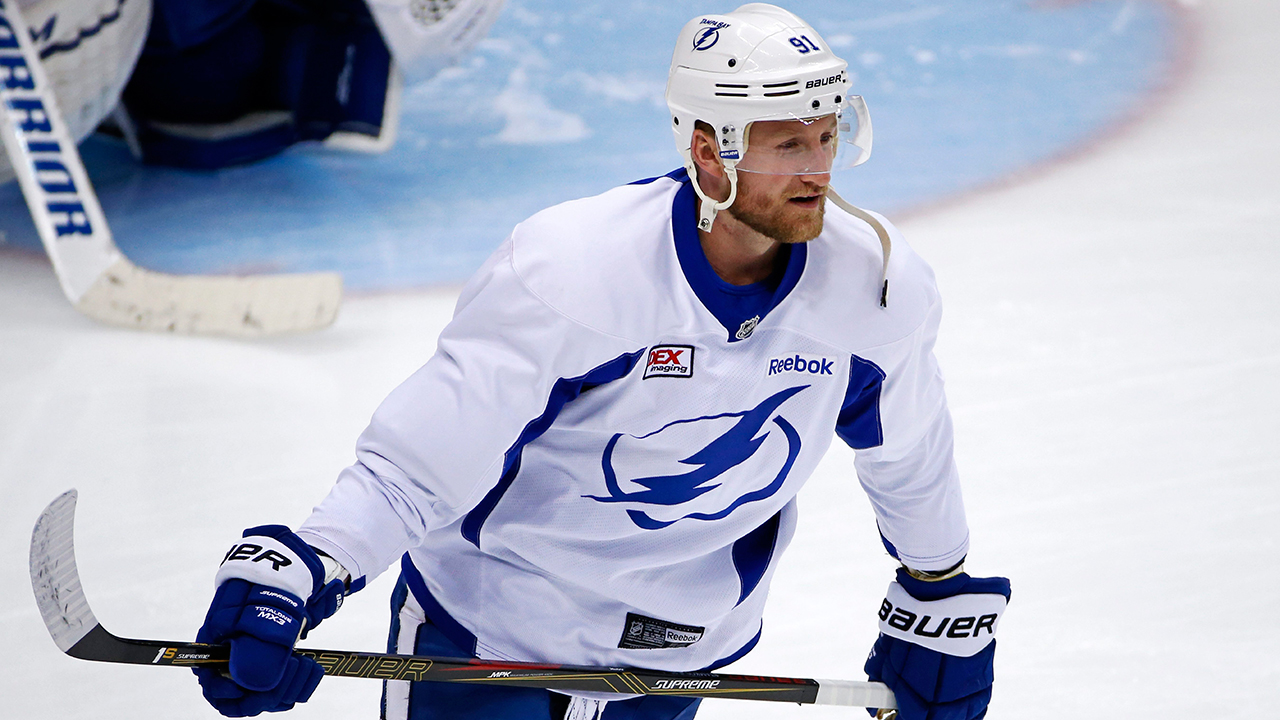 When you consider Buffalo and Detroit's commitment, and when you factor in Toronto's appeal as his hometown and a team on the rise—it's hard to consider Montreal as anything more than a dark horse in this race.
But in speaking with several sources throughout the weekend, the Canadiens are absolutely in it.
What Bergevin does next will ultimately determine how serious he is about pursuing Stamkos. Once he signs Shaw, who's expected to cost anywhere between $3.5-4 million for each of the next five or six years, he'll have to clear roughly the same amount from his salary cap to fit Stamkos in.
That could mean dealing any one of David Desharnais ($3.5 million for next season), Tomas Plekanec ($6 million for each of the next two seasons) or Alexei Emelin ($4.1 million for each of the next two seasons) before Friday, which is easier said than done.
After that, the rest is up to Stamkos.