WASHINGTON, D.C. — Karl Alzner is expected to do something no NHLer has done in a regular-season game, and he'll look cool doing it.
As the sun shone down on Nationals Park Wednesday, the Washington Capitals defenceman practiced outdoors wearing sunglasses. And he plans on donning the shades for tomorrow's Winter Classic.
"As long as it's within the rules, I'm going to try it tomorrow if it's sunny," Alzer says. "No complaints. They were awesome. They did the trick."
"It was a sharp look. I think it actually helped. Looking at him, he appeared to be in cruise control," says teammate Joel Ward.
Well, Thursday's forecast is for a high of 4°C and all sun. And according to NHL hockey ops, players will be permitted to wear sunglasses during the game, as reported by ESPN's Katie Strang.
The glasses, blue Oakleys, were team-issued before the skate, but Alzner was the only one to slip them on for practise. In fact, the 26-year-old blueliner brought his own pair and was intending to wear them.
"I think guys didn't think they'd be allowed to wear them. And I had already come into this planning to wear sunglasses, so it worked out good," he says. "I took them off for a little bit during our PP/PK, and you notice a difference right away, so I'm planning on wearing them.
"You lose the puck every now and then [in the glare]. If you can make the glasses work, why not wear them?"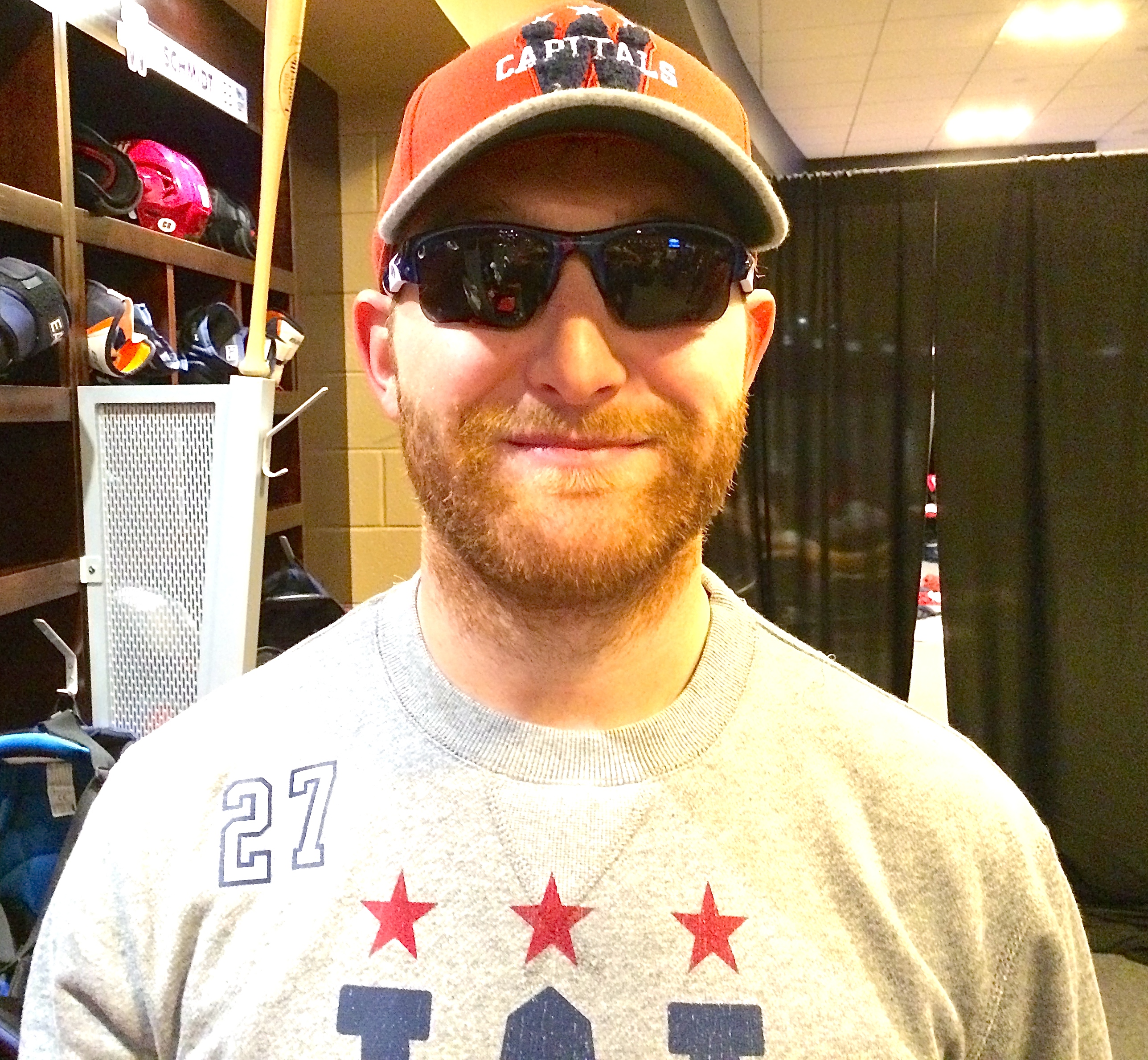 The glare, Capitals coach Barry Trotz said, may cause the Capitals and Blackhawks to switch ends at the 10-minute mark of the first period.
"I think it's fair," Trotz said. "[But] if they want to stay in one end if it's really glary, they can."
---
Watch Episode 4 of Road To the Winter Classic, Jan. 6 at 7 p.m. ET on Sportsnet Ontario. MORE: Winter Classic Live
---
Alzner says it helped his vision significantly during Tuesday's practice. And more than a few eye-black-sporting teammates asked him how effective they were; he says they should've tried wearing them Wednesday.
"The first chance they'll get to [test them] now is in warmup, and once you get to game stuff, you don't want to mess with routine," Alzner says. "They're in there pretty tight. The only worry would be that they come loose a little bit and it would mess up my vision after that. [But] you don't often get your head hit, so it would be a weird occurrence [for them to shake loose]."
If Alzer was only allowed to wear one layer of protection over his eyes, he says he'd try removing his face shield and just wearing the shades.
"Well, if the baseball players are using them here, I should be able to. If I'm sitting in [Nationals pitcher Tyler] Clippard's stall and he uses the glasses when he throws the ball, I should be able to when I play. It makes sense."