Pass the ax. There's more work to do.
With the just-won't-quit Carolina Hurricanes defeating the powerhouse Columbus Blue Jackets in a 2-1 overtime nail-biter Thursday, the rebuilding group broke a franchise record with points in 13 consecutive games.
Their playoff chances lumber at a kindling-thin 7.8 per cent. Their effort level, however, works out to 110 per cent.
And it's that blue-collar approach that is symbolized in the Canes' Player of the Game award, handed by the previous winner to the most deserving teammate after each victory.
A custom WWF-style championship wrestling belt and an ax.
Yes, Sidney Crosby's CCM isn't the only dangerous weapon making its way around the NHL these days. The Hurricanes tote an ax with them on the road.
"We've always had something. Last year it was a fireman's helmet. This is the new one," penalty-killer Jay McClement told us. "It's always a fun one to pass around after wins."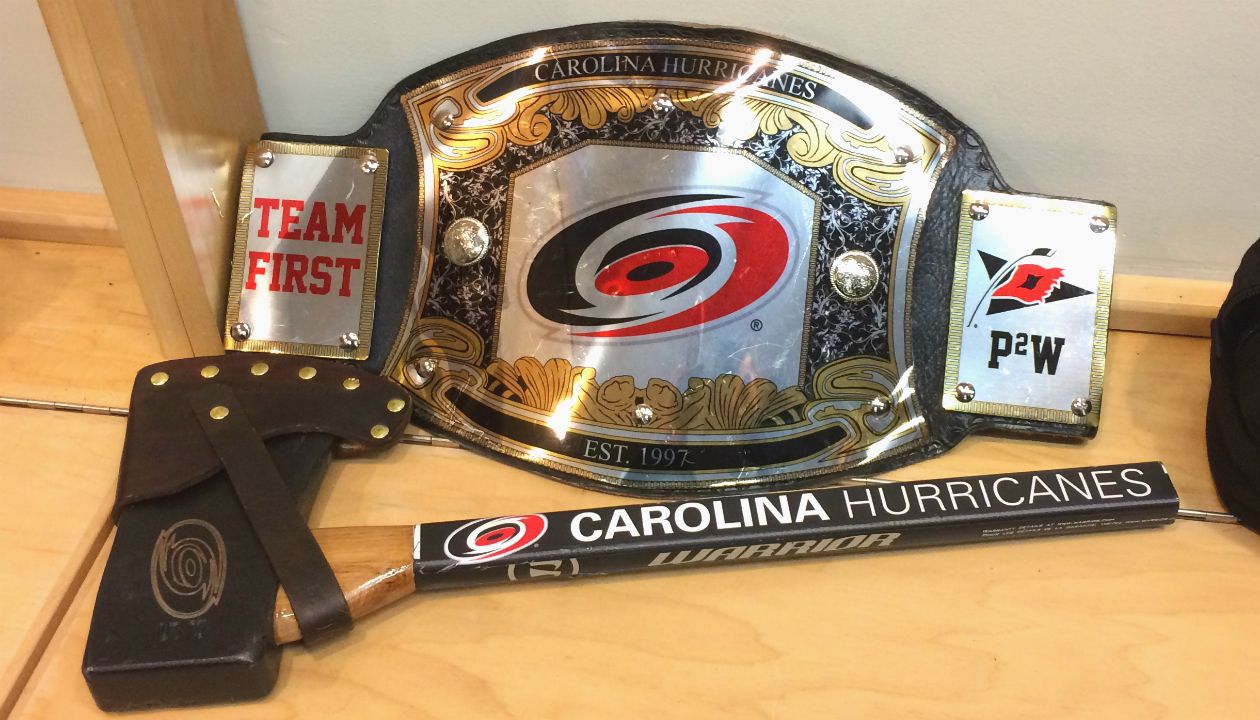 McClement didn't want to reveal the meaning behind the ax, the shaft of which was fashioned from a Warrior hockey stick. He thought it might be a team secret. But Jordan Staal was happy to enlighten us.
"It was our trainer's idea," Staal said, "through a book, I guess. Chop Wood, Carry Water."
The essence of Rick Fields' Chop Wood, Carry Water: A Guide to Finding Spiritual Fulfillment in Everyday Life was relayed to the players by assistant strength and conditioning coach Bill Burniston.
The "chop wood, carry water" motto is borrowed from an ancient Chinese Zen master who believed that life's most important lessons and the profoundest heights of your spiritual path can be found in everyday life.
A thousand years ago, this was hockey's "one shift at a time."
"The story is, he wanted to be an arch man. He went all the way overseas to purse that dream. The head arch man said, 'Chop wood and carry water every day.' You can't really get anywhere without water and fire. The rest of it will take care of itself," Staal explained.
"It's about doing the little things every day and how that will lead you eventually to your goal."
[relatedlinks]
(Fox photo)