For years now, hockey's analytics community has been championing the Carolina Hurricanes as a team to watch out for, and if you're going by shot differentials, they've been a force for a while now.
Since 2013-14 they've finished 15th, ninth, 11th, sixth, first, and are second this season in corsi for percentage at even strength, but they've made the playoffs in exactly none of those years — and in fact they haven't made it at all since 2009.
Looking at the Hurricanes' even strength data over that time compared to their record using data from Natural Stat Trick, there's one big area of change this year.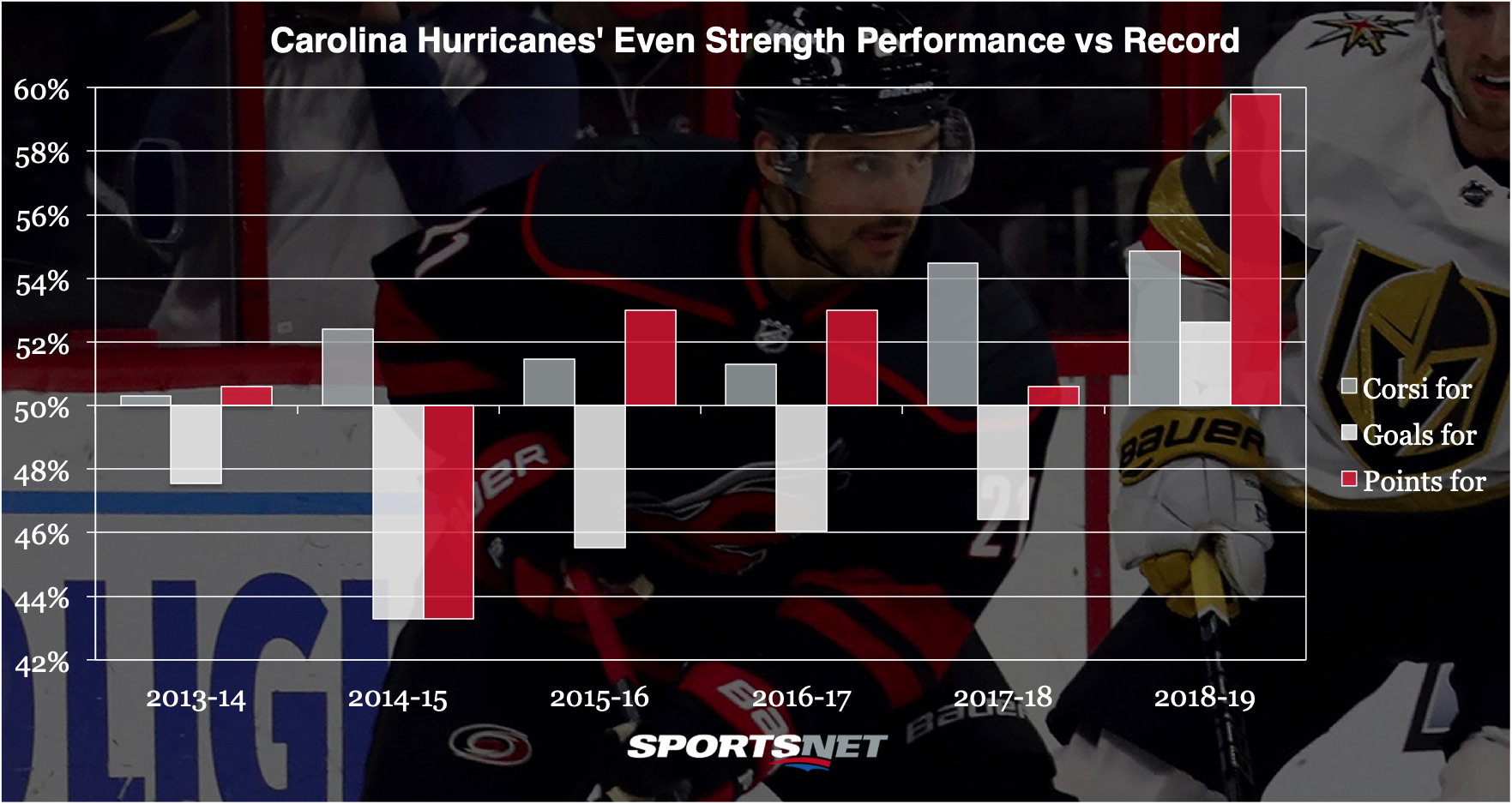 The Hurricanes are still underperforming in goals relative to how much they dominate shots, but for the first time in a six-year sample they're boasting a positive goal differential that has them getting just under 60 per cent of the points available to them. That's above the usual cutoff for playoff teams, which waivers between 55 per cent and 59 per cent over this time period.
For the four seasons preceding this one, the Hurricanes have been, on average, the 24th-best goal producing team at 5-on-5 and the 25th-best goal preventing team. This season Carolina has seen a big jump up to the 15th-ranked even strength offence, and the fifth-best even strength defence judging by goals.
Part of the reason for the big jump defensively has been the changes the Hurricanes have made in goal; the tandem of Petr Mrazek and Curtis McElhinney have simply been far superior to Cam Ward and his various partners over the past few seasons. But has there been improvement in the Hurricanes' defensive posture under new coach Rod Brind'Amour? By that same token, are they that much better offensively with the same shot differential?
Splitting up the shots that Carolina takes and allows by location, we can see a slight improvement each of the past few seasons in the overall shot production per minute played. There's a big jump in high slot chances in 2016-17 that has stayed consistent ever since, so I'm going to say it's attributable to the arrival of Sebastian Aho and Teuvo Teravainen.
The biggest jump this year, though, has been in high danger chances, with the Hurricanes getting an extra two of those per 60 minutes. That may not seem like much, but it's a 31.7 per cent increase on what they were accomplishing last season.
Offence across the league has increased, but the Hurricanes are currently generating the third-most high danger chances at 5-on-5 in the NHL, behind only the Tampa Bay Lightning and San Jose Sharks.
It's a bit of a different story on defence. The Hurricanes are a great team when it comes to shot suppression, with only the Sharks and Boston Bruins giving up fewer at 5-on-5 than they do, but Carolina hasn't been able to stop the tide in scoring chances.
Senior Writer Ryan Dixon and NHL Editor Rory Boylen always give it 110%, but never rely on clichés when it comes to podcasting. Instead, they use a mix of facts, fun and a varied group of hockey voices to cover Canada's most beloved game.
Of all the shot attempts taken at Carolina's net, 39.9 per cent of them are from the slot, which is the third-highest percentage in the league behind the Buffalo Sabres and Chicago Blackhawks. The Hurricanes are a middle of the pack team in preventing high danger chances from the inner slot, allowing the 14th-fewest.
They are a bit better at preventing passes to the slot, where they allow the 12th-fewest in the league, but they're not a great defensive team despite being good at cutting down shots overall.
That means we have to give a lot of credit to McElhinney and Mrazek for their performances this season, but the takeaway here should be about more than goaltending.
The Hurricanes are a team that has slowly but surely accumulated talent. They just added a 20-goal scorer in Nino Niederreiter, just recently got Jordan Staal back from injury, and they have controlled nearly 55 per cent of the shot attempts, 55 per cent of the shots, 54.5 per cent of the high danger chances, and 52 per cent of the high slot chances at 5-on-5 in all the games they've played this season.
They have arguably the deepest group of seven defencemen in the NHL, and for the first time in half a decade they're getting decent goaltending. They don't look like an easy out come playoff time and, finally, they're fulfilling the promise the underlying numbers have made for years.
We're probably going to see the Storm Surge in the playoffs — maybe more than we expect.