TORONTO – You can label the Toronto Maple Leafs approach to this trade deadline a lot of ways, but tanking isn't one of them.
I prefer smart, aggressive and savvy.
Tanking involves intentionally weakening your roster in pursuit of a specific player. The NHL changed the draft lottery odds this season to keep that from happening – a change that means even if the Leafs remain in 30th place they'll still have a roughly 45 per cent chance of selecting fourth in June.
While Lou Lamoriello and Co. would obviously love to win the Auston Matthews lottery, that isn't guiding their current strategy.
Instead, they're maximizing assets. The organization deliberately acquired players on expiring contracts last summer so that it would be able to stockpile futures at the trade deadline and the plan is already yielding dividends.
Getting second-round picks in 2017 and 2018 from San Jose makes sense for an organization at rock bottom. All the Leafs gave up on Monday morning were pending free agents Roman Polak and Nick Spaling, while also taking on the remainder of Raffi Torres's contract.
That came one day after UFA-to-be Shawn Matthias was sent to Colorado for a fourth-round pick and AHL forward Colin Smith.
When you couple those moves with the Dion Phaneuf blockbuster to Ottawa, the Leafs have been involved in all three NHL trades consummated in February so far.
"I've never believed that you wait until the final minute if you can make something (happen) that you're comfortable with," said Lamoriello. "(I don't) worry about what other people are doing or thinking. … Sometimes it can't happen until the end because it still takes two people to make a decision to have a transaction.
"I always felt that if you could do it a little earlier, it's better."
With so many other pieces still in play, it makes sense to get a jump on the market.
The Leafs still have six other pending UFAs – forwards P-A Parenteau, Brad Boyes, Michael Grabner, Mark Arcobello and Rich Clune, and goaltender James Reimer – and will likely consider moving some players with term by next Monday's deadline as well.
The strategy is one often employed by teams in other sports, but hasn't previously been pursued this aggressively in the NHL. The thinking is simple: The draft is essentially a crapshoot, so the more picks you have the better.
Toronto now owns 12 selections in 2016, eight in 2017 and seven in 2018, and there are more to come.
What they've accomplished in the last few days more than makes up for the fact that they surrendered third-round picks to New Jersey and Detroit as compensation for hiring Lamoriello and head coach Mike Babcock last summer.
In the short term, the Leafs are going to get a lot younger with 25 games remaining on the schedule. Brendan Leipsic and Stuart Percy were recalled from the AHL-leading Marlies following Monday's trade and will almost certainly be joined by a few teammates shortly.
"This has always been our thought process as much as timing, to get the Marlies in here at a certain time," said Lamoriello. "We wanted them to stay together for the majority of the season."
"We could have called other players up also and been very comfortable," he added. "When the time is right you'll see other people here."
There's a debate to be had about what impact the injection of youth will have on the Leafs position in the standings, but it's not like the 20-27-10 team has been tearing the league apart as it is.
It's also important to remember that the strategy being employed here isn't dependent on winning a lottery. If Toronto finishes 26th, 27th, 28th or 29th it won't significantly alter management's outlook – especially now that the draft odds have been significantly diluted from years past.
You've got to control what you can control, and the Leafs have already increased their odds of unearthing NHL players by adding so many extra picks.
The one advantage the organization enjoys in all of this is the ability to sweeten trades by taking on bad contracts. They added more than $27-million in salary commitments with Nathan Horton's uninsured deal last season and took on Colin Greening, Milan Michalek and Jared Cowen from Ottawa in the Phaneuf trade.
After shipping out Matthias, Spaling and Polak, the Leafs now have the ability to take on more than $9-million in cap hits for the remainder of the year – and you can be sure that rival teams will be looking to dump unwanted contracts along with their draft picks before the deadline.
That's what the Sharks did with Torres, who is in the final year of a deal paying him $2.125-million.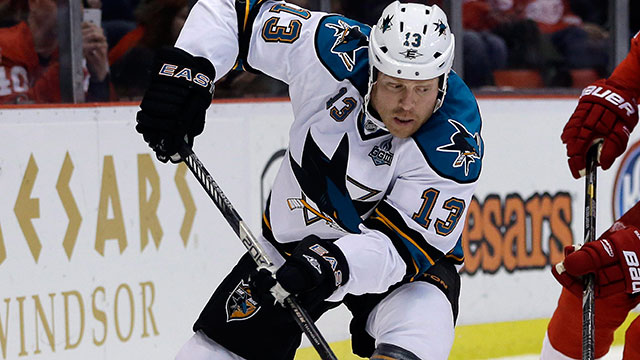 Raffi Torres. (Carlos Osorio/AP)
As a condition of the trade, the Leafs assigned the 34-year-old winger to the AHL's San Jose Barracuda and will simply assume what's left of his buried cap hit. He isn't expected to get anywhere near Toronto.
"We're extremely comfortable with the people that we have in the Marlies," said Lamoriello. "I don't think that a veteran going into the Marlies right now is the right thing. There's nothing against Raffi, I think the chemistry there is perfect."
Even though the Leafs are a long way away from becoming a contender, they're being run in a manner that greatly increases the likelihood they get there.