When hockey fans think of the NHL's big hitters, Cody Franson's name is unlikely to spring to mind.
The towering Toronto Maple Leafs defenceman isn't dummying forwards like Dustin Byfuglien or crunching superstars like Brooks Orpik.
Yet the six-foot-five, 213-pound B.C. boy is one of just two black-and-blueliners to rank top-10 in hits by defencemen in each of the past three seasons (Philly's Luke Schenn is the other). He's not the guy aiming for highlight-reel mid-ice hip checks, but Franson is consistently punishing.
This season, the 27-year-old has delivered 142 checks while limiting his penalty minutes per game to just 0.52, good for second best among the NHL's six most prolific hitting D-men.
We caught up with the pending free agent to talk nothing but hits.
Nepotism wins again: "My dad works at rink in Sicamous [B.C.]. He's worked there for 30 years now, so I've kinda had availability to ice whenever I wanted it. My dad played a lot of hockey, still plays. Played at the junior level—that's as high as he got. Played some senior. When hitting was introduced to me, he brought a big punching bag out and put it on the wall and would move it as I skated, and I was supposed to hit the punching bag. It got me used to hitting a heavier weight and how that felt. He'd work on positioning with me—how to position your hips and timing."
Early b(l)oomer: "I would've been 12 or 13 when I threw my first check. Hitting started in bantam when I was coming up. I was a tall, lanky kid. At 13, I was probably six-one and maybe 170 pounds. I didn't mind hitting. I was at that awkward lanky stage, couldn't put on weight for nothin'. When I was 15 I had size 15 feet. So it took me a while to grow into my body and get some weight. But contact was never a worry for me."
"My dad brought a big punching bag out and put it on the wall and would move it as I skated," says Franson. "Contact was never a worry for me."
The hit that made an impact: "My most memorable one was against Boston in the [2013] playoffs. We were playing a home game, Game 6. I got to start that night, and I got a big hit in early in my first shift against [Brad] Marchand. That set the tone and was one of my more proud moments — just being able to get one early on a stage like that and get the boys in the right mindframe."
Momentum changer: "When you're in the playoffs, you're playing on such a high stage. All your emotions are high. Your excitement levels are real high, so when you get a big hit, it brings everybody to their feet, and you build momentum off that. A hit like that, all the boys are excited when you get back to the bench: Great start! Good hit! Way to get in early! Stuff like that. It helped us set the pace for Game 6 and get the win we needed."
Flipping Crosby: "That one happened incidentally, to be honest. [laughs] I laid down to block his pass across. It was a two-on-one with a close backchecker. I went to get up and seen him trying to jump me, and it just kinda happened that I was getting up, he was trying to go over and I ended up flipping him. It just kinda happened. Hip-checks aren't exactly my forte. It's tough for me to get down low where you need to be to hit a guy."
Hurts when I whiff: "There's definitely been some misses. When I first got here [from Nashville] we were playing Buffalo in exhibition, and I tried to make a statement by getting a big hit in an exhibition game and got a little over aggressive. I left my feet and hit the glass."
Sweat the technique: "I cut in on my back heels and make it so the guy doesn't have anywhere but down the wall to go. Once he gets down there, if I've got him just in front of me where I'm comfortable hitting him, I'll hit him. I will turn into him to where I hit him with my shoulder. I roll into the wall with my back and keep my momentum going forward. If he's parallel with me or getting a step, I'll try to come in and get a hand on one of his shoulders, throw him off-balance and finish him hard into the glass. It allows you to keep a good body position, and if he's able to hold onto the puck, you're still in a good spot. Open-ice hitting, I try to angle guys into areas where they have nowhere to go and finish them."
---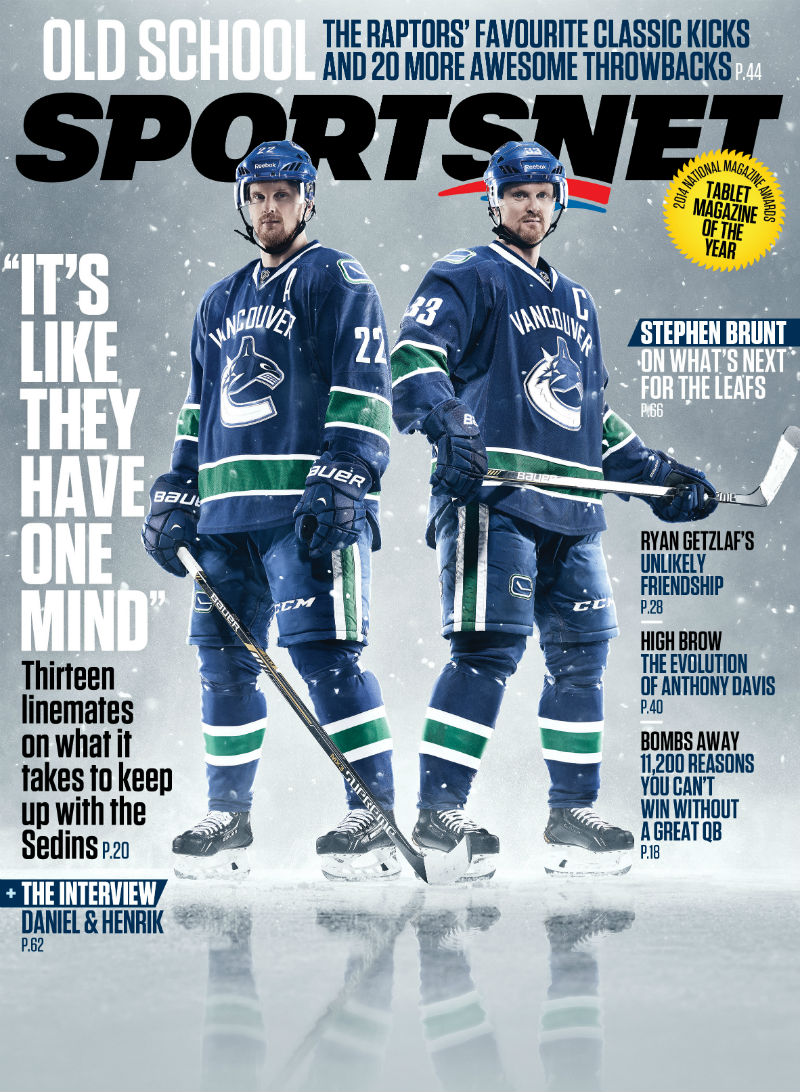 ATTENTION Rogers and Shaw customers. Already enjoying Sportsnet ONE? Now get access to digital editions of Sportsnet magazine at no extra cost.
---
Franson checks his hit count: "Hitting more and hitting harder has been a big focus. Since I started in Nashville, my knock has been that I don't use my frame to my advantage. I've always felt I was a physical enough player, but I've grown tired of people saying I'm not physical enough for how big I am. In trying to be a more complete player and round out my game, that was one area I needed to focus on."
Talkin' 'bout practice: "I don't practise actually hitting guys, but I do practise angling guys into that situation where I would be able to get a big hit. Approaching guys in the corner. Not being overly aggressive when I've got a guy facing me. How to direct a guy where I want him to go in order to make a hit while he's doing cycle plays down in the corner. Guys coming into the middle of the ice, timing-wise, I will gap-up and get close to him. When he gets the puck I'll let him have it, but I know in a game, I'd be on him right there to hit him. Just timing and angling is what I focus on in practise."
Ice packs are a D-man's best friend: "You feel a lot of the hits. It's not even the guy you're hitting that you feel. It's the wall. For me, the boards sit right up on my hips, so if I don't catch all the guy and catch some of the boards, it goes right into my hip and leaves a bruising effect or lingering soreness. When you hit guys a lot, it takes a toll for sure. Your shoulders feel it, and your back as well. It's one of those things that has to be done, though."
"You don't want to be scared of a hit. This isn't a game for the scared."
Training day: "I don't do a lot of my hits through a full body-to-body check. I do a lot of my hitting through pushing guys and trying to hit guys with one arm so they lose momentum and fall backwards so I can continue with the puck. So I do a lot of one-arm exercises, isolating shoulders, chest, triceps, biceps. And then a lot of back work. I like to be strong not only in the legs but up top, so when I get a guy I can use my upper-body strength to push the guy and take the puck."
Equal opportunity destroyer: "I try to be a physical player on all players, but fairly. I don't want to hit guys from behind or put guys in situations where they're going to get hurt. If I can get a good, heavy hit on him and not give him a concussion, I'm going to hit him. It doesn't matter who it is. Skill guys, you have to play physical on them. If you start trying to poke pucks on Malkin and Datsyuk and Crosby, they'll make you look silly. You can't play different with skill guys. I try to be the guy that if you ask around the league if he's dirty, they'd all say no."
Tips for hit-happy kids: "Being able to handle the puck with your head up is important. Being able to read plays is important, seeing a guy coming before you get the puck. Just being able to be comfortable along the wall or getting bumped, and getting strong on your feet. If you're going to get hit, don't be three to four feet out from the wall—that's where guys get hurt. And don't put your back to a guy who's going to hit you—that's when you'll really get hurt. Face the hit head-on and roll with it."
Hearing footsteps: "If you've developed the skill of knowing your surroundings really well, you will know that somebody's coming even if you don't see them. Guys get hurt when they don't know someone's coming. There's a saying: He's hearing footsteps. But there's a difference between hearing footsteps and completely bailing out. You don't want to be scared of a hit. This isn't a game for the scared. But if you can develop a skill where you can hear people coming, you'll be able to spin off checks or chip the puck by him one way and go the other. That's a big part of the game."