After signing Steve Mason in the off-season, it was expected Connor Hellebuyck would be the backup, or at least the secondary goaltender in a platoon situation, since he struggled in his first year as a starting goaltender.
Mason played brutal to start the season, which gave Hellebuyck an immediate opportunity to seize the starting job in a way he couldn't last season, and so far he's been brilliant, putting up league average or above save percentage in all but two of his starts, and boasting a .936 save percentage on the season.
Based on his career outside the NHL, Hellebuyck has been one of the more highly touted young goaltenders in the game, and some of the confidence in his ability was shaken last season as he put up a lacklustre .907 save percentage over 56 games. However, there was some reason to be positive he would rebound this year.
Despite his 2016-17 struggles, he maintained a slightly above league average high danger save percentage last season, the best indicator of future goaltender performance. Breaking the shots Hellebuyck faces down by zone, we can see where he's made improvements this season.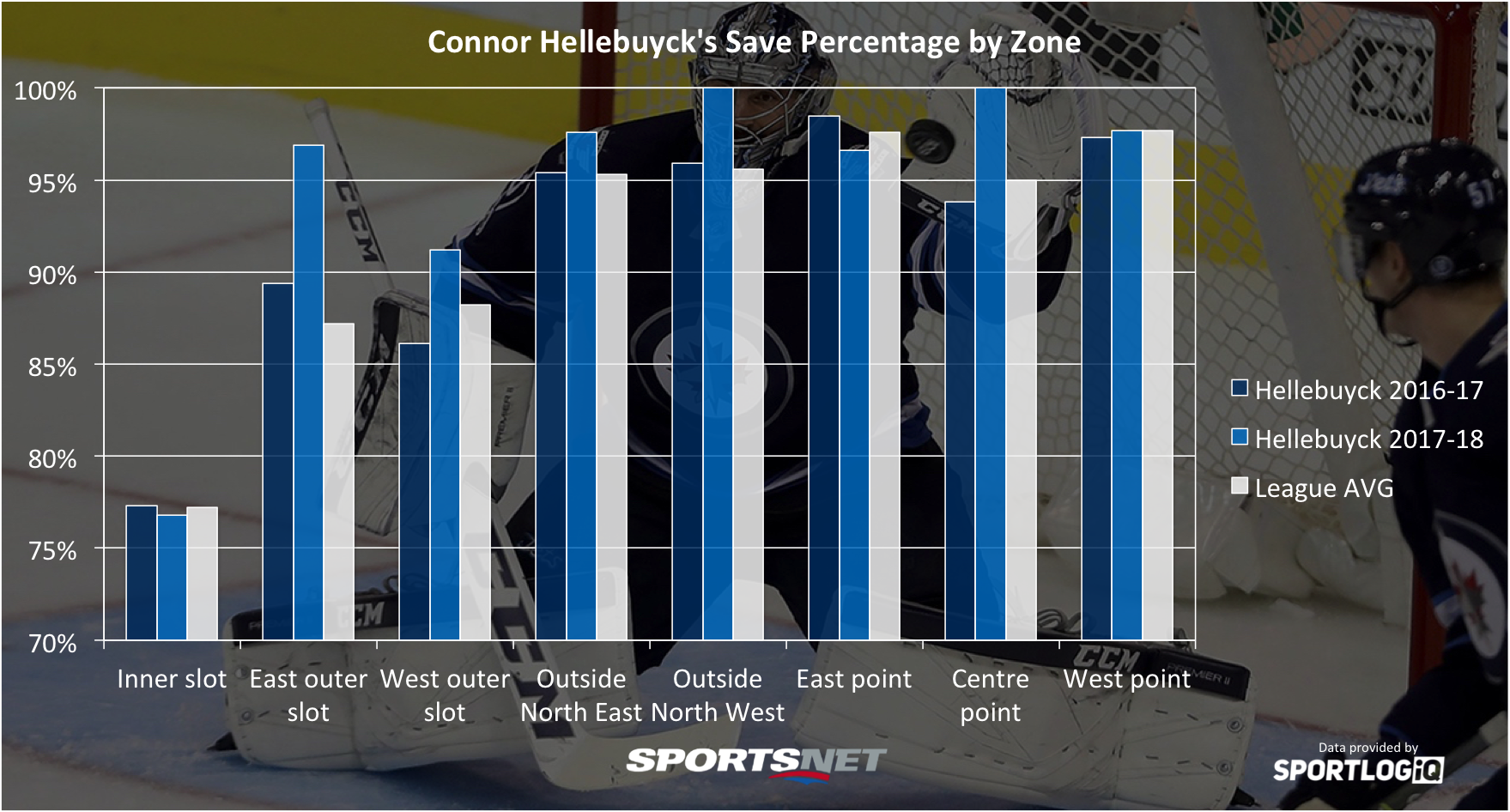 Hellebuyck's high danger save percentage has actually dropped a little compared to last season, but is close enough that it isn't anything to worry about. His save percentage has improved in almost every other area, with the biggest jumps coming in the high slot and centre point, essentially meaning Hellebuyck has been much stronger at stopping shots from the middle of the ice.
His save percentage there likely isn't sustainable, which makes sense because goaltenders don't consistently post numbers as stellar as Hellebuyck has to start the season, especially as league average save percentage has dropped from .913 last season to .910 this season.
One reason why you might expect to see strong numbers continue for Hellebuyck in the slot, though, is his improved rebound control.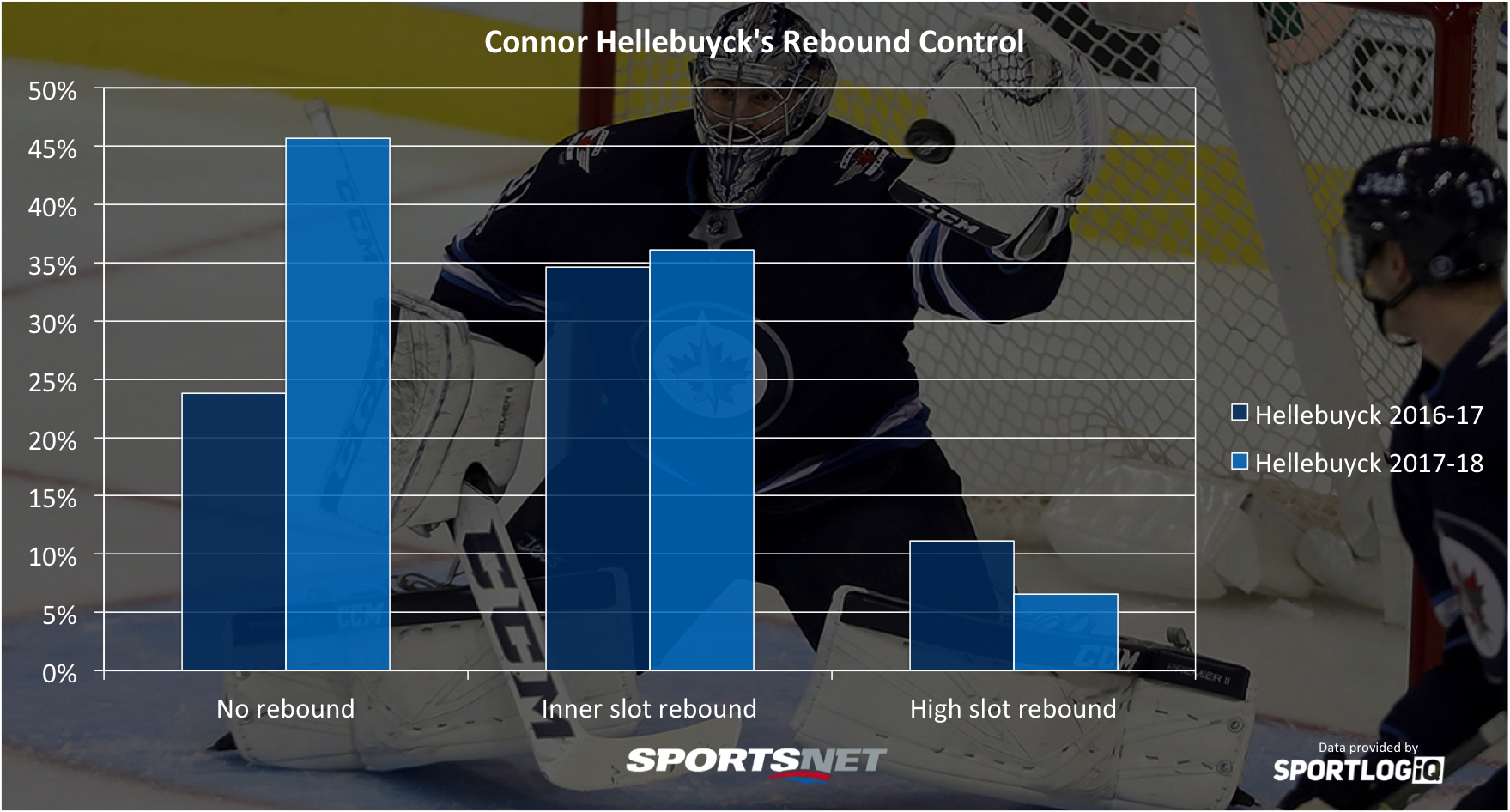 Last season Hellebuyck produced rebounds on a whopping 76.4 per cent of the shots he faced, sending 34.6 per cent of those rebounds into the inner slot, and another 6.6 per cent to the high slot. The percentage of his rebounds going into the inner slot this season is actually a bit larger, but the total number of rebounds is down so significantly that it's impossible to not see improvement overall, with just 53.3 per cent of the shots he faces producing rebounds this season.
This improvement from Hellebuyck has come at a very convenient time for the Jets, who have struggled a bit to execute their game plan as effectively as they have in years past, with a substandard score-adjusted Corsi of just 46.59 per cent, down from 49.27 per cent last season, and 51.23 per cent the season before.
Senior Writer Ryan Dixon and NHL Editor Rory Boylen always give it 110%, but never rely on clichés when it comes to podcasting. Instead, they use a mix of facts, fun and a varied group of hockey voices to cover Canada's most beloved game.
A lot of those struggles have been on the defensive side as well, which makes Hellebuyck's performance even more impressive. Last year the Jets were relatively strong defensively and allowed the eighth-fewest high danger scoring chances against per game in all situations. This season, they're allowing the 16th-fewest, about league average.
A similar problem rears its head when you look at pre-shot movement. Last season the Jets were about average at stopping passes to the slot from their opponents and gave up the 14th-fewest per game. This season they're allowing the sixth-most passes to the slot, which makes Hellebuyck's job much more difficult.
It's not realistic to expect Hellebuyck to keep this level of performance going, but so far this season, he's the Jets' MVP, no matter how good some of their offensive players have been.