Corey Perry has earned the unwanted distinction of being the first Hart Trophy winner to be bought out of a contract in the salary cap era. Earlier this week, the Anaheim Ducks made the decision to cut their losses and shed the final two years of his contract that cost them $8.625 million against the salary cap.
The decision couldn't have been easy. Perry has spent 14 seasons in a Ducks jersey, he'll finish his Ducks career just 12 games shy of 1,000 — and in fact no player has ever played more games for the franchise. He's currently third all-time in points in Ducks history behind Teemu Selanne and Ryan Getzlaf, and second in all-time goals behind only Selanne.
Perry won a Hart Trophy and Rocket Richard in 2010-11, and a Stanley Cup with the Ducks in 2007. And on top of all those past accomplishments and emotions that can influence decisions in even the most dispassionate organization, there's the fact that the cap relief of the buyout isn't great a year from now.

Next season Perry's buyout will count for just $2.625 million against the salary cap, and in years three and four it's just $2 million, but in 2020-21 the Ducks will get hit with a $6.625 million cap hit for a player no longer on their roster.
So it won't be easy for the Ducks to say goodbye to Perry, but there are a lot of miles on him and at 34 years old his game has deteriorated.
But how much does Perry have left in the tank? For a long time he was one of the best wingers in the game and one of the top goal scorers, period. He has faded so far from his prime and hasn't had a 20-goal season since 2015-16, but is he worth a look on a bargain contract? Let's take a look.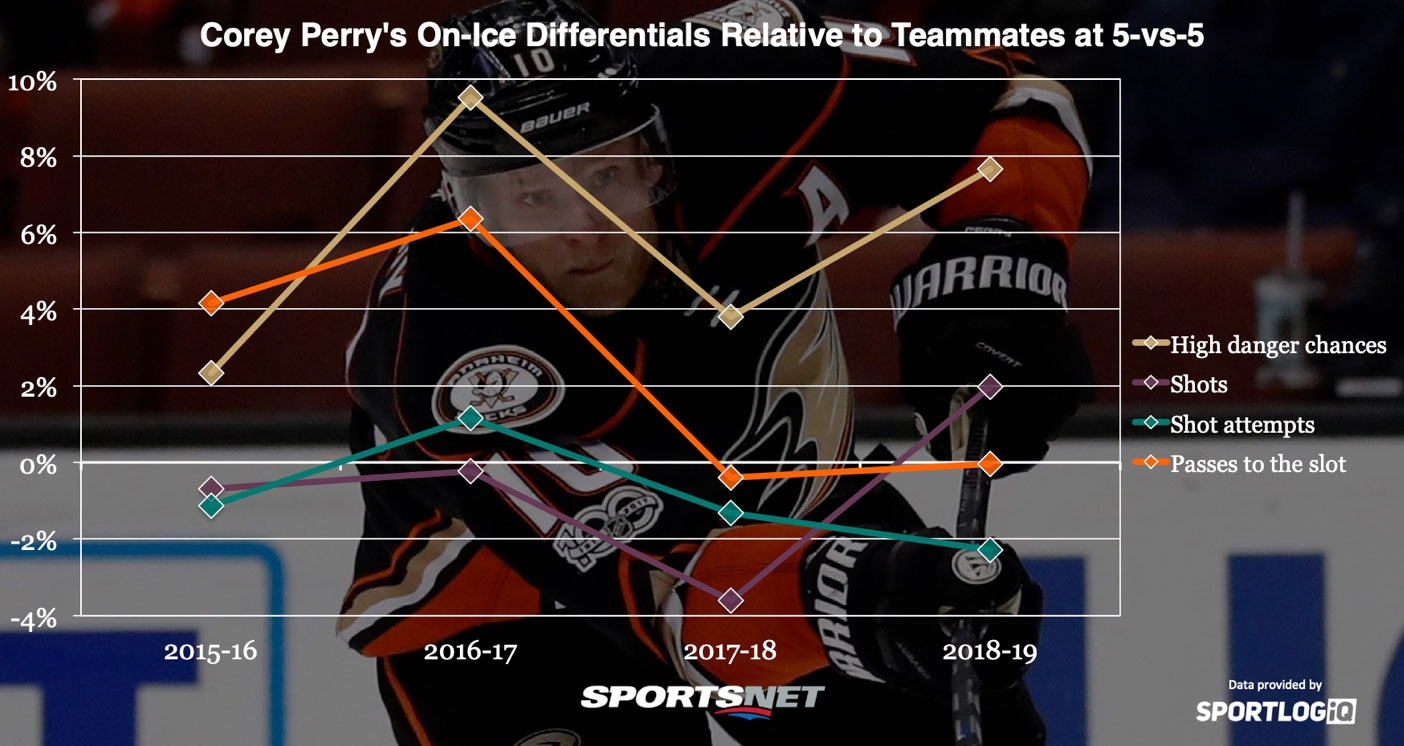 Relative to his teammates, Perry has been struggling to control shot and shot attempt differentials in all four seasons we have complete data for. But the same isn't true when we look at quality shots.
To put things in context, the Ducks have been a bit all over the map in the past four years. They were a good team in 2015-16, a very good team the following season, then a strong defensive but poor offensive team in 2017-18 and were straight up horrible this past season.
Perry struggled the most in 2017-18, though the bounce back you see in the numbers this season was in a small, 31-game sample. It's important to point out that whenever you're dealing with small samples the best bet is to rely on the dataset that has the most volume — in this case, that would be shot attempt differential relative to teammates, and by that measure, Perry cratered even further.
With that said, through Perry's four-season decline the Ducks were never worse off in quality shot differential when he was on the ice versus when he was off. In that sense, this buyout can look a little shortsighted.
However, we also need to take into account that even as Perry declined both in his play and in the role he plays for the Ducks, he still spends a significant amount of time on the ice with Ryan Getzlaf, who remains a near-elite player in the NHL.
Perry has a long history of creating chances from in tight to the net, so some of the extra offence produced while he's on the ice is going to go through him, but we shouldn't make assumptions based on reputation. Wingers don't usually have a big impact on protecting the net front in their own zone, so playing with a top centre like Getzlaf can really muddy the waters with what these on-ice statistics are really saying.
In order to see a clearer image of what Perry brings at this stage, we can look at his individual offensive performance over this same four-year period.
Usually when I use individual statistics, I plot them as per 20 minutes while the player in question is on the ice. But in order to show the change Perry has experienced relative to league-wide changes over the past four seasons, these statistics are shown as the percentage better or worse than the league average for forwards in a given season.
This way, we can see how Perry compares in a specific statistic relative to league average, instead of just a small number per 20 minutes that may not give the context of the difference.
Right away we can see that Perry was a phenomenal offensive producer in 2015-16, far above league average as a shooter and playmaker, with his standout skill being the highly coveted high danger scoring chances, which fits with his reputation.
However the number of high danger chances Perry produces has steeply declined since then, to the point where he has been below league average for two seasons in a row.
[snippet ID=3322139]
The first part of his game that fell off was high-end playmaking. He went from nearly 29 per cent better than an average forward in 2015-16 to over 16 per cent worse in 2016-17, but the rest of his offensive game wasn't far behind.
Perry is still an above average scoring chance producer, but he is more of a high slot shooter now, and he doesn't create nearly as much offence for his teammates as he used to.
Another area to focus on is that small sample "bounce back" year in 2018-19 we referenced earlier. When you look at his individual contributions, that recovery doesn't look nearly as strong.
With all this said, is Perry an unsalvageable player that all of the other 30 teams in the league should shy away from? No, I don't think so. If he weren't paid such a hefty salary the Ducks may not have chosen to buy him out this summer. He may not be one of the league's best wingers anymore, but if he's healthy enough for the league to permit a buyout in the first place, he's still capable of contributing goals and not being a major defensive liability while doing so.
The issue with a player like Perry on the free market is always going to be reputation and name recognition versus actual present day value. In today's game and at his age, Perry should be seen as a team's seventh-best forward, not making much more than league average salary; — around $3 million, on a short-term deal.
Perry likely doesn't see things that way because he's used to being an elite player, but giving him 'Corey Perry money' just isn't responsible any more. That's the harsh reality of the NHL, and as the saying goes: age is undefeated.
[relatedlinks]