As simply as I can put it, Jaromir Jagr is a unicorn.
If Jagr never left the Pittsburgh Penguins and simply retired after getting traded to Washington, he would have retired with 439 goals, 640 assists, and 1,079 points in 806 games, one Hart Trophy, five scoring titles, and two Cups. If his career ended there, he would still be a slam dunk Hockey Hall of Fame player.
That was 16 years ago.
Looking at Jagr's era-adjusted stats is fun because he has played through several of them. He played through the high-scoring early 90's, the very low-scoring late 90's, the 2005-06 scoring surge, and all the way to now where the NHL is begging for goals again.
As we prepare for his 24th NHL season, let's look at Jagr's five most impressive seasons based on straight up performance, adjusting for era, and age.
All stats, including era adjusted statistics, are courtesy of HockeyReference.com.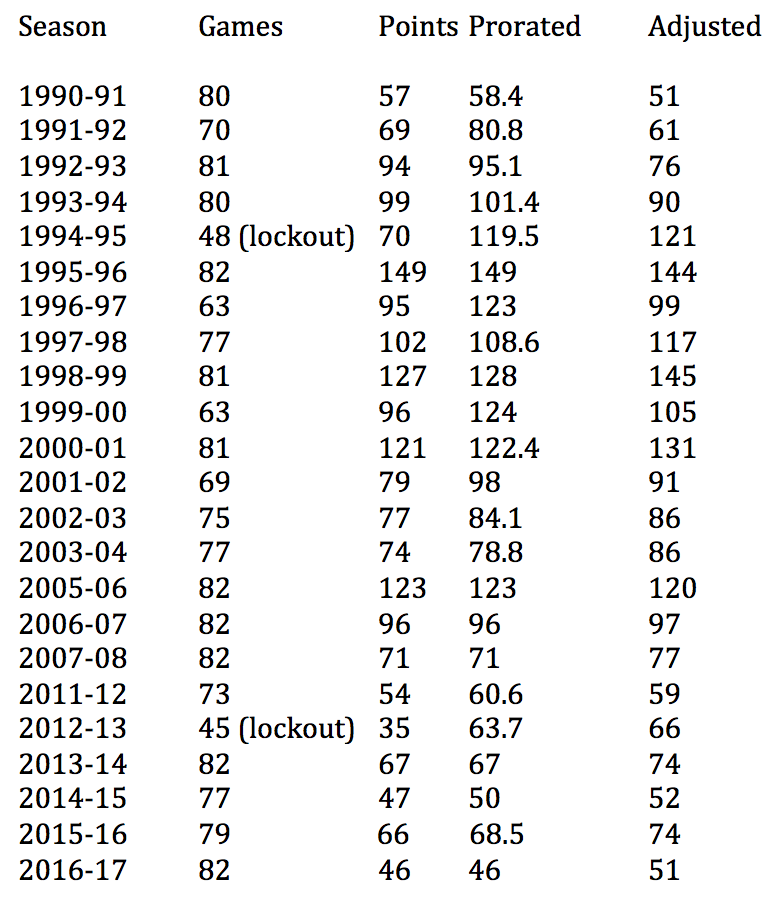 5. 1995-96, Pittsburgh Penguins, 23 years old
The 1995-96 season marks Jagr's career-high in goals (62), assists (87), and points (149). Today, numbers like that would get you a Hart, Cup, and key to the city. In the mid-90's however, all it got you was second in scoring behind Mario Lemieux (161 points) and somehow fourth in Hart voting behind Lemieux, Mark Messier, and Eric Lindros.
Jagr's era-adjusted numbers for that season still give him 144 era-adjusted points, the second-highest total of his career.
Impressive? Of course. But there is still the "But he had Mario" element lingering.
4. 2000-01, Pittsburgh Penguins, 28 years old
Lemieux played just 43 games in 2000-01, meaning for almost half of the season Jagr and the Penguins had to make do without him in the lineup.
Jagr really carried the offensive load, scoring 121 points in 81 games while his next highest-scoring teammates, Alex Kovalev and Martin Straka, had just 95.
When adjusting Jagr's 121 points for era, he goes up to 131 points, his third-highest total.
There is still an element of "but Mario" in there, since in the 43 games Lemieux did play he put up a staggering 76 points. Despite that, this was one of Jagr's most impressive seasons.
3. 2005-06, New York Rangers, 33 years old
The season after the 2004-05 lockout was a huge change in the sport. Hockey seemed to be getting faster, younger and more high scoring with Sidney Crosby vs. Alex Ovechkin being right at the forefront of it all.
Lost in the NHL's season of youthful resurgence was, arguably, its best player: 33-year-old Jagr.
Jagr was just coming off of his relatively unsuccessful tour of duty with the Washington Capitals and had only played half a season with New York before the work stoppage. Once the puck dropped after the lockout, however, Jagr scored 54 goals and 123 points — or 120 when adjusted for era.
Jagr was a first-team NHL all-star, the runner-up for the Hart Trophy behind the much younger Joe Thornton, and the winner of the Lester B. Pearson Trophy, now called the Ted Lindsay Trophy, as the NHL's Most Outstanding Player as voted by the NHLPA.
In a year that was supposed to signal a changing of the guard in the sport, and after a few disappointing seasons by his standards, Jagr let the NHL know that he's not done yet — and that was over a decade ago.
2. 2015-16, Florida Panthers, 43 years old
Alright, just hear me out.
Jagr led the 2015-16 Panthers in scoring as a 43-year-old. Does the team you cheer for have somebody in their 40's on it (besides the coach)? If the answer is yes, are they leading your team in scoring with 66 points? No, they're not.
Jagr only missed three games that season, and when you adjust his scoring for era, he goes up to 74 points. That's not totally shocking for most players, but for a 43-year-old player, that's pure sorcery.
Gordie Howe took three years off between the ages of 42 and 45 so we don't have his 43-year-old comparable for Jagr. What we do have, however, are Howe's numbers from when he was 42 in 1970-71. Howe scored 52 points in 63 games. If he scored at that pace for an 82-game schedule, that adds up to about 67 points, or about the same as Jagr. When adjusting for era however, Howe goes down to 48 points.
Even if you dismiss era-adjusted numbers altogether, Jagr is comparable to Howe at the same age. To win the Hart Trophy as league MVP is rare, but to do what the likes of Howe and Jagr have done in their 40's is even rarer.
1. 1998-99, Pittsburgh Penguins, 26 years old
Out of all of Jagr's 1,700-plus games played, the 1998-99 season was easily his most impressive and dominant. It's not just that he scored an NHL-leading 127 points that season. It's that Teemu Selanne, who finished second in NHL scoring, only had 107. To repeat – Jagr led the NHL in scoring by 20 points.
Paul Kariya finished third with 101 points, Peter Forsberg finished fourth with 97, a full 30 points behind Jagr, while Joe Sakic rounded out the top five with 96. I should point out at that each of those players, who are all legends in their own right, were in their 20s and all of them played in at least 75 games that season except for Sakic.
Jagr played with a bunch of Hockey Hall of Fame players in their prime and blew them all out of the water.
This season also marked Jagr's one and only Hart Trophy win as the NHL's MVP as, unfortunately for Jagr, his best hockey came while Lemieux was still kicking around and Dominik Hasek decided to become the world's most flexible brick wall.
Speaking of which, and maybe most impressively, Jagr put up those incredible numbers that season entirely without the help of Lemieux. In fact, the Penguins' second-leading scorer was Straka with 82 points while their third-highest scorer was German Titov with 56. Jagr was no longer the Robin to Lemieux's Batman; he was practically Pittsburgh's one-man Justice League.
When adjusting for era, Jagr's 127 points shoot up to an astounding 145, the highest total of his career. Why do his numbers go up? Scoring was down in the late 90s — but it looks like Jagr never got the memo.
Jagr's best season was 18 years ago, which means that if that season were a person, it would be eligible for the upcoming NHL draft. While's Jagr's best hockey is well behind him, he has shown that there's still a few more salutes left in the tank. Let's see how the mullet-wearing wonder keeps the flame lit in Calgary.