The struggles of Sidney Crosby this season have been well documented. When the best player in the world isn't even producing at a top-line rate, people begin to assign blame.
The main focus of blame, especially with the Penguins struggling overall, became head coach Mike Johnston. On Dec. 12, Johnston was fired and replaced by Mike Sullivan.
Crosby produced just 1.6 points per 60 minutes at even strength under Johnston this season, with a startlingly low 46.5% Corsi. Since Sullivan took over, Crosby has rocketed up to a 58.7% Corsi, and 2.2 points per 60 minutes at even strength.
It's only been 11 games, so we're not entirely sure that Crosby is out of the woods yet, it could be a bit of a hot streak, but digging a little deeper we can look at what specifically he's doing differently.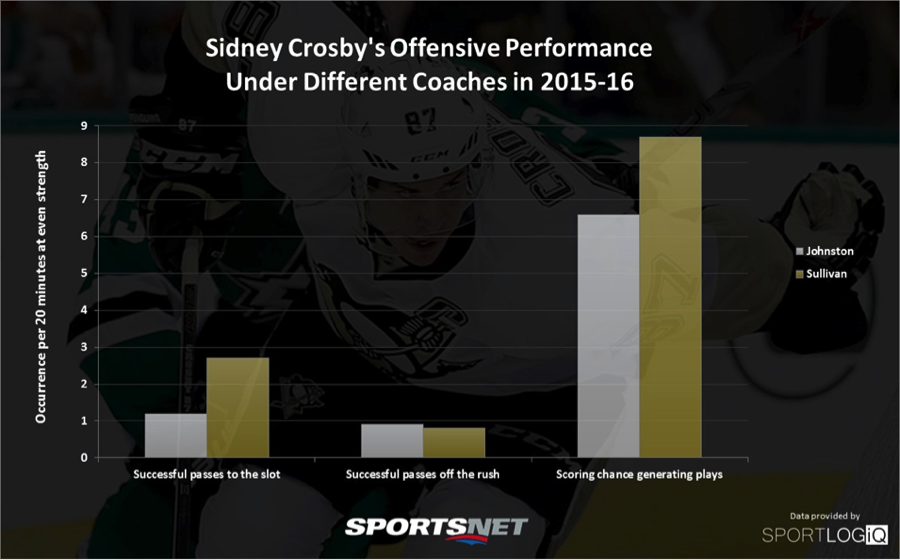 Crosby's passes off the rush are essentially the same, but his performance in successful passes to the slot has more than doubled. In fact, the pace he is on there, successfully completing 2.7 passes to the slot per 20 minutes, is better than his league-leading pace from last season.
His scoring chance generating plays have also rocketed up. Even while Crosby was struggling, he was still producing scoring chances at a top-30 rate in the NHL, but he's Sidney Crosby; more is expected of him. His uptick in generating scoring chances has put him at the top of the league once again, by nearly one whole scoring chance per 20 minutes played over the next best producer.
Obviously we're working with small sample sizes here, and it could be nothing more than a hot streak, but considering Crosby's past, this could be a signal that he is beginning to perform up to expectations.
There are no guarantees that this level of performance will continue, but Crosby has played at this level for whole seasons, so it isn't outlandish to assume that he could do so again. Currently producing 8.7 scoring chance generating plays per 20 minutes at even strength is very impressive, but last year he was over nine.
It is entirely possible at this point that Crosby was being held back by the coaching staff in Pittsburgh, and if that was the main source of his struggles, expect him to have a second half that could propel the Penguins well into the playoffs.