The Canadian Women's Hockey League held its All-Star Game fantasy draft Friday night and released the rosters Saturday morning.
Carlee Campbell of the Toronto Furies was named Team White's captain, as voted on by the fans, while Campbell's fellow Furies star Natalie Spooner plus Meaghan Mikkelson of the Calgary Inferno were named co-captains of Team Blue.
Those three players were tasked with selecting their respective rosters– similar to what the NHL had done for three seasons prior to changing their all-star weekend to a four-team event in 2016.
Campbell had the first pick, and to no one's surprise, she selected Marie-Philip Poulin of the Les Canadiennes de Montreal. You'd do the same if you could pick "the Sidney Crosby of women's hockey," wouldn't you?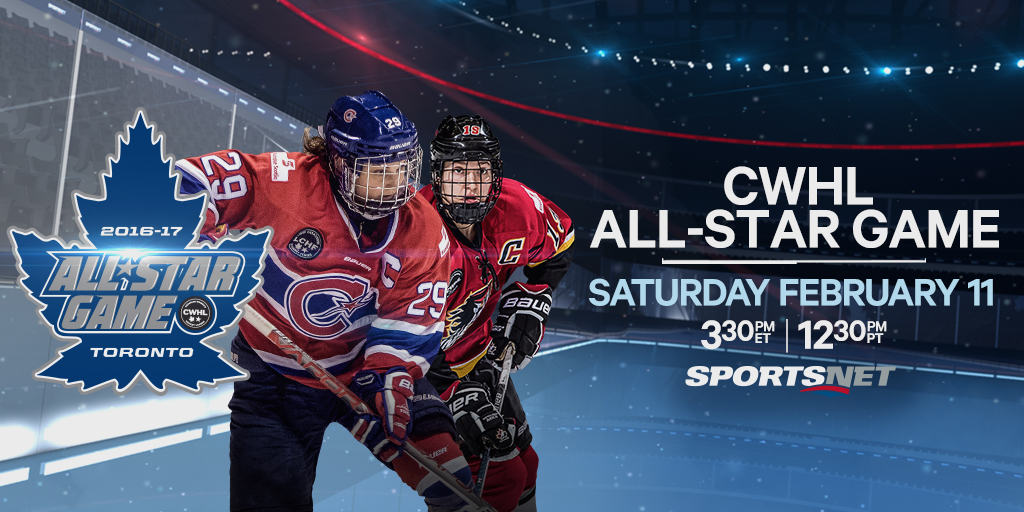 Team White will be coached by former Canadian women's national team stars Tessa Bonhomme and Becky Kellar. Two-time Olympic gold medallist Cheryl Pounder and Les Canadiennes bench boss Lisa-Marie Breton-Lebreux will lead Team Blue.
Here's a look at both rosters:
TEAM WHITE
Forwards – Marie-Philip Poulin, Caroline Ouellette, Meghan Grieves, Rebecca Johnston, Jess Jones, Sarah Lefort, Jill Saulnier, Laura Stacey, Rebecca Vint
Defence – Carlee Campbell (captain), Erin Ambrose, Julie Chu, Renata Fast, Laura Fortino, Jocelyne Larocque
Goalies – Christina Kessler, Charline Labonte
TEAM BLUE
Forwards – Natalie Spooner (co-captain), Ann-Sophie Bettez, Michela Cava, Haley Irwin, Brianne Jenner, Jenelle Kohanchuk, Jamie Lee Rattray, Kelly Terry, Kayla Tutino
Defence – Meaghan Mikkelson (co-captain), Courtney Birchard, Katelyn Gosling,
Cassandra Poudrier, Cathy Chartrand, Tara Watchorn,
Goalies – Erica Howe, Emerance Maschmeyer