MONTREAL — Dale Weise seems resigned to the fact that these could be his final days in a Montreal Canadiens uniform.
The pending unrestricted free agent is in the midst of a career year, having topped his previous best — 10 goals in the 2014-15 season — with 14 goals in 55 games. Contract talks, which were briefly held between his agent, Allain Roy, and Canadiens general manager Marc Bergevin last summer, haven't been followed up on at any point this season. And his team, which currently has a 5.8 per cent chance of making the playoffs according to sportsclubstats.com, is assuredly in sell-mode.
Weise believes the chances of him moving to another team between now and the NHL's trade deadline (Feb. 29) are higher than the ones that have him staying in Montreal.
"For me to sit here and lie to you and say that I haven't thought about or haven't heard anything; that would be me lying," said Weise Sunday. "There's a human side to it where obviously this has been a dream come true — playing for the Montreal Canadiens — for me.
"This is where I want to be. I love Montreal. This is where I want to stay. But unfortunately the business side of it is I'm an unrestricted free agent and our team is on the outside looking in."
It was with the Canadiens — who Weise grew up cheering for as a youngster in Winnipeg — that the 27-year-old got his first real chance to be the player he wanted to be.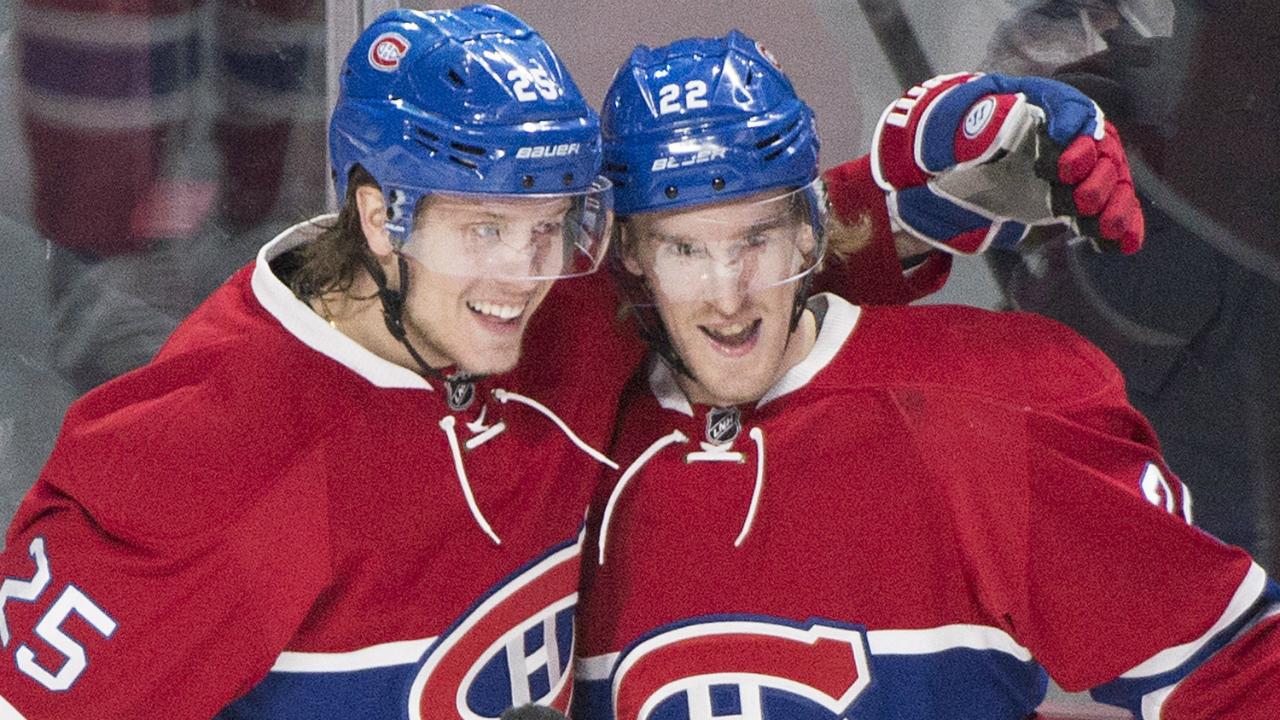 Montreal Canadiens' Dale Weise (22) celebrates with teammate Jacob De La Rose (25) after scoring against the Philadelphia Flyers during first period NHL hockey action in Montreal, Friday, February 19, 2016. THE CANADIAN PRESS/Graham Hughes
Weise was originally miscast as a "goon" by coach John Tortorella, who tried to employ him as such in one year with the New York Rangers and one more with the Vancouver Canucks.
"It was never something [Tortorella] explicitly said," Weise told the Montreal Gazette last November. "It was more like, 'You played four minutes tonight, but what did you really do out there?'"
On Feb. 3, 2014, Weise was traded to Montreal. By May of that year, he had established himself as a folk hero, helping the Canadiens take an unexpected trip to the Eastern Conference Finals with clutch goals in each series along the way.
"In Vancouver, I could have worn my Dale Weise jersey around the block and no one would have recognized me," Weise said last season.
In Montreal, Weise, his wife Lauren and his two young children couldn't hide from his admirers behind the tinted windows of his SUV.
"This city has the greatest fans in the world," Weise said Sunday. "It's been amazing playing here. I've loved my time."
But all things must come to an end.
Weise will never have another chance like the one that lies ahead of him. A team with far better playoff aspirations than the Canadiens have will surely come calling, offering him a chance to increase his payout on the open market in July.
Anaheim's Matt Beleskey was in a similar position last summer. He had never managed more than 11 goals in a season before breaking out with 22 in 65 games with the Ducks.
Beleskey's reward on July 1 was a five-year contract with the Boston Bruins. It came with an annual average salary of $3.8 million.
Weise may not be destined for as lucrative a deal as Beleskey's, given a salary cap that's projected to be lowered next season. But his 20-goal pace, his reputation as a glue guy in the locker room and his playoff track record will guarantee him more money than he ever imagined he'd make in this league.
"I'm happy about where my season's gone," said Weise. "I got off to a good start, actually got off to a great start."
Eight of Weise's goals came in Montreal's first 14 games. A broken thumb on his right hand, suffered in the Winter Classic on New Year's Day in Boston, set him back until recently.
"I came back early," said Weise. "I wouldn't say I was 100 per cent healthy and it kinda affected my game a little bit.
"But the last three, four games I feel heathy, I feel great out there, and I'm probably playing some of the best hockey I've played all year."
And so, Montreal is gauging interest on Weise.
The rental market hasn't yet been established, and with just two trades made in the NHL over the last month what kind of return Montreal gets on the Manitoba native is anybody's guess.
But Weise is preparing himself to move.
The Canadiens are home to the Nashville Predators Monday, in Washington Wednesday and home to the Toronto Maple Leafs Saturday before embarking on a four-game trip that starts in San Jose and ends in Winnipeg.
"Maybe I'll be safe and pack some extra clothes," Weise said. "Thanks for all the support here, if I don't end up staying."