With the Edmonton Oilers the big winners of the 2015 NHL Draft Lottery, they'll pick first overall for the fourth time in six years. With that in mind, here's looking forward to June with an NHL Mock Draft.
1. Edmonton Oilers
Connor McDavid, C, Erie Otters (OHL): Unchallenged for months, he'll be the latest in a series of Oilers first overall picks and give Edmonton all kinds of choices in terms of moving other assets to strengthen their roster. McDavid, Taylor Hall, RNH – pretty amazing group.
2. Buffalo Sabres
Jack Eichel, C, Boston University (NCAA): Too few games to put up the numbers and really challenge McDavid. But the Sabres can now dream of a talented 1-2 punch down the middle with Eichel and last year's top pick, Sam Reinhart.
3. Arizona Coyotes
Noah Hanifin, D, Boston College (NCAA): The Coyotes have to be tempted to go with a flashy forward after losing out on McDavid and Eichel. But Hanifin would make a dream defensive pairing with Oliver Ekman-Larsson.
4. Toronto Maple Leafs
Dylan Strome, C, Erie Otters (OHL): The Leafs dearly covet the 6-foot-3 centre, a Toronto-area teenager to boot. If Arizona takes him first, the Leafs will take Hanifin and look for a centre later in the first round.
5. Carolina Hurricanes
Lawson Crouse, LW, Kingston Frontenacs (OHL): Crouse is the best power forward in the draft, although Timo Meier of Halifax and Finland's Mikko Rantanen are close behind. The Canes rebuilding begins in earnest under GM Ron Francis.
6. New Jersey Devils
Mitch Marner, C, London Knights (OHL): Too much skill to drop much further, although this is where the draft gets more wide-open. The Devils need skill up the middle behind Travis Zajac and Adam Henrique, and Marner has it.
STANLEY CUP PLAYOFFS: | Broadcast Schedule
Rogers GameCentre LIVE | Stanley Cup Playoffs Fantasy Hockey
New Sportsnet app: iTunes | Google Play
7. Philadelphia Flyers
Ivan Provorov, D, Brandon Wheat Kings (WHL): A sloppy back end requires help, and many scouts believe Provorov has the tools to step right into the NHL next season. Not as big as Hanifan, but strong and savvy with the puck.
8. Columbus Blue Jackets
Mikko Rantanen, RW, TPS (Finland): A left handed shot who prefers to play his off-wing, Rantanen played to favourable reviews at the world junior championships. Jackets GM Jarmo Kekalainen will have all the necessary background info.
9. San Jose Sharks
Timo Meier, LW, Halifax (QMJHL): Rated a "B" prospect by NHL Central Scouting last fall, the big Swiss power winger has the size and skill set to play in the NHL next season. He and Jets prospect Nik Ehlers have been terrorizing the QMJHL playoffs.
10. Colorado Avalanche
Zack Werenski, D, Michigan (NCAA): A smooth puck-mover and a good fit for an Avalanche squad that has lots of offensive forwards. He and Tyson Barrie could make a dangerous tandem for years on the Colorado back end.
11. Florida Panthers
Jakub Zboril, D, Saint John (QMJHL): Currently competing in world under-18 championships for Czech Republic. Another piece in growing Panthers prospect chart. Mobile and tough, missed part of the season with a knee injury.
12. Dallas Stars
Pavel Zacha, C, Sarnia (OHL): Could go higher if a team is ready to gamble. Was a top five candidate in October, missed games due to injuries, suspensions.  Big at 6-foot-3, and a great skater who could be a 1-2 punch with Tyler Seguin.
13. Los Angeles Kings
Jeremy Roy, D, Sherbrooke (QMJHL): It's premature to start talking about replacing Slava Yoynov, but Roy, a mobile, right-hand shooting blueliner, would be the idea candidate. Scored a hat trick for Canada on Friday against Latvia at the world under-18s.
14. Boston Bruins
Mathew Barzal, C, Seattle Thunderbirds (WHL): Missed several months with a cracked kneecap after being rated a top 10 prospect. Could still go higher. If Bruins take him, could be a dynamic partner for young winger David Pastrnak.
(Final order of picks 15-30 will change depending on results of Stanley Cup playoffs. Current order is based on regular season and transactions before the trade deadline)
15. Calgary Flamess
Travis Konecny, RW, Ottawa (OHL): Plays with enormous energy, and plays a big man's game despite the fact he's not a big man. Has gradually made the move to the wing and had a strong second half.
16. Edmonton Oilers (from Pittsburgh)
Oliver Kylington, D, Farjestad (Sweden): He might be the best skating blueliner in the draft, a good fit for as the Oilers desperately need puck movers on the back. Puck movers, of course, that will be trying to get the puck to McDavid, Hall et al.
17. Winnipeg Jets
Jansen Harkins, C, Prince George (WHL): Harkins, son of former NHLer Todd Harkins, has moved up and down the draft list over the season. This would give the Jets another skilled centre to join Bryan LIttle and Mark Schiefele.
18. Ottawa Senators
Filip Chlapik, C, Charlottetown (QMJHL): With Kyle Turris now ensconced as the Senators No. 1 centre, Chlapik would be a replacement of sorts for the departed Jason Spezza and give the Sens depth down the middle.
---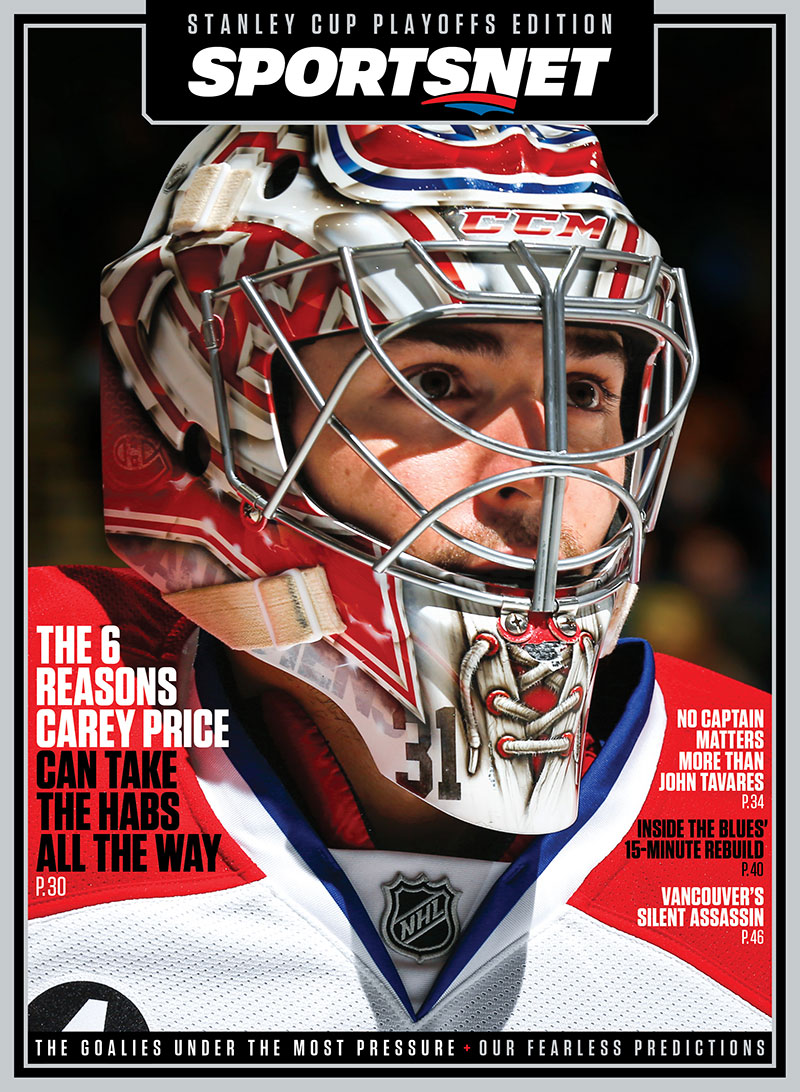 Sportsnet Magazine Stanley Cup Playoffs
Edition: The six reasons why Carey Price can take the Montreal Canadiens all the way. Download it right now on your iOS or Android device, free to Sportsnet ONE subscribers.
---
19. Detroit Red Wings
Evgeny Svechnikov, RW, Cape Breton (QMJHL): With loads of blueline prospects, another attacking winger up front to join farmhand Anthony Mantha would help Detroit's depth. Svechnikov would be a dynamic addition as Henrik Zetterberg and Pavel Datsyuk age.
20. Minnesota Wild
Thomas Chabot, D, Saint John (QMJHL): A smooth, mobile puck mover who jumped up the NHL Central Scouting charts in mid-season. Minny needs more depth and talent on the back end to join former first rounder Matt Dumba.
21. Buffalo Sabres (from NY Islanders)
Kyle Conner, LW, Youngstown (USHL): Might be a perfect winger to one day play with Eichel. Conner is all about speed and is committed to the University of Michigan next year. Challenge is to compare him in USHL versus CHL, NCAA prospects.
22. Washington Capitals
Gabriel Carlsson, D, Linkoping (Sweden): With Mike Green likely to move on via free agency this summer, the 6-foor-4 Carlsson could be a timely addition to the depth chart and a nice complement to Karl Alzner and John Carlson.
23. Vancouver Canucks
Colin White, C, U.S. NTDP (USHL): If not for illness and injuries, White would be going much higher, and still might. Henrik Sedin isn't getting any younger, and a White-Bo Horvat 1-2 punch could be very good for the future.
24. Arizona Coyotes (from Chicago)
Daniel Sprong, RW, Charlottetown (QMJHL): Brings the flashy skill the Coyotes need, and if they take Hanifin at No. 3, this gives them something up front as well. The Dutch-born forward moved to Montreal at age 7.
25. Toronto Maple Leafs (from Nashville)
Nick Merkley, RW, Kelowna (WHL): Another player who was ranked much higher, a smart, playmaking winger who sees the ice well. The Leafs could look for a defenceman if they get Strome, but Merkley would be a very savvy addition.
26. Philadelphia Flyers (from Tampa Bay)
Brock Boeser, RW, Waterloo (USHL): A grinding, north-south winger who potted 35 goals in 57 games this season. With Provorov having filled a need on the back end, Boeser helps up front. He's headed to North Dakota.
27. Winnipeg Jets (From Buffalo, from St. Louis)
Paul Bittner, LW, Portland (WHL): Some love the skill, some want more physicality from a big winger. Having moved out Evander Kane, Bittner adds a new prospect to the left side of the Winnipeg offence.
28. Anaheim Ducks
Jake DeBrusk, LW, Swift Current (WHL): A 42-goal season with the Broncos saw the son of former NHLer Louie Debrusk shoot up the draft charts. With Nick Ritchie picked up in the draft last week, Debrusk could add more punch to the Ducks left side.
29. Montreal Canadiens
Brandon Carlo, D, Tri-City (WHL): Seems like forever the Habs have been looking for a big thumper on the back end, and they're still not sure if Jarred Tinordi will be that presence. Carlo, at 6-foot-5, could be, and he likes the heavy going.
30. Tampa Bay Lightning (from NY Rangers)
Vince Dunn, D, Niagara (OHL): Had six goals in eight playoff games before the IceDogs were eliminated by Oshawa. Like most teams, Tampa's on the hunt for puck movers these days, having added Anthony DeAngelo last June in the draft.