The 2016 NHL Draft lottery will take place on April 30, Sportsnet's Damien Cox reported Saturday during the Headlines segment on Hockey Night in Canada.
The NHL tweaked its lottery system two years ago, which lowered the odds of lottery success for the league's worst teams.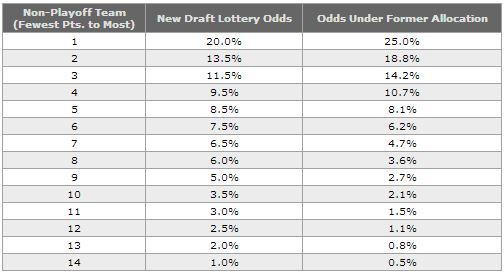 This year, each of the 14 teams that fail to qualify for the post-season will not only have an opportunity to land the first-overall pick, but there will also be lotteries for the second- and third-overall picks. This means for the first time ever the last place team could fall as far as the fourth pick instead of second under the 2015 rules. The odds of winning the second- and third-overall picks increases on a proportional basis depending which team wins the previous draw.
The top prize this year is American centre Auston Matthews. It's looking as though all seven Canadian NHL teams will miss the playoffs, so there's a high percentage chance Matthews will end up playing north of the border next season.
Finnish forwards Patrik Laine and Jesse Puljujarvi are expected to be high picks, as are American Matthew Tkachuk and Swede Alexander Nylander. The top Canadian taken in the draft could potentially be Cape Breton Screaming Eagles forward Pierre-Luc Dubois, who was recently suspended indefinitely for a dangerous hit from behind in a recent QMJHL game.