Between now and Feb. 29, sportsnet.ca will be taking an in-depth look at teams and the decisions facing them leading up to the NHL Trade Deadline. Today: Toronto Maple Leafs.
General Manager: Lou Lamoriello
Pending UFAs: James Reimer, P-A Parenteau, Michael Grabner, Brad Boyes, Rich Clune, Mark Arcobello, T.J. Brennan.
2016 Draft Picks: 1st (TOR, PIT**), 2nd (TOR) 3rd (TOR, NJ), 4th (TOR, COL), 5th (TOR, ANA) 6th (TOR, StL), 7th (TOR).
**The Pittsburgh first-round pick was acquired in the Phil Kessel trade and is conditional on the Penguins qualifying for the playoffs. If that doesn't happen, the Leafs will have Pittsburgh's 2016 second-round pick instead.
No-move clauses: Nathan Horton; Joffrey Lupul, Tyler Bozak, Colin Greening, Milan Michalek and Stephane Robidas each have limited no-trade clauses.
Cap space on deadline day: $8,099,963.
Team mode: Sell, sell, sell!
The only real question here is how many players will go.
The Maple Leafs are engaged in an aggressive asset collection strategy – the likes of which we've never before seen in the NHL – and don't have anyone on the current roster that should be labelled untouchable as a result.
Sure, it's highly, highly unlikely 21-year-old defenceman Morgan Rielly is dealt, but Lou Lamoriello's front office is open to discussing anything.
They've already been extremely busy – shipping captain Dion Phaneuf to Ottawa in a nine-player trade on Feb. 9, sending Shawn Matthias to Colorado on Sunday afternoon and dealing Roman Polak and Nick Spaling to San Jose on Monday morning – and hope that trend continues throughout the week.
With so many pieces in play, it's essential that they get some deals done ahead of time rather than leaving everything for the frantic final hours leading up to 3 p.m. ET on Feb. 29.
"There's never a right time or a wrong time," said Lamoriello. "It's really what the window allows at that time. The return we got (for Matthias), we feel with the direction we're going and at this time, it's the right decision."
What's unique about the situation in Toronto is that the team intentionally acquired rental players so that it could be active at the deadline.
Matthias ($2.3-million), Parenteau ($1.5-million), Arcobello ($1.1-million) and Boyes ($700,000) were signed to one-year contracts before the season, while Spaling ($2.2-million) and Grabner ($3-million AAV) arrived in trades with one year left on their deals.
If everything goes to plan, the Leafs will turn them all into future assets by the start of next week.
There is a tacit acceptance of that fact inside the dressing room, although Parenteau said Monday that he's a "little nervous" every time his cellphone rings. He has two children that will remain in Toronto along with his wife when he's dealt away.
The biggest unknown is whether the Leafs will also ship out any players with term remaining on their contracts – players such as Tyler Bozak, Leo Komarov, Joffrey Lupul, Jake Gardiner or Nazem Kadri.
"It's out of our control now," said Gardiner. "I could be getting traded tomorrow; anyone could get traded."
The team has a tradition of taking nameplates from the lockers of departing players and hanging them in a back area of its dressing room at Air Canada Centre. A few more will soon be added to the wall.
This is what a rebuild looks and feels like, and there's not a lot of comfort to be found inside the organization right now.
"We all knew this was going to happen," said Babcock. "It doesn't make it any easier on a personal note. We try not to confuse the players and the people at all.
"We have a plan to do the right thing for the Leafs, and that's what we're going to continue to do."
Right now they intend to sell as much as possible. There won't be another team involved in more trades during this deadline period.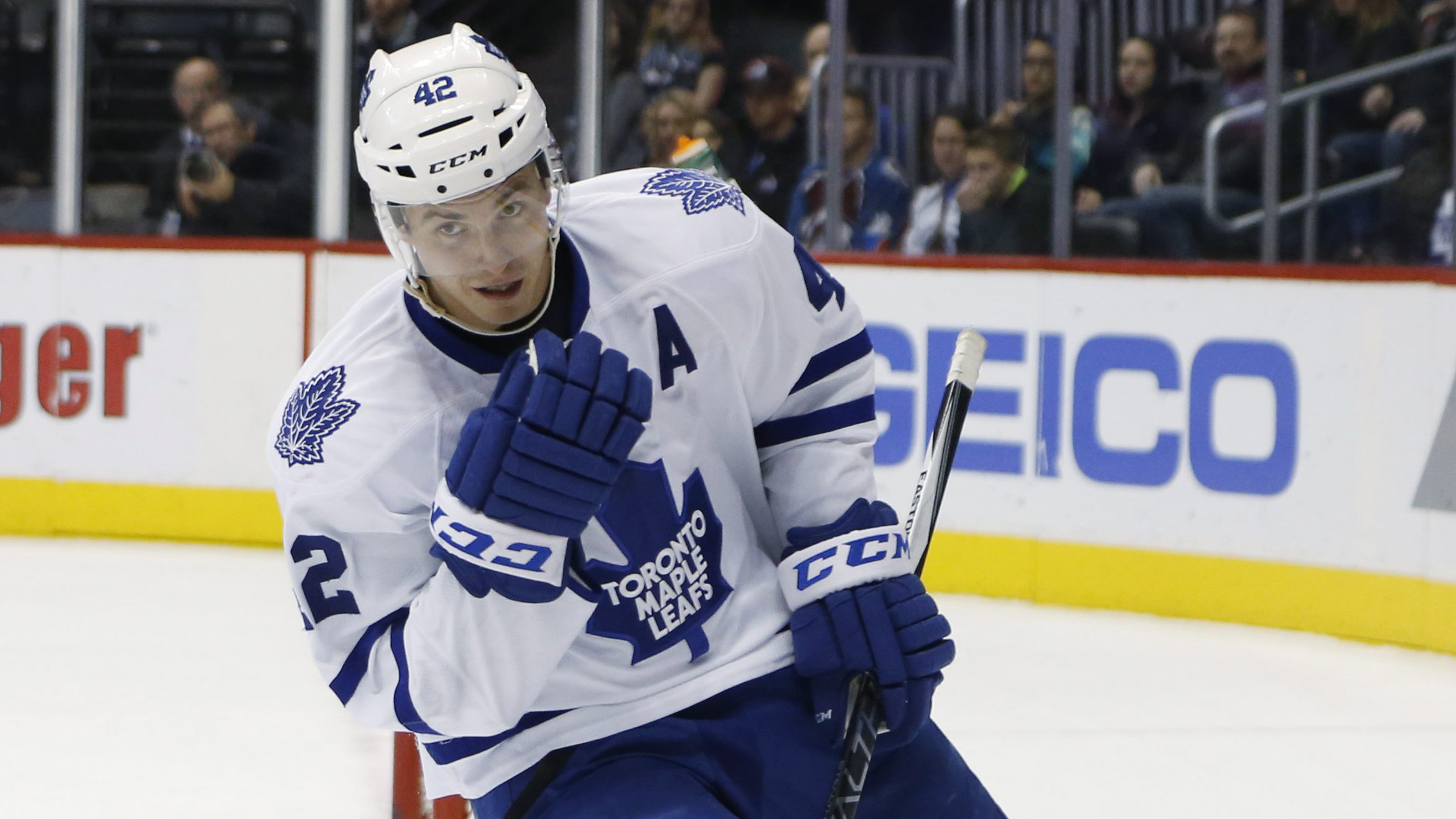 Toronto Maple Leafs centre Tyler Bozak. (David Zalubowski/AP)