As Los Angeles celebrated their second Stanley Cup in three seasons, the Maple Leafs' James van Riemsdyk tweeted "There may not be a worse feeling than what the Rangers are feeling right now." San Jose's Logan Couture responded with two words: "There is."
It's not surprising that the Sharks were miserable watching the Kings carry the Stanley Cup around the ice. Blowing a 3-0 lead when you're a team that's famous for being unable to get over the hump can't be fun. Watching the team that you had on the ropes carry the Stanley Cup around has to make it worse. Listening to Drew Doughty twist the knife with "…you could see it in their eyes and their team and their captains and leaders that they were worried about us coming back" probably makes it hurt that much more.
I suspect that there's something even worse than that, though: choosing to become a mediocre team that doesn't really contend and has to live with the knowledge that it did so by choice. It seems increasingly likely that the San Jose Sharks are going to respond to their latest playoff failure by taking that path. With Doug Wilson and Todd McLellan having been forgiven their failings by the Sharks ownership, it seems likely that Joe Thornton will end up taking the blame for San Jose's failure.
Leave the playoffs aside for a moment. You can't fail in the playoffs without getting there and being perceived as a favourite first. The problem that the Sharks will have if they trade Joe Thornton is that he's a large part of the reason that that's been the case.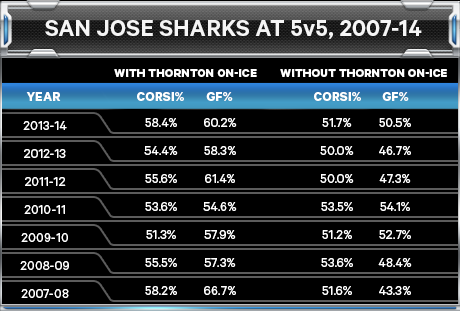 For all the talk over the past few seasons that the Sharks are Logan's Team Now, at 5v5 Joe Thornton has been the guy whose presence really moves the Sharks from being an average team to an elite one. When he's not on the ice, the Sharks are nothing special.
It's hard to see the Sharks getting something comparable to Thornton in return because, well, there aren't very many players who are comparable to Joe Thornton. Thornton's 16th in the NHL in Corsi% over the past three seasons. The Sharks won't be getting a player like Thornton in return. Players like Thornton rarely become available.
Of course, Thornton's talents aren't limited to 5v5. He's been a major part of the NHL's elite power plays over the last three years–only Washington, Philadelphia and Pittsburgh have been better at scoring goals at 5v4 than the Sharks. The Sharks' power play sputtered this year–14th in the NHL at 5v4 goal production–but it was still an elite unit in terms of generating shots, leading the NHL in that category. Their problems were with shooting percentage, not generating shots. This is a notoriously fickle aspect of hockey–some years they go in, some years they don't and the best predictor of future power play success is past ability to generate shots at 5v4.
The really intriguing thing about San Jose's apparent decision to move on from Thornton is that the Sharks are widely regarded as one of the NHL's smartest teams. For analytically inclined people, there's a tendency to give teams like this the benefit of the doubt.
There's some odd stuff coming out of San Jose though. Kevin Kurz, who covers the Sharks for CSNBayArea.com, has reported that the Sharks want a "shooting power play" and that they felt it wasn't there against Los Angeles. No team in the playoffs generated more 5v4 shot attempts than the Sharks. It's hard to reconcile a team believing that it needs to have more of a "shooting power play", whatever that might be, with a team that generated a ton of shots on the power play in the playoffs.
All of which is to say that it's awfully difficult to understand what the Sharks are hoping to accomplish by trading their biggest difference maker. It's very difficult to imagine the Sharks getting anything comparable to Joe Thornton in return–as the Sharks should know from when they traded for Thornton, the team that gets Thornton tends to win the trade while the other team gets a couple of guys.
This has to be about the Sharks' lack of playoff success. Scott Lemieux, who writes for an economics blog called Lawyers, Guns and Money, has examined the Sharks lack of playoff success and, like most who have, concluded that it's just one of those things that happens, with the additional point that the Cup is awarded to the best team in a single year, not to a team that's very good for an extended period of time. It's certainly conceivable that the Sharks' problem, such as it is, has been a mix of rotten luck and never quite being good enough, neither of which may have anything to do with Thornton.
Doug Wilson and Todd MacLellan have earned some benefit of the doubt. Wilson, in particular, has basically turned over the roster of the Sharks team that he inherited in 2003 and kept them perpetually amongst the NHL's elite. That said, he should know better than anyone how difficult it can be to take that last step. Taking a step back–and he's conceded that the Sharks will be taking a step back–simply puts you further from the Stanley Cup. Those steps aren't always easily regained. Just ask the Sharks' divisional rivals in Edmonton.
If you look at hockey history, it's easier to find players who were written off as losers and ended up winning–Ray Bourque and Steve Yzerman spring to mind–than it is to find teams that decided to take a step back and ended up lifting the Cup within a reasonable window. The Sharks have been an excellent organization but if they trade Thornton, I'd bet on him winning a Cup before they do.