EDMONTON — Dear Leafs fans:
I see you've begun Rebuild 2.0 under the astute leadership of Lou Lamoriello, Brendan Shanahan, Mike Babcock and the many other wearers of expensive suits at Toronto Maple Leafs press conferences. Good idea.
We recall the first try, under Brian Burke, that began about the same time the Edmonton Oilers decided to "rebuild" as well. Ah, how far we've all come since those bottom-of-the-standings days!
Tonight, a full seven seasons after Burke arrived as the steady, experienced hand in Toronto, and the venerable Steve Tambellini rolled up his sleeves and began guiding this project in Edmonton, the Oilers and Leafs will meet this evening in a game that will temporarily decide 30th place in the National Hockey League.
Somehow though, the Oilers seem to have nosed ahead in pure, laughable futility. They've picked first overall four times in that span, and if the draft were held this afternoon, they would be in line for a fifth. The Leafs haven't been in a Cup Final since 1967, and today Twitter is filled with more jokes about the Oilers than Toronto.
That wasn't the race the Oilers set out to win.
So we feel your pain out here in Edmonton, Leafs fan. You're starting down a long road that the Oilers have traveled for years. Yes, that's us right up ahead! Oh, wait. We're standing behind you.
Anyhow, as these two Titans lock horns tonight, let a guy from Edmonton spare you some (further) angst. You're starting again. Here's what to do, from an expert in the field:
Get a goalie
That thing about a rebuild starting from the goal line out? Yeah, it turns out it's not just a cliché.
Edmonton did their rebuild from the wings in. The next time you meet an architect who builds the 15th Floor before the basement, let us know.
Then, build the defence
You've got Morgan Rielly. Keep him.
You've got Jake Gardiner. Keep him.
Yeah, we know. He was supposed to be better. So was Justin Schultz. Get over it.
Keep Gardiner, because he is a bonafide NHL defenceman who will still improve. Kevin Lowe once traded away a young Matt Greene. He went on to win Cups in Los Angeles. While you're at it, go out and find a couple more Roman Polak types – genuine, third-pairing NHLers who will do the dirty work while the kids learn how to play in the AHL.
The point is this: You'll draft your Mitch Marners, William Nylanders, Auston Matthews' etc. with that first-round pick. It just tends to work that way. Forwards tend to be up there most often.
But, the problem is, unless they're European they tend to make their way on to the NHL roster immediately.
If they are constantly playing in their own end because the defence can't break a cycle, win a battle or move the puck to the forwards, they'll suffer. Because highly drafted forwards tend to arrive with no clue how to play defensively. They need to play in the other team's end to get the requisite confidence to survive in the NHL.
Don't scoff at the veteran presence
Here's where all these geniuses who laugh at role players make the same mistake every time. You need the Willie Mitchells, the Matt Hendricks', the Rob Scuderis, the Matt Hunwicks, the Chris Neils — but they have to be able to contribute enough to have an effective voice. (That's where the Leafs missed on Stephane Robidas.)
There are certain tenets of being a successful NHL player, of creating a winning atmosphere in the NHL dressing room, that Nylander, Marner and the young 'uns must learn from older players. They can't teach themselves, and they can't learn from players who've done nothing but lose their entire careers.
In Edmonton, the kids were given leadership roles far too early, by acclimation. No one below them in the lineup was remotely good enough to command respect, and the veterans they did bring in were often poor leaders. So the Taylor Halls, Jordan Eberles etc. were allowed free run. It crippled the dressing room culture in Edmonton, a losing culture the team is still trying to dig out from under.
Draft better, finish higher
Don't believe the people who say, "You can't get better if you're not drafting in the Top 3." It's Rounds 2 through 7 that will make the difference between the Leafs being Edmonton or Chicago. This isn't basketball — six good players aren't enough.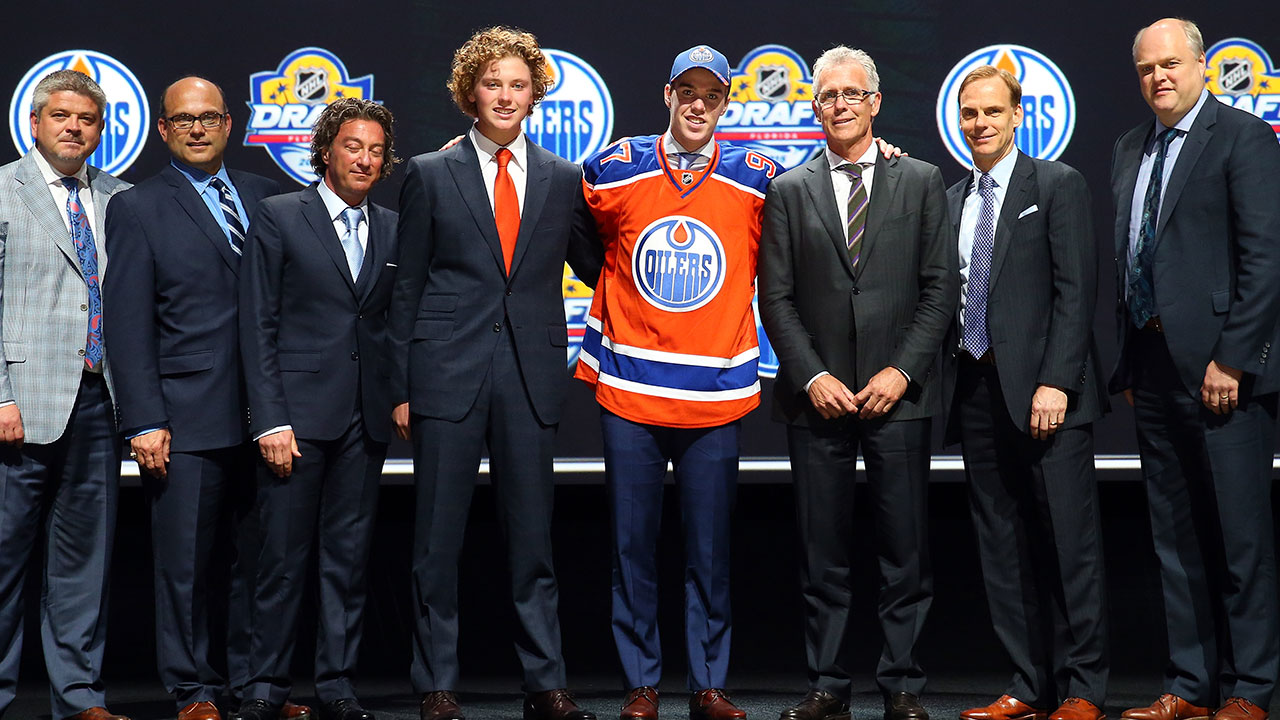 If your scouts can only find good players in Round 1? Fire 'em. Fast.
Lots of teams make the playoffs every year drafting below No. 10.
OK. Time to go.
Oh, no troubles, Leafs fan. You're most welcome.
What's that? You've got the next round of beers? Great.
See you at the lottery! Yeah, our regular spot…