With the NHL season off and running now, we're nearing decision time for teams with teenaged players on their rosters. Will they stay, or will they go?
Players under the age of 20 can play up to nine NHL games before burning a season off their entry-level contracts. A player has to actually play in 10 games for that to happen and not simply be on the roster (as a healthy scratch, for example) at the 10-game mark. To be clear, a player doesn't move a year closer to unrestricted free agency until he's played 40 games in a season.
Some rookies, such as Auston Matthews and Patrik Laine, have of course cemented themselves as mainstays in the Toronto and Winnipeg lineups. But for others, their teams soon have to make the call on whether or not they're up to the task of moving forward against NHL competition. It's better for a prospect to be playing than sitting in the press box as a healthy scratch for too long.
Here are a couple players who are giving their teams tough decisions to make, as discussed by Sportsnet's Jeff Marek and Ryan Whitney in Friday's pre-game show.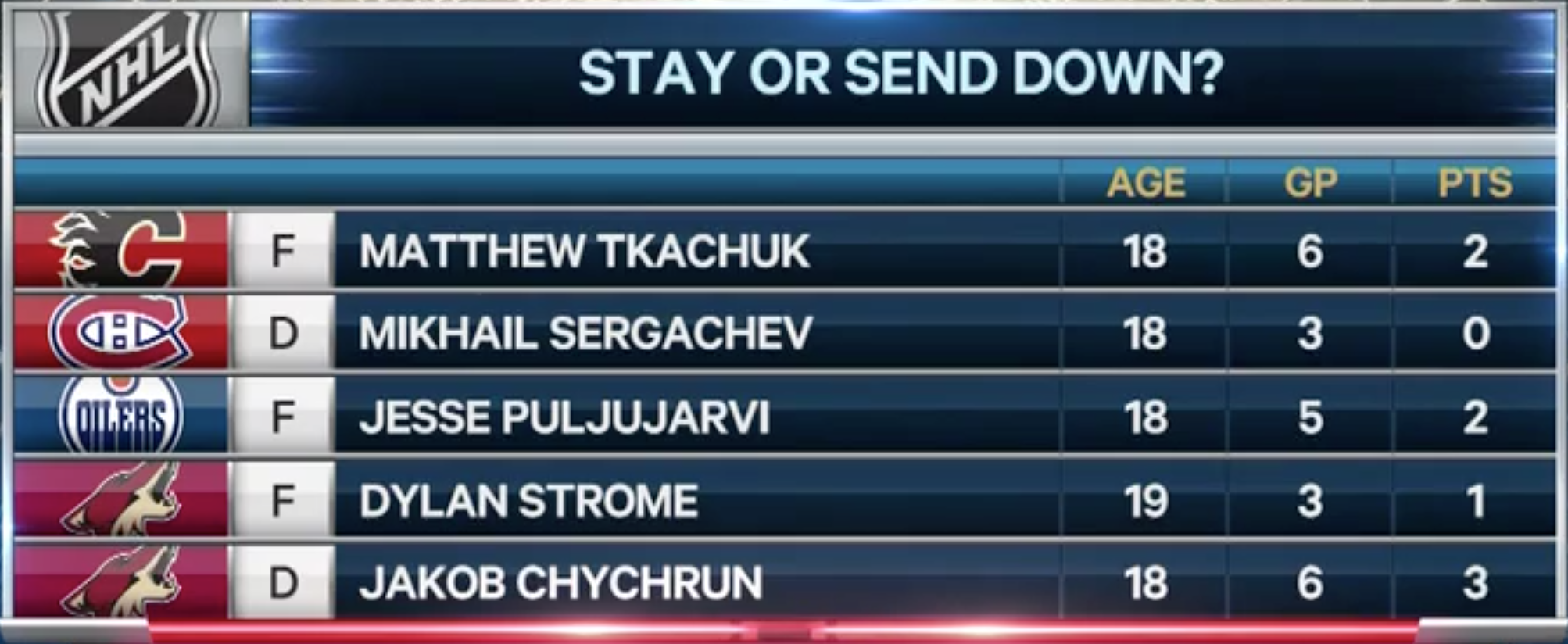 Matthew Tkachuk, Calgary: The sixth overall pick of the 2016 draft, Tkachuk hasn't been shy to get physical at the NHL level and he's scored a nice goal and added an assist in six games. He's averaging 12:11 of ice time a night, has 12 shots on goal, and has even seen a little time on the power play.
Like father, like son.
"He's shown a lot of toughness, he's shown grit, he's shown skill," said Whitney. "He's proven he can play. It's all about what Calgary wants to do and if they want to have him around all this year or send him back and play some world juniors."
What's more valuable to Tkachuk at this point in his career? He is coming off a 107-point season in the OHL, but was also playing with the older and even more productive Christian Dvorak and Mitch Marner, both of whom are in the NHL this season. So is it better for Tkachuk to go back and be The Guy and take on a lead role for Team USA in the world junior championships, or continue to find his way in Calgary?
Eric Francis wrote on Sportsnet.ca that the Flames have a plan for Tkachuk but they aren't saying what that plan is just yet.
"You can't say after three games there's the 'A-ha moment.' " Flames GM Brad Treliving said. "It's going to get deeper here. It's still not a slam dunk this is 100 per cent the best for him. The best thing for any young player is to play."
Jesse Puljujarvi, Edmonton: The big Finn who was picked two spots ahead of Tkachuk at No. 4 overall in last June's draft is in a different situation, in that the Oilers can send him to the AHL since he was drafted out of Europe and not major junior. This is key because, for a developing player, the AHL provides a professional atmosphere and a tougher challenge than junior and is a neater fit for a player who has tremendous size and skill, but maybe who isn't quite yet ready for an 82-game NHL schedule.
"It's a huge thing for him to be able to go to the AHL, so it's a little different than guys going back to junior where they'll completely dominate," Whitney said. "You go down to the AHL and you really can develop and you're still playing against pros and men. So for him, I don't think it'll be a bad thing."
Puljujarvi is used to playing against fully developed hockey players, coming from Karpat in Finland's highest league. There, Puljujarvi scored 13 goals and 28 points in 50 games last season, which was actually fairly comparable to Patrik Laine's year.
Puljujarvi has averaged 11:33 of ice time per game with the Oilers and has posted a goal and an assist. He, too, has seen time on the power play, but has been made a healthy scratch twice so far. He's 6-foot-4 and 203 pounds, so he brings the kind of size Edmonton was searching for in the off-season. But with just two recorded hits, he's not been overly physical so far. But again, he's not out there to do what Milan Lucic was brought in to do — Puljujarvi is there to develop into a top-six power forward and a potential elite talent.
So, in that case, perhaps the AHL is the perfect place for him.
Mikhail Sergachev, Montreal: The Russian blue-liner who was gaining a lot of hype heading into the draft, where he was picked ninth overall, has been made a healthy scratch in four consecutive games. It's time for the Canadiens to decide if they're even comfortable using him. If not, he's much better off playing in junior than watching in the NHL.
Even when he has been in the lineup, Sergachev has not played 12 minutes in a game yet.
"I spoke to the general manager of the Windsor Spitfires, Warren Rychel, to get his opinion on the matter, he's not so impatient," said Sportsnet's Canadiens reporter Eric Engels. "Obviously, he'd like to have Sergachev back as quickly as possible, but he's been given no guarantees from Marc Bergevin that that's going to happen. From what I've been told, the Canadiens are going to be very patient with Sergachev, he could be here for that nine-game stint all the way up until December. They could stretch it out that long."
The bonus for Sergachev going back to major junior is that not only would he be eligible to play for Russia at the world juniors, but the Spitfires are hosting this year's Memorial Cup, so he would get great experience at that event too.
It's worth noting Sergachev is the youngest player in the NHL this season and although his 6-foot-3, 203-pound frame projects very well, Whitney noted that it's especially tough for defencemen to immediately catch on to the NHL game.
"Sergachev, with Montreal's depth and he's younger, not necessarily as strong, I think you'll see him sent back down," Whitney said. "It's so hard when you're a younger player especially on defence, every mistake is magnified — everything looks a little worse. So, for these young guys playing defence, if you're strong enough like [Jakob] Chychrun it makes a big difference, whereas Sergachev I think there's little things in his game that's going to force him to go back to junior and develop a little more back there."
Jakob Chychrun, Arizona: This is a great story, considering Chychrun saw his position fall in the first round of last summer's NHL draft. Considered a top-10 pick through parts of the 2015-16 season by some, the big Chychrun fell all the way to the Coyotes at No. 16 and has stepped in seamlessly to the NHL game.
He's got tremendous size at 6-foot-2, 215 pounds and has three points in six games to go along with 19 penalty minutes and a fight, to boot. He's mean and physical which, although not as important as it was maybe 15 years ago, is still a valuable asset to have on a Western Conference blue line.
He has nine hits, which is fourth among Coyotes defencemen and is averaging 15:44 of ice time per game. He's not a power play guy, but he's fourth on his team among defencemen in shorthanded time on ice.
"Well, Jakob Chychrun has an NHL body," Whitney said. "It sounds a little sexy, I should say, but he's a guy who can bring it. You saw him fight versus Brayden Schenn who's very willing and a tough guy to go against."
Chychrun had 49 points in 62 games with the Sarnia Sting last season and may not have much left to gain in the OHL because of his size. Would the competition down there simply be too weak physically to give him any challenge and, therefore, could it actually stall his development? When the season began, Coyotes GM John Chayka said Chychrun was already one of his team's best defencemen.
Travis Konecny and Ivan Provorov, Flyers: A teammate of Chychrun's in Sarnia last season after the Sting acquired him from Ottawa, Konecny has turned a lot of heads with the Flyers so far this year. He's 19 years old and was drafted 24th overall in 2015, so he's not jumping straight to the NHL, but with one goal and seven points in eight games so far, one would think it impossible that the Flyers would send him back to junior…at least before he burns a year off his entry-level contract.
"He has been an impact player," coach Dave Hakstol said of Konecny. "Apart from the obvious things you see on the ice, I see a guy that is working hard on his game. He does that every day. He has got a good level of humility to him which I think endears him to the older guys in the room. He keeps his mouth shut and works, and that's a positive."
Provorov, meanwhile, was the seventh overall pick of the 2015 draft and had 73 points in 62 games for the Brandon Wheat Kings when he went back down a season ago. The Flyers have trusted him with a ton of minutes, as he's averaging 20:30 of ice time a game third-most among Flyers blue liners.
He's a sneaky good skater who brings an underrated physical and offensive game with great upside. He's a penalty kill staple on the team already and also gets a fair amount of power play minutes, so the Flyers are not shying away from putting him in tough and important situations at all. That's not to say he hasn't experienced some bumps: he was a horrendous minus-5 in a 7-4 loss to the Blackhawks last week. But that comes with the territory for a young defender.
"Oh, [Provorov] doesn't need help through it," Hakstol told CSNPhilly.com. "It's a growing experience. First of all, you evaluate it for what it is. There's a couple plays where there [was] some bad luck involved. There's a couple plays where there's some mistakes. And as is everything in this game, it's never just about one player that's on the ice. So you take it, evaluate it, look at the things that you can learn from and quite honestly, you turn the page and move forward. I'm sure that's what Ivan will do."
These two mark a continuing youth movement for the Flyers, which was led by the highly successful rookie season from Shayne Gostisbehere a season ago. The whole league is trending younger and the Flyers aren't afraid to embrace that.
"You're keeping young players a little bit more than you did back in the '80s because there were 21 teams," GM Ron Hextall said to CSNPhilly.com. "But the reality of it is, we have to do what's best for the organization. What's best for the organization is what's best for these kids. And right now, we feel like it's best for them to be here."